---
This weekend felt about as good as a swift kick in the groin. The Lions were handed yet another loss after coming out of the gate hot. When they scored two touchdowns very quickly in the first quarter, I thought maybe they had actually showed up to play. I should have known that wouldn't last as they proceeded to basically put on a suck fest of a show the rest of the game.
Stafford wasn't looking the greatest. I don't know if he was suffering the side effects from something or if he was just thinking Megatron was still on the team. There were a couple of passes that either flew way too high or required the wide receiver to lay out to catch them. Something Calvin Jones probably would have done. These current guys... Not so much.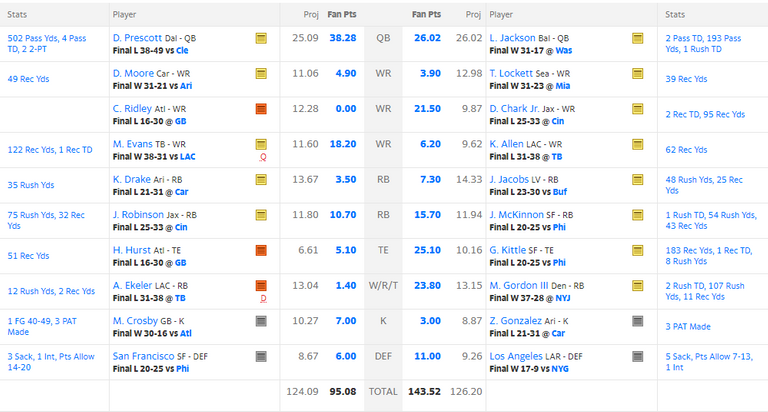 ---
My fantasy team was in equal form with a pathetic showing from more than half of the team this past weekend. Prescott was my one shining star and accounted for more than a third of my total points. He has started games slowly this season, and puts his team in a position that they need to create those big plays just to keep it close. That has been good for me points wise, but I know it can't last. Here's hoping their defense continues to not show up so their offense keeps needing to pick up the slack...
Tell me again why I played Moore this week? Didn't I say last week he was going to be sitting on my bench? It isn't even like the rash of postponed games from positive Covid-19 diagnosis even messed with my roster, I just totally screwed the pooch on that one.
As you will see when you scroll down to my bench, Fuller was clearly the better choice yet there he was, ridding the pine.
Ridley started hot, I mean smoking hot on the season, sadly, it appears many of the other teams have started to figure him out and they have held him to less and less points each week. The goose egg this week is absolute proof it just wasn't meant to be for my team.
Drake was a letdown as well as Eckler. I am pretty sure Eckler is dealing with an injury right now, so I can kind of forgive him. A little...
I was waffling back and forth beween Alie-Cox and Hurst at Tight end. I can see now that I should have went with Cox, but it really wouldn't have made a difference since I got beat by close to 50 points.
I am not going to hate on anyone else on my team. I am just going to admit I have to do better and move forward.

---
Being honest, my bench wouldn't have saved me. I am hoping this was just an off week for a lot of them, but I am going to have to take a long hard look at several of my players.
The good news is, my wife won her matchup this weekend. The fact that The Chiefs had a relatively low scoring game is the thing that really saved her. Her opponent had Hill and while he put up some good numbers, they weren't enough to edge out my wife.
The leader of our league right now is my sister in law. She is sitting at the top of the hill with a record of 4 - 0. I am kind of happy for her, because she has had some really crappy seasons the past couple of years. It's nice to see her luck turning around for once. I have tumbled to the number four spot, but I hope a win this coming weekend will change my fortunes.