---
It would appear I am destined to live a mediocre life as a fantasy football manager. I was handed yet another loss this past week at the hands of my sister in law. She has actually been a powerhouse the past couple years, so the fact that the end result was relatively close makes me feel a little better.
I was going to say it gives me hope, but I think we all know I am past that point.
I think at this juncture in the season I am sitting comfortably in last place in our league. If it isn't me sitting there, it is probably my wife.
We are seriously at a place where this may be out last year doing the fantasy football thing. Losing gets old after a while and quite frankly I am tired of buying the rest of my family liquor when they win. @mrsbozz and I are the only family who participates that at least one of us hasn't won a season. I think that is very telling and should make our decision about next year fairly simple.
Until then, we still have a season to finish...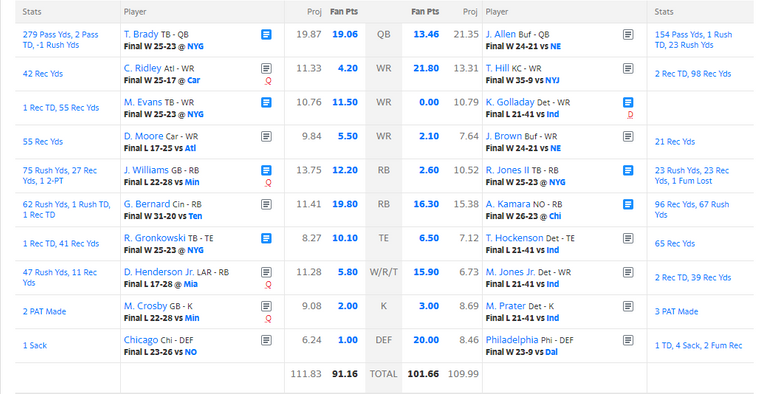 ---
As you can see right off the bat, Brady was no where near as impressive as he was last week. In fact he only scored about half the points that he scored last week.
Meanwhile, it looks like my backup quarter back didn't even play, so I didn't have much of a choice on that one anyway.
Ridley had an off week and sucked it up as well as Moore. I knew that was going to happen with Moore. He has been on my bench scoring over 20 points per game. I knew as soon as I moved him off the bench and into my roster he would flail.
Bernard was a new pick up this last week that I am happy to see do so well. Unfortunately, he is replacing an injured Mixon who will probably be back before long. Once that happens I am probably going to have to drop him.
I did have a lot of players on Bye this week, but that is really no excuse for how horrible my team has been.
Crosby was a huge let down as well as the Chicago Defense. Sure they were playing New Orleans, but still, one point is just horrible.
It was nice to see a tight end on my team finally score more than 10 points. Even if it was only 10.10.

---
Like I said, lots of Bye's this week, so my bench would have been zero help to me. Even the lone scorer on my bench wasn't that impressive.
I am running out of time if I have any hope of turning my season around. At this point I will be lucky if I can even squeak into the playoffs. They have to be getting pretty close with the shortened season due to Covid-19. Maybe I will get lucky and the whole thing will be shut down due to the Corona virus!