---
Well, if you read my post from earlier this week, you know it was a really rough weekend for me football-wise this past weekend. The Michigan State Spartans got destroyed by Iowa and The Detroit Lions continued their never ending saga of mediocrity.
On top of that, I suffered an absolutely shame inducing defeat at the hands of my brother in law. It's not the fact that I lost to him that bugs me as much as the way it happened. He is actually a veritable encyclopedia of sports facts and knowledge. Between him and my other brother in law I am surprised they don't run the league every year.
This past weekend as absolutely mine to win and coincidentally mine to lose as well.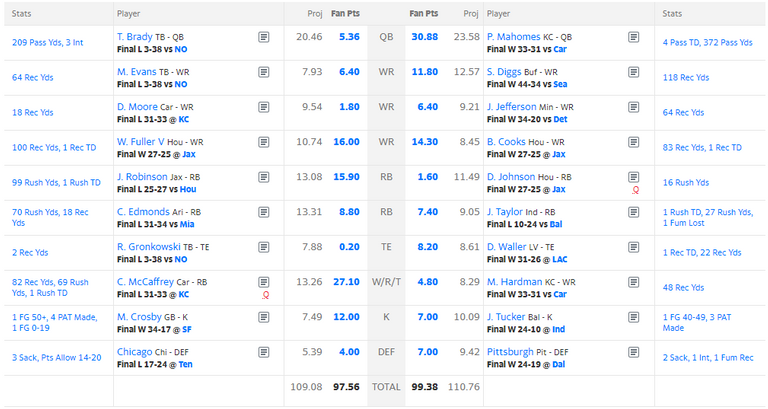 ---
As you can see by the opening photo, I lost by two points. Not even two points if you break it down to the decimal figures. This was a week of major disruption due to injuries and absences from Covid diagnosis. Despite all of that I felt I had a pretty decent lineup put together that would give me a reasonable chance of winning the weekend.
All I needed was for Tom Brady to show up.
Unfortunately, he didn't.
In what has been one of the biggest sports stories of the past weekend, the Tampa Bay Buccaneers were absolutely dismantled by the Saints. The Buc's only score was a field goal which didn't help me at all since my kicker is on Green Bay.
Even if they didn't score, all he had to do was connect with Gronkowski for more than two yards and I probably would have eeked out the win. That just wasn't the case. Gronk got a measly .20 points and Brady didn't fair much better with 5.36.
The other player that really turned out to be a letdown was Moore. These past couple of weeks he has been sitting on my bench racking up huge numbers. Sure enough, as soon as I move him into my active rosters he gifts me with a week of suck giving me only 1.8 points.
Is a win too much to ask for? Is it too much to expect that my players just show up?
McCaffrey was the stand out for me brining in 27 points. I almost didn't play him because he has been on the injured reserve list for quite some time and this was his first game back I think.

---
Even my bench wouldn't have been any help this past weekend. It was goose eggs all around. You can see that several of them were on bye and the rest were either injured or out due to Covid.
This weekend I go up against my wife who has been having an equally rough season. This is one match up that I would actually be happy to lose. At this point it would only be adding insult to injury if our only wins of the season came against each other.
Needless to say it looks like once again we will be buying someone else fifth's of liquor this year.