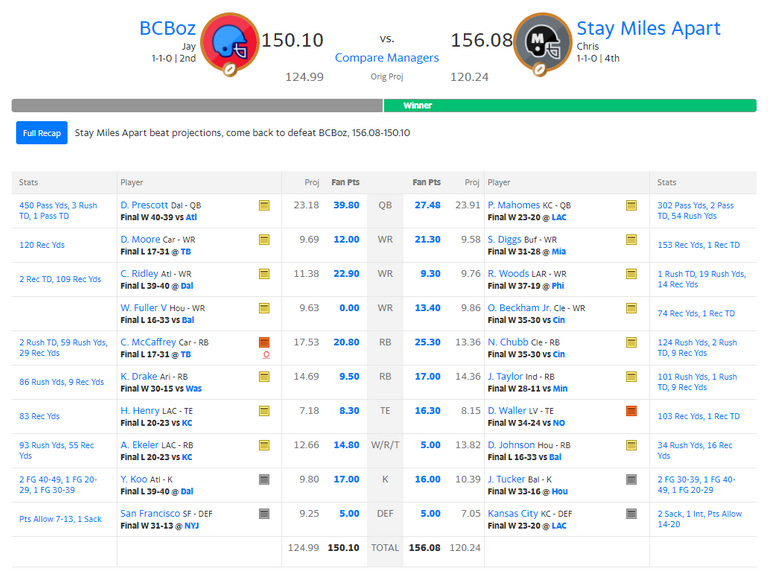 ---
Let's start with the two bright spots of the weekend. Did you see that Cowboys/Falcons game? What an ending. In case you missed it, the Cowboys were down 39 to 24 about halfway through the fourth quarter. With less than five minutes left they scored a touchdown to make the score 39 to 30 after missing the attempt at the two point conversion.
With less than two minutes left they got another touchdown to bring the score to 39 to 37. Then, on a on-side kick they recovered the ball and were able to get within field goal range. with no time left on the clock, the kicker hit a 46 yard field goal to give them the win 39 to 40. I am not a huge fan of the Cowboys, but it was still a pretty fantastic ending.
The other big win for me comes from the Chiefs who got taken into overtime by San Diego but were still able to come out with the victory. Not nearly as exciting as the previous game I mentioned, but overtime is overtime.
Unfortunately, that is where the good news ends.
The Lions looked especially "Liony" this past weekend. They came out strong scoring two quick touchdowns and then proceeded to fall apart with the precision of a fine Swiss timepiece. Tons of stupid penalties led to a absolute crap-fest of a game. They were destroyed 21 to 42 by the Green Bay Packers.
Fantasy
On the fantasy side of things, both my wife and I lost this week.
I was up heading into Monday night given the awesome performance by Prescott that I talked about earlier in this post. If my brother in law's last player could be held to less than 11 points I was going to be good to go for the week notching another mark in the win column. It wasn't to be and he ended up beating me by about six points.
This moves my record to 1-1-0 on the season.
You can see that Fuller was the biggest letdown of the week for scoring absolutely zero points.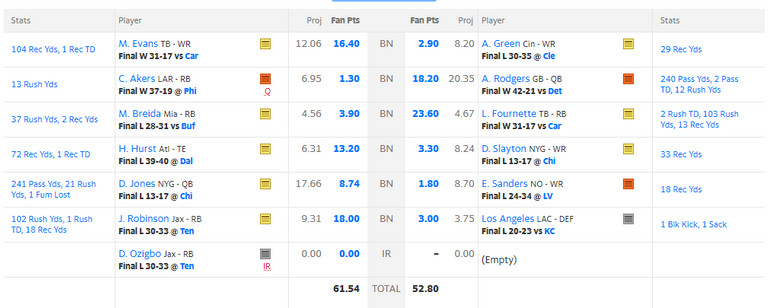 ---
As you can see I had a wide receiver on my bench that would have easily given me the points I needed to come out with the win. I am pretty disappointed. Brieda has been dropped from my roster with two weeks at sub 5 points. Mcaffrey is out for who knows how long and I am not entirely sold on the San Francisco defense. There could be some more big changes coming to my team over the next couple of weeks.
@mrsbozz just suffered some dumb bad luck this past weekend. Her team put up 141 points which is nothing to scoff at. She even had a player with over 40 points in Green Bay's Jones. Her quarterback Ryan also scored her 28.5 points. It just wasn't enough and she ended up losing to her sister in law 155.62 to 141.42.
It was a tough loss, her team did everything right and she only had a couple under-performers. Her opponent just had a better week. It happens.
Next weekend sees an in-house rivalry as my wife and I square off against each other. Right now she is favored to win, but things can always change at any given moment.
Who do you think will come out victorious?