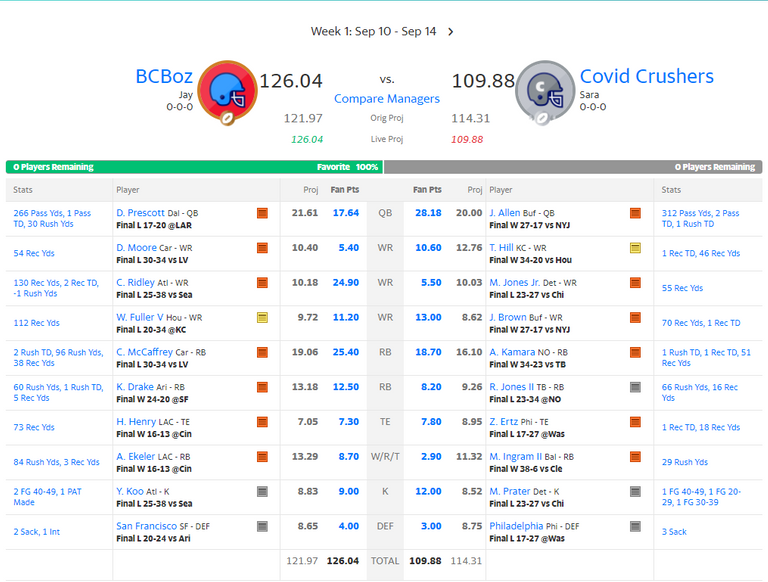 ---
I know I am a little bit early on this since there is still a game tonight. My opponent and myself have expended all of our starters, so that game would have zero impact on the outcome of this match-up.
I have to say, I am pretty happy with how this season is starting out. If you remember, I had an absolutely horrible season last year. I think I won maybe one game if that, so I am already doing as well or better than I did last season after only one game.
I can't say as though I am overly excited about the numbers that Dak Prescott put up as my quarterback. They were enough to push me past my opponent and secure the win, but I still feel like they should have been better. I'd like to see Dak netting 25+ points each week if I am going to have any hope of making it to the playoffs this year.
I am hoping it is just the new quarterback, but the numbers from Moore at wide receiver are pretty disappointing too.
I am pretty happy with all of my other numbers besides the defense from San Francisco. Hopefully it is just a fluke and I can count on some bigger points from them in the future.

---
I don't think the bench would have made too much difference for my sister in law against me. She has quite a few players that are completely out.
I don't even have a player that looks reasonable enough to replace Moore going into next weekend unless you count Evans from Tampa Bay. Brady was looking a little rusty, but once he gets firing on all cylinders he usually spreads things around enough that Evans might get some more points.
Robinson from Jacksonville is another sleeper I might want to keep my eye on.