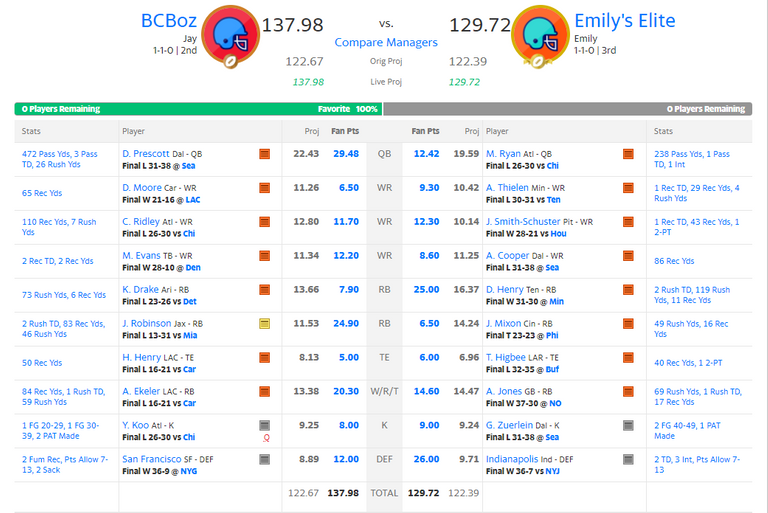 ---
It was an epic household showdown this weekend between my wife and myself in our fantasy league. I am able to write this post today because neither of us have players in the game tonight and the results are already in.
I won!
I am actually a little bittersweet about the victory because my wife can be a bit competitive. It would have been nice for her to come away with this one. I have a pretty decent team this year and I have no doubt I could have recovered from the loss.
The combination of Ryan and Ridley in the Flacons/Bears game this past weekend was absolutely horrible. Besides the one great catch he had in the first quarter he did pretty much nothing for me.
Likewise Ryan did pretty much nothing for my wife. She probably would have beaten me if she had played her other quarter back. I think it is time for her to make some changes to her roster.
I am going to need to look at his numbers from the past weeks, but Moore is a player that might find himself looking for a new fantasy team. He was predicted to get 11+ points this past weekend and instead he gave me 6.5. That is unacceptable as far as I am concerned.
Drake is another one I will take a look at. His production was not what I would have expected it to be. I guess I will just chalk it up to being a messy game against Detroit.
Don't get me wrong, I am glad that The Lions were finally able to snap their 11 game losing streak, but I need to see the players on my team post some consistent numbers.
Henry at tight end was another huge let down this past weekend. It is safe to say that there are several slots on my team that may look very different when next weekend comes around.

---
As you can see, Fuller would have been the better pick for me at wide receiver over Moore. As I mentioned before, my wife would have beaten me if she had played Brady instead of Ryan at quarterback.
My bench is looking a little weak with a fair number of players on IR or out all together. I am going to have to do something to fix that going into the coming weeks. Bye's are going to start happening eventually and if I don't have the players on my bench to swap in and out I am going to start dropping a lot of contests.
Like I said, be prepared for my team to look very different in the coming weeks...
---
---

---
@eos.detroit Staff Writer/BOID Team Leader
Join our Discord here
All pictures taken by myself or @mrsbozz