---
As you can see I was finally able to pull off my third win in our family fantasy football league. The bad news... The win was against my wife. I honestly think at this point she has pretty much given up on the season, but it probably still stings a bit to take the loss against me.
We have the same record now, so that is kind of interesting, but it still places both of us in the bottom half of our league. It will probably take a miracle at this point for either of us to make it into the playoff's.
I am actually surprised the entire NFL season hasn't been called at this point. Especially with Covid cases increasing across the country.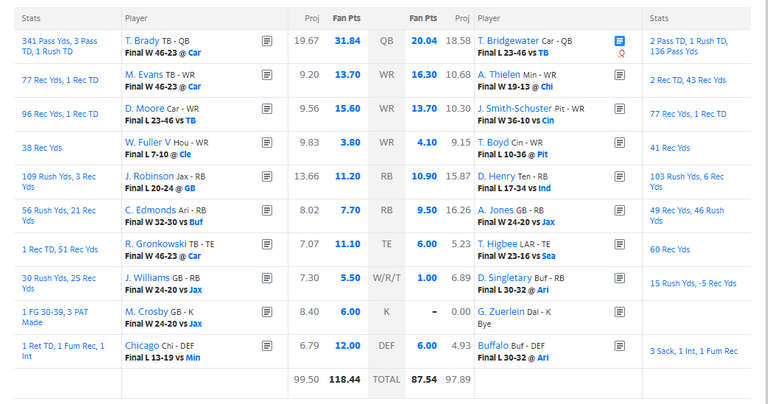 ---
As you can see, Brady was back to his winning form. This 31 points is a far cry from the pitiful 5 that he put up last week. I read an article the other day and it sounds like Tampa Bay might finally be figuring out what needs to be done to win, so hopefully the future will continue to be beneficial for Brady on my team.
Evans and Moore did a nice job in the wide receiver slots. These are probably some of the best numbers I have seen from them when they were actually starting on my team all season. I know Moore has had some big games while he was sitting on my bench...
Fuller was a huge disappointment and I am not sure what to do with him moving forward. Based on his past numbers this seems to have been an atypical week for him. so I will probably give him another shot to prove himself next week. Assuming he doesn't have a bye.
My running backs also did a pretty good job of putting up some consistent numbers. Gronk was even back to a pretty decent form with 11 points in the tight end slot. I will for sure be keeping him in my starting lineup. I have struggled with tight ends most of the season so have a consistent scorer would be a welcome change. Of course I am just going to forget about his horrid showing last week.

---
Looking at my bench, there are a couple of things I could have done differently. Drake was a game time decision on whether or not he was going to play. Even if he did get some snaps, there was no guarantee he was going to score any points. He probably would have been the better option instead of Williams. In fact Henderson would have even been a better choice than Williams. I am pretty running back heavy on my team right now, so there is a good chance Williams may have played his last week on BCBozz.
I don't think doing anything different with her bench would have helped my wife at all sadly.
At this point all we can do is look ahead to the next week.
I play against my brother in law who has won the season the last couple of years, so hopefully I can turn the tides against him.