---
Well, despite the surprising (and hopefully not last) win by the Lions this past weekend I had a sub-par week fantasy-wise. You would think that 112.64 would give me a decent chance of winning the week. You are right, usually it would. However, this year my sister in law seems to be running away with the season.
How can you really even stand a chance when your opponent puts up 141.82 points! If you consider the fact that Elliott from the Cowboys and a pretty crappy day then the 141 points is even more impressive. She could have easily scored over 160 if the Cowboys still had Prescott at QB.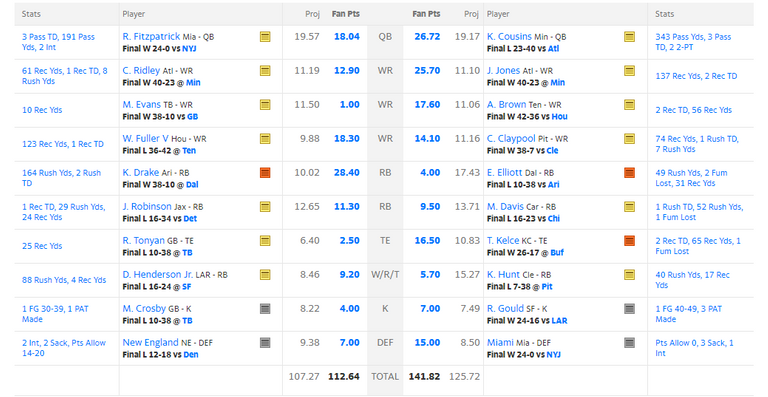 ---
Looking at my team, there is a lot that I am happy about even though I didn't come home with the win. Fuller had an impressive game and my new QB Fitzpatrick didn't do too horrible. It was tough letting go of Prescott, but I really don't see him being back to 100% any time soon. He would have just been dead weight on my roster had I tried to keep him.
Ridley had a somewhat impressive game, but Evans might be looking for a new team after this week. Looking at his past numbers, this may have just been an off week for him. I will give him one more shot, but I am getting to the point where I can't play around anymore if I want to have any chance of making it to the playoffs.
I am not in last place, but sitting at 6th (out of 8) is not where I expected to be with the way I started the season.
Drake was my star player this week with close to 30 points. If only a couple more of my players could do that consistently.
Tonyan was a new pick up and he pretty much sucked it up. I will give him another chance next week and then I will be looking for someone new if he doesn't produce.
I am not super happy with the New England Defense, but they did better than the -2 points San Francisco gave me last week so I can't complain too much.

---
Looking at the bench, it is clear I should have played Hurst at the tight end position instead of Tonyan. It still wouldn't have given me the win, but it would have made me feel a little better to see my total score closer to 120. As good as Brady is, he just isn't consistently explosive, so for the time being he will be spending some time on my bench.
If things don't improve next week, there is a good chance I will be shaking things up on my team again. The bad part is there just aren't many great options available.
I am not going to be surprised if I find myself buying a couple fifths of Tito's to pay off my sister in law when she wins this Winter. She has a really solid team and although she has one loss, it is going to be hard to take her down I think.