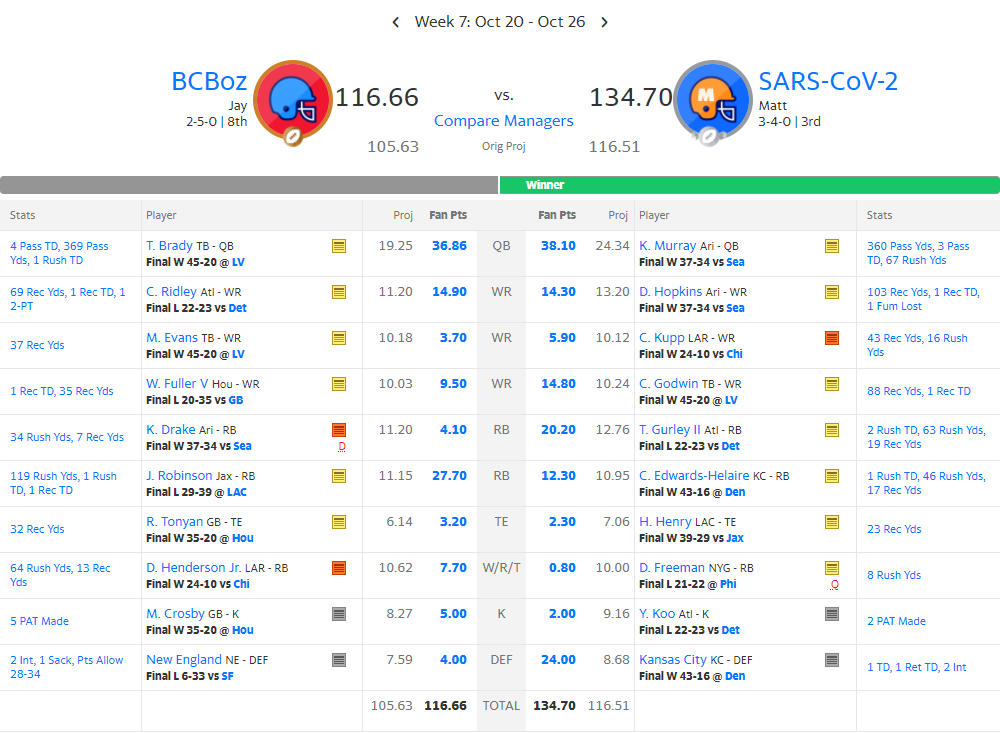 ---
I wasn't feeling super great coming into this fantasy weekend. My team sucks. There isn't much other way to put it. I figured I was going to be setting myself up for another significant loss.
My wife and I were even talking about this being our last year playing at one point. Then we decided we didn't want to be those sore loser type of people. It sucks buying someone else a couple fifth's of liquor every year...
Then Sunday came along and Tampa Bay played an early game. As you can see, Tom Brady put up close to forty points and I was starting to change my tune about how horrible this week was going to be.
Sadly, I wasn't able to hold things together and as you can see by the final score I dropped the week to my brother in law. This losing thing is getting really old.
You will see when I share the bench players that there is one individual who should have been in my starting roster. I plan to rectify that next weekend, but I have a feeling as soon as I move him off the bench he will proceed to do absolutely nothing.
Robinson and Brady were the two stand out players this past weekend for me. I wish I could count on them for those kinds of numbers every weekend.
Everyone else was mediocre at best.
It is just really disappointing.

---
As you can see, Moore was once again my big mistake. I am pretty sure I lamented last weekend over how I should have played him and I didn't.
I was expecting Tonyan to do better too, but I might have to move Hurst back into his position. There are so many prolific tight ends in the league that put up amazing numbers. I shouldn't have to settle for less than ten points per game.
I have a lot of players on bye this week, so I am not sure how next week is going to look. It might be time to cut some more of the fat and just see what I can do moving forward.
I know as soon as I cut a player they are going to end up having a break-out game, but at this point I am not sure what else I should do. A fire sale feels like it is in order.
My wife picked up a pretty bad loss this past weekend too. I think she is at the point where she just doesn't care anymore. I kind of don't blame her.