Superbowl LVII: KC vs. Philly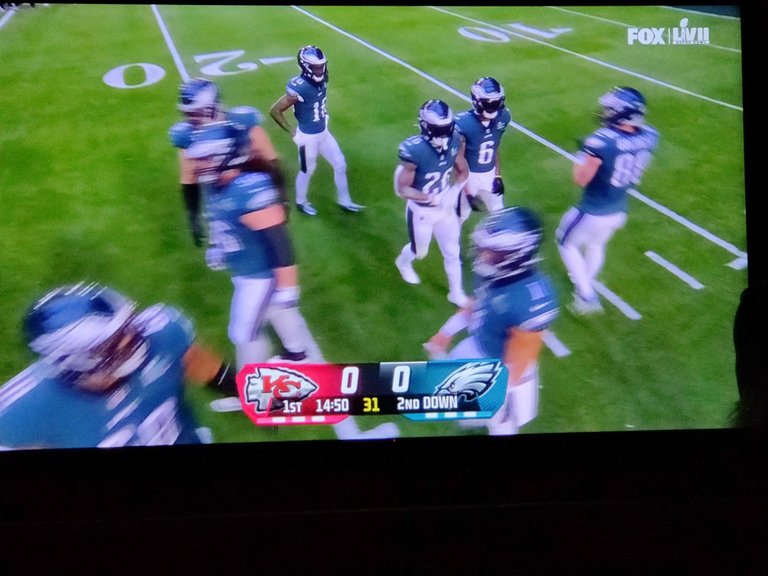 ---
I apologize for the blurry picture. It was the best I could do from my couch with all the lights off in the house. As I mentioned in one of my past posts, while I enjoy the Superbowl, it isn't a big party for me like a lot of people have.
While some school districts and businesses give students and employees the day after the Superbowl off, my place of work does not. That means getting up at four in the morning just like usual. If I were to stay up and actually watch the whole Superbowl, I likely wouldn't be able to function the next day.
That's just from lack of sleep. It isn't like I was boozing it up last night or anything either.
When I saw the start time of the game was 6:30 I actually thought I might get to bed a little early. When the game actually didn't start until after 7, I knew that wasn't going to happen.
I'm not going to lie to you and say I stayed up and watched the whole thing. In regular fashion, I stayed awake to watch the first half and the halftime show, then I headed to bed. I figured I would check the score in the morning to see who won.
From what I saw, it was a pretty great game. With Mahomes hurting his ankle and limping off the field halfway through the second quarter, it was looking like they might have to rely on Henne to get them through the rest of the game.
I see now that wasn't the case. He came out and in true Mahomes form, he put up some crazy numbers. Almost makes you wonder what kind of drugs they might have given him at halftime.
Unfortunately, he didn't get quite as many passing yards as I needed to win one of my parlays, but I will talk more about that on Thursday.
To be fair, I think these teams were pretty evenly matched and from what I saw of the game, this was one of the most balanced Superbowls we have seen in a while.
Of course, it wasn't without controversy. There was a flag at the end of the game that many people think shouldn't have been thrown. Whether that is true or not, from what I have read, even if they hadn't gotten the yards on the penalty, KC likely would have kicked the field goal and won the game anyway.
Trust me, I get it. It's easy to pick out a single thing and blame all of your woes on that. I'm a Lions fan after all, I can give you any number of things that has kept the Lions from being successful over the years.
In this case though, just take the loss and move on. You had a great season Philly. I was cheering for you. It sucks I know, but what can you do. It seems like people these days are just looking for someone or something to blame for pretty much every bad thing that happens in their lives. Sometimes bad stuff happens. That's just the way it is. Blaming someone else isn't going to undo it or solve it.
Sorry, I got off on a rant there.
Now, let's talk about the music. Babyface was still pretty amazing. Even at 64 or however old he is, his voice is still silky smooth. Stapleton did a fantastic job on the National Anthem. I can't complain about that at all either. I've seen him in concert and it was a great show. I also get to see him again in a couple of months here and I am really looking forward to it.
It seems like every year people are just waiting to complain about the halftime show. No matter how good it is, you know there are going to be people posting stupid stuff on Facebook the next day. Sadly, these days, most of it is off color and more than likely borders on racism.
I thought Rhianna did a great job with the show. Was it the best halftime show I have ever seen? No, probably not. Was it in the top 5? No, it probably didn't fit there either. It was a good show though and I thought she did a great job. It would appear the biggest talk of her show is the fact that she let it be known that she is pregnant again. I guess that is a good explanation for why she wasn't running around like a crazy person as some other performers have done.
I think she looked great and sounded great. She wore red much better than Sam Smith did at the Grammy Awards.
In the immortal words of Forrest Gump: "That's all I have to say about that"
Take it easy and stop by tomorrow where I talk about the college hoops action from the weekend that I would normally be posting about today.
---
---

---
All pictures/screenshots taken by myself or @mrsbozz unless otherwise sourced
---
---