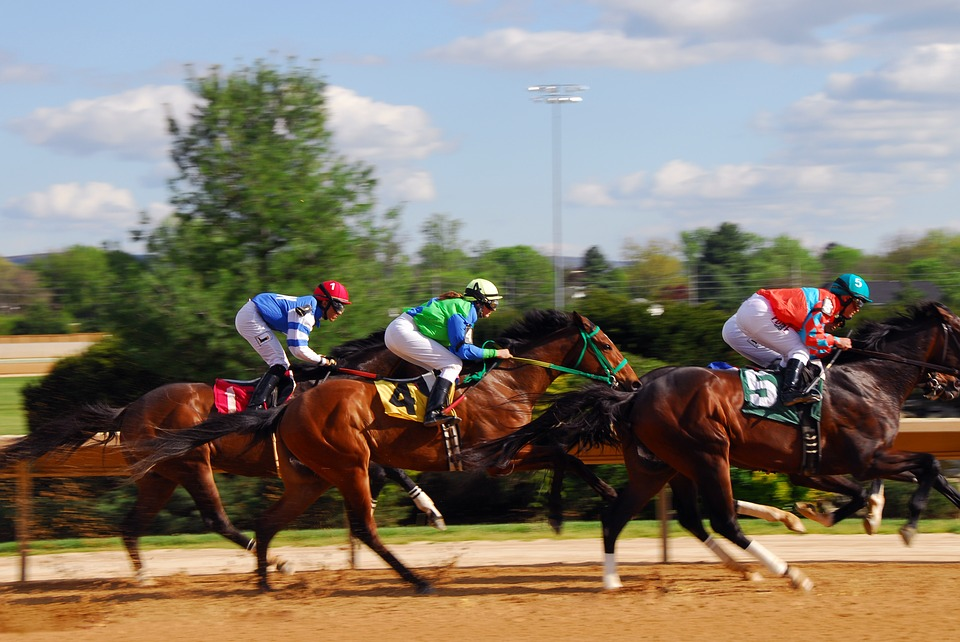 ---
I can not care about horse racing at any other time of the year, but for some reason during this time of year, I always find myself watching. The three races that happen across just over a month and make up the triple crown are a signal that summer is right around the corner.
I think my attention was really drawn to horse racing several years ago by the Belmont Stakes which happens in early June. @mrsbozz and I were out of state at a restaurant in downtown Columbus, OH. It was a beautiful day and we were sitting outside with my in-laws. I can even remember I ordered the meatloaf to eat. That is how etched in my mind this memory is.
Just to the left of our table was the bar that would have been just beyond the roll up garage doors if it hadn't been nice enough for them to have them open.
I wasn't paying too much attention to TV's above the bar, but the race was starting. Next thing we know, this lady is going berserk at the bar, I mean totally freaking out. We came to find out that she had successfully picked the win/place/show for that years Belmont race and had won herself a lot of money. From that point on, the triple crown races have always drawn my attention. Partly for the potential and the atmosphere they embody, but also for nostalgia of that moment.
Before we get to this years Belmont, we need to get through the Preakness first. If you read my posts last week, you would know that Medina Spirit won the Kentucky Derby which is the first leg of the crown. It was not without controversy, and if Medina Spirit would have won this past weekend, it might have raised some serious questions.
It was a bit of a miracle that Medina was allowed to run in the first place. Given the positive drug test for anti-inflammatories. The decision is still out on whether or not Medina Spirit will retain the Derby crown.
A win would have put even more scrutiny on the team and in fact that was almost the case. Medina Spirit had a pretty decent lead for the majority of the race.
That last stretch though, that is where winners and made and Rombauer an 11 to 1 odds to win the race came out on top. It was pretty epic. I was nearly out of my seat. My wife was annoyed because I was screaming at the TV. It was classic sports.
I mean, going into the final turn, Rombauer was just touching fifth place. That is a lot of ground to cover when you only have a short distance to go. Like I said, it was pretty epic.
This means there will be no triple crown winner this year. It will be interesting to see what the Medina Spirit team does about the Belmont. To be fair, Medina Spirit did come in third, but there is still that doubt in the air about the validity of its run.
Midnight Bourbon who came in second was one of the crowd favorites.
Oh by the way, I brought up my concerns about this in one of my last posts, but according to the all-knowing Internet, the whipping of the horses doesn't actually hurt them. It just creates a snapping sound that encourages them to run faster. Personally, I am going to take that with a grain of salt...