---
Another year, another crushing defeat at the hands of one of my inlaws the first week of the fantasy football season...
As you can see, it wasn't even close. I really thought I had a chance this week. My confidence was high starting a new season. I had big dreams of winning every game the whole season. Yet here I am. Already at the very bottom of our league. I was the only team that didn't score over 100 points for the week.
As you can see, I was supposed to. I was projected to put up a decent 118 points, but due to the universe basically hating me, my team didn't even score 90 points.
Pitful!
Let's look at the breakdown: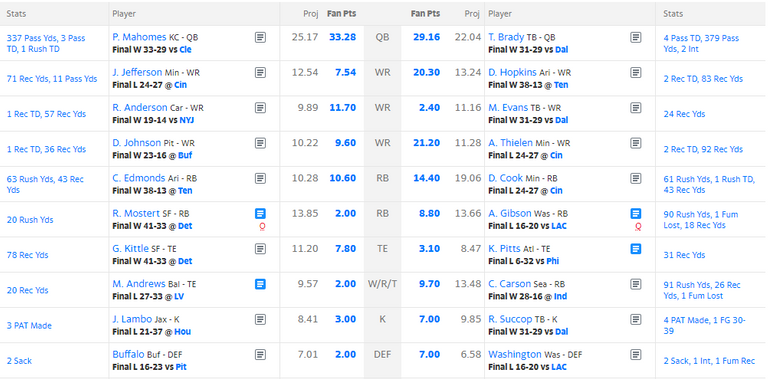 ---
You would think with Mahomes on my team I would be a virtual shoe-in to win each week. While he did outscore my sister in laws quarterback, the rest of my team fell woefully short.
I will give Jefferson another shot next week. Anderson is a definite keeper for now. I think Johnson and Edmonds both deserve another shot to shine in the coming weeks as well.
Mostert is effectively out for most of the season after some kind of injury, so he will be getting dropped from my team in short order. I just don't have the time to wait around for him to get healthy. Especially not when I am getting hammered this early on by my opponents.
Kittle didn't have the greatest game, but I know he has it in him. He is effectively one of the best tight ends in the league right now. Dropping him would be a huge mistake I think.
Andrews is riding a very fine line right now in my flex position. It is likely he won't be in the lineup next week. Talk about a massive let-down. Two whole points? My kicker scored more than him!
Speaking of kickers... I don't really expect much from them, so there will be little change there. Defense on the other hand has me a bit concerned. I really expected more from the Buffalo defense. Especially give the hype that the whole team had going into this season. I will give them another chance, but if they don't produce for me next week I will likely be looking at a trade.

---
As you can see, my bench really wouldn't have helped me that much. None of them scored more than five points which is really quite ridiculous when you think about it. Who would I have considered replacing some of my duds with? I am likely going to have to go out to the waiver wire.
Stafford did decent, but even though he had a great game, his score still didn't reach the level of Mahomes. I really need to think long and hard and make some tough decisions before this season slips away from him. I know first hand how waiting too long can basically be like giving up.
What do you think? Any obvious changes you would make after this horrendous showing?
---
---

---