Human Turkish Get Up (my first viral video on ytube)

▶️
Watch on 3Speak
---
Turkish get up and some missed opportunities
This is me and Poly 10 years younger 💑


This is a really old video, but I will use it to tell you his story and also will explain wtf is "Human Turkish Get Up". The video was taken in the summer 10 years ago and in it you can see me and Poly performing a nice acrobatic stunt on the beach.
It was taken from a friend of mine, who later uploaded it to YouTube. At the time I was really young and had no idea that engagement and view could bring me money, so I totally agreed to let him do this.
The video was an instant success!
Over a few days it brought over one minion views and tons of comments, some of them really rude, so I asked him to disable comments. The decision we made next is a one that I still regret. We were asked from several sides, YouTube including, to enable advertising, give some broadcasting license for some TV's and other possibilities to earn money. Me and my friend decided against all these possibilities, even that my financial condition was far away from my physical. After few months the video went even more viral and in a year it had over 20 million views and all we get was
Nothing...
If I had other decisions and allowed ads and broadcasting, that would solve so many problems, that required tons of effort and work. So maybe with this post I will finally earn a few dollars for my skills 10 years ago. (or maybe get downvotes for uploading old video :D )
p.p. Even a bad decision, it is nothing compared to Poly's declining to join some of her friends mining bitcoin before it was cool.
The video on youtube
Free music from: bensound.com

Turkish human get up
Anyway, as I said I want share my knowledge about an exercise called Turkish get up.
It is a really old exercise. It is seen performed by old time strongmen (the guys with moustaches, kettlebells and barbells with metal spheres )
The strange name of the exercise comes from the multiple Turkish wrestlers that perform it in their workouts. Now TGU(Turkish get up) and some of its variations are used by multiple contemporary MMA/BJJ fighters.
It requires multiple levels of strength, stability, coordination, balance and flexibility. Especially when it is performed with a Human. It is usually executed with a kettlebell or a dumbbell, but when one wanna show off like me, he better take a big barbell or a fellow gym user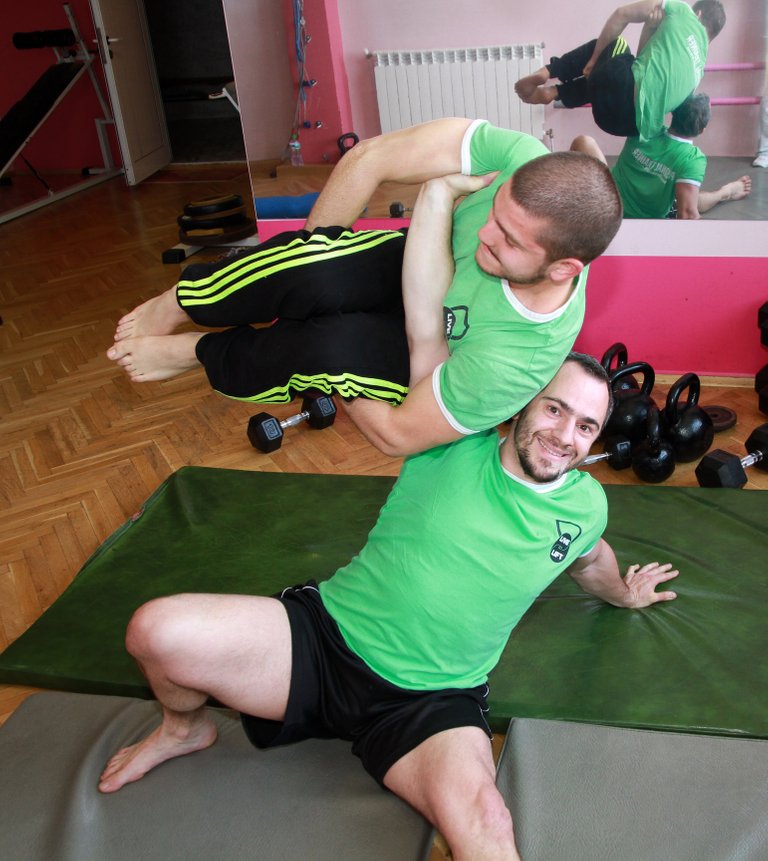 ***
Do you wanna try it?
If the answer is YES, don't rush and take the first girl you meet. You better ask a trainer to help you with the different stages of the exercise. If this is not possible, make sure you check the resources I will link in the bottom of this article.
Do you like old-time strongman exercises?
Make sure you saw my more recent video about Two Hand Anyhow
If you want to see more of these exercises, make sure you leave me a request in the comments.

Resources for further reading
Gray Cook & Brett Jones 's From The Ground Up : Kalos Sthenos
http://www.begin2dig.com
http://www.bodybuilding.com/fun/turkish_get_up_training.htm
http://robertsontrainingsystems.com/blog/examining-the-turkish-get-up/
http://www.oldtimestrongman.com
---
▶️ 3Speak
---
---