With the end of the regular season over, we now have a clear picture on who is in and who is out of the 2021 NFL Playoffs. As such, I am excited to announce a Bracket Challenge for the Sports Talk Social community.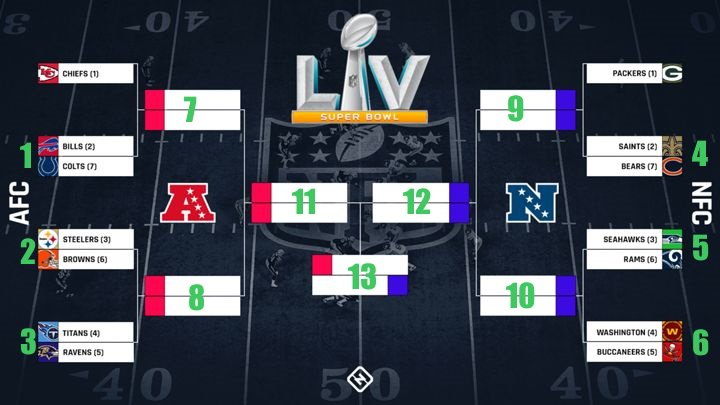 (Original Source)
The Prize
The top 3 finishers will receive 85% of the SPORT and HIVE author rewards for this post and the weekly update posts for this challenge. The highest score will receive 50% of the author rewards, second place will get 25% and third place will receive 10%.
I will keep 15% of the HIVE and SPORTS as an organizers fee, along with any other tokens rewarded. I will also be entering the contest too and will have a chance to win some of the prize money. But to prove I'm not cheating, I will post my picks in a comment below following this post and will not edit them.
In the case of a tie, the rewards for the tied positions will be combined and split between the tied parties. For example if two people are tied for 1st, the prize for 1st and 2rd will be combined and split between the two winners.
How To Play
It is super easy to participate in this #giveaway.
To be eligible to enter you need to give this post a 100% upvote and your upvote must be worth at least 0.1 #SPORTS or 0.002 #HIVE. Only one entry per account.
Next, Check out the bracket above and pick who you think will win each game. Be sure to pick all the rounds using the winners you picked from the last round. Post your picks in the comments below by Saturday, January 9, 1:00 p.m. ET. Post your comments with the game number from the bracket and your pick for the winner like the following example -
Game# Winner
1 Bills
2 Browns
3 Titans
4 Bears
5 Rams
6 Washington
7 Chiefs
8 Titans
9 Green Bay
10 Washington
11 Chiefs
12 Green Bay
13 Green Bay
Scoring
At 1pm Saturday I will record everyone's picks (you can edit your picks up to that time). No edits made to picks after 1pm Saturday will be accepted.
Correct picks in week 1 (Wild Cards) will be awarded 1 point. Correct picks in week 2 (Divisional Games) will be awarded 3 points. Correct picks in week 3 (Championship games) will be awarded 5 points. Correct picks in week 4 (Superbowl) will be awarded 10 points.
Total points will be summed and the Top 3 point will split the prize.
Everyone Gets a Trophy!
Well, ok, no trophies, but I will be giving an upvote to all participants and encourage others to do so as well.
Help Spread The Contest
The total prize awarded will grow with the more participants we can get. Help spread this contest to others in SportsTalk and other tribes by -
Creating a post about your picks and include a link to this #contest. You can use the tag #playoffpicks as well
Re-blogging this post
Tagging some friends in your picks comment who might want to play.
If we can get a couple of SportsSocial or Hive whales to participate we can get a decent sized prize pool.
Good luck to all
I will post weekly updates with current standings (remember upvotes on those posts add to the prize pool!)