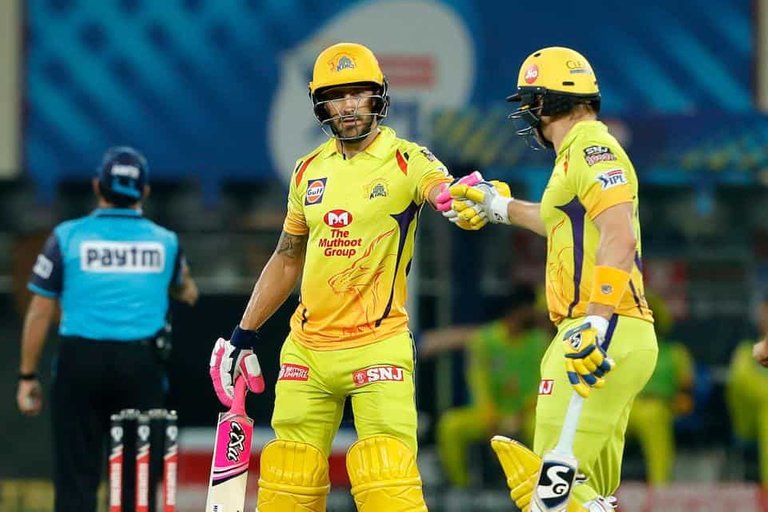 source
On Sunday, Chennai Super Kings defeated Kings XI Punjab by 10 wickets in the second match of IPL. It was the first time in the season that a team won the chase in Dubai. Shane Watson and Faf Duplessis made the biggest opening partnership for Chennai, allowing the team to easily surpass Kings XI Punjab's score of 179. After winning the toss, Punjab had scored 178 for four wickets in the scoreboard thanks to a brilliant 62-run half-century innings by skipper KL Rahul, but Faf Duplessis's 87 off 53 balls and Shane Watson's 83 off 53 balls helped Dhoni Sena. Broke the order of three consecutive defeats and 14 balls already hit the ground.
Shane Watson and Faf du Plessis started brilliantly against Punjab. Both added 60 runs in the powerplay without losing wickets. After this he completed his half-century. Watson completed the half century with 31 balls with 9 fours and 1 six, while du Plessis hit the 50-run mark with 7 fours off 33 balls.
The pair of regular KL Rahul and Mayank Agarwal came on the field to start the innings against Chennai. Ahead of the tight bowling, the duo added 46 to the powerplay. On the first ball of the 9th over, Mayank was caught by Piyush Chawla for 26 runs Mayank Agarwal was caught by Sam Curran. The second wicket fell in the form of Mandeep, Ravindra Jadeja got caught by Ambati Rayudu for 27 runs.
Punjab's team got the third blow as Nicholas Puran. Playing 33 off 17 balls, Puran was caught by Ravindra Jadeja off Shardul Thakur. Rahul, who played the captain innings, scored 63 off 52 balls and caught Mahendra Singh Dhoni behind the wicket off Shardul. Glenn Maxwell remained unbeaten on 11 off 7 balls while Sarfaraz Khan scored 14 off 9 balls.