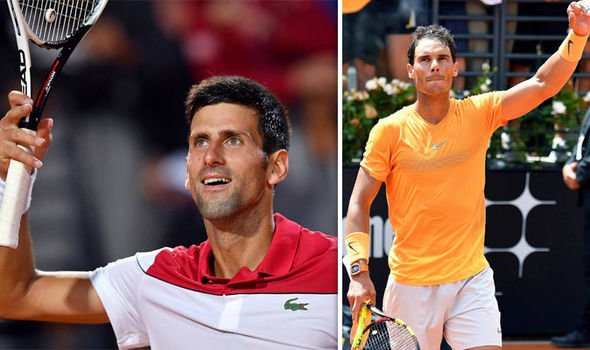 Source
Top seeds Serbia's Novak Djokovic and Spain's Rafael Nadal have made it to the quarterfinals of the Italian Open men's singles. Djokovic defeated Havatman Filip Krajinovic in straight sets 7-6 (7), 6-3 on Friday to enter the final-8 of the tournament for the 14th consecutive time. Written by Djokovic on the ATP website, this is definitely one of the longest sets I've ever played. I think it is never easy to play against someone who is your best friend. I think the first set could have gone differently.
The world No.1 said, "Luckily, it went in my favor and it helped me in the second set."
He may have been behind some mentally and physically and I took advantage of the opportunities. In another final-16 match, nine-time winner Nadal defeated Dusan Lajovic 6–1, 6–3. Nadal said, I think I have played very positive tennis. Obviously, the improvement should be continuous. I will work on things that are not happening on their own, but I cannot ask for more. For me it was another great evening, another great opposition.
Lorenzo Musetti, who defeated Stanislas Wawrinka and Japan's Kei Nishikori, was defeated by Dominic Koepfer of Germany 6-4, 6-0. Fourth seed Matteo Berretini defeated Stefano Travagilla 7-6 (5), 7-6 (1) to enter the final-8. In the women's category, Romania's Simona Halep defeated Diana Yastremska of Ukraine 7-5, 6-4. Second seed Carolina Pleiskova defeated Russia's Anna Blinkova 6-4, 6-3.
Former World No.1 Victoria Ezarenka's opposition has entered the quarter-finals after Russia's Darya Kasatkina retired in the first set. Spain's Garbine Mugururaj defeated Johanna Conta of Great Britain 6-4, 6-1.