Khabib Nurmagomedov is the undefeated champion in his MMA discipline, in tears after winning his last fight in the ring. They are not tears of joy for the victory but tears of pain because Khabib lost his father, as well as his coach, a few months ago due to the Coronavirus and promised his mother that Saturday night in Abu Dhabi would be the last meeting of the his career.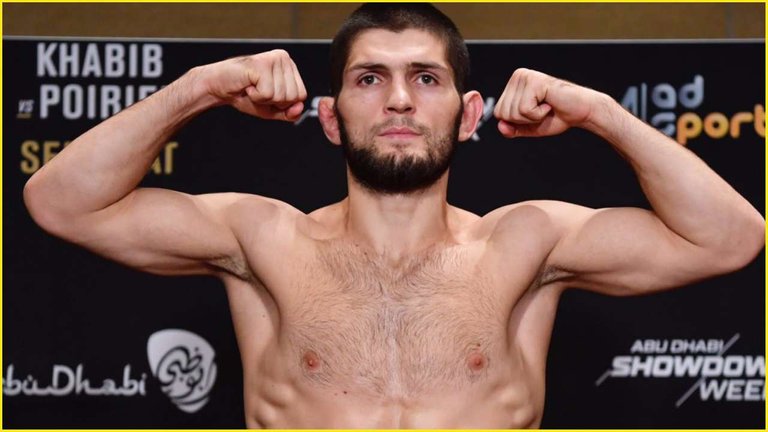 Source
---
A very intense story that of Khabib, since he was a child he trained hard, followed by his father Abdulmanap, himself a fighter and highly decorated officer of the Red Army, a soldier in all respects. The workouts are hard and exhausting with 2 workouts a day with sessions of even 7 consecutive hours.
Nature is his gym and he also trained in the icy waters of the river in winter and the fight with bears, like a famous video from 1996 that is now popular on Youtube: training with a bear cub he learned the holds , the right moves to KO the opponent, not without suffering hard blows from the animal.
Father Abdulmanap's dream was to train him for some Olympic discipline, bringing a great honor to his family but Khabib loved martial arts and especially MMA. So in 2012 he landed in Nashville for his first meeting under the orders of the patron of the UFC Dana White and obtained his first victory, the first of a long series, including that of 2018 against the champion Conor McGregor until the last consecutive victory of Saturday 24 October, the last of his short but incredible career.
A boy born in a difficult environment in Sildi, a small village of 200 people, whose willpower to emerge in the discipline that has always fascinated him led him to success at the age of twenty, becoming a sports legend, used to winning all challengers but who could not predict the infamous Covid-19 which stole the person most dear to him.
At the end of the meeting in Abu Dhabi he collapses to the ground and desperately cries for the loss of the man who transformed him into a champion and who for all these years has been close to him, teaching him the rigidity of the discipline but the correctness and respect for opponent.
Regards