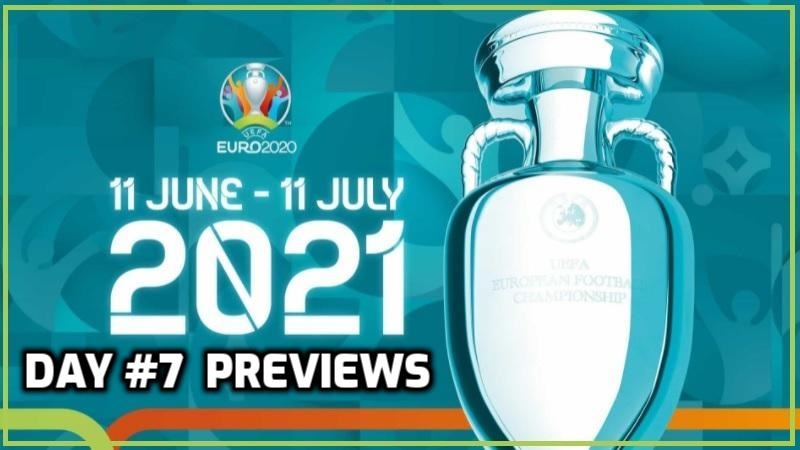 I am following the European Football Championship making previews on all matches while having some fun betting small stakes.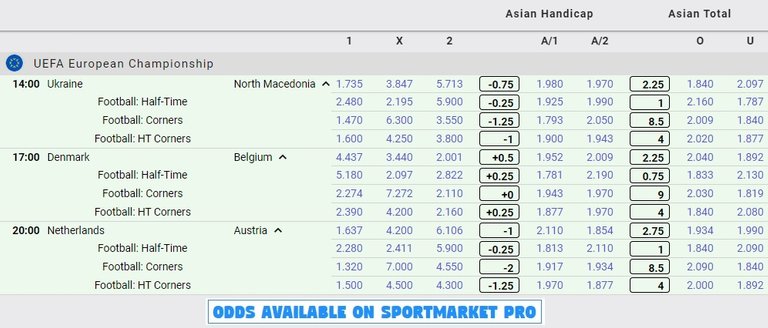 Both pre-game bets ended up winning yesterday and I continue to run quite hot in this tournament wishing I would have gone quite a bit bigger in stakes instead of playing it all very cautious assuming I don't really have a real edge over the market. I will just be sticking to the plan as the amount of profit made still is pretty nice and I rather not have a situation where I start betting 3x what I take now to be hit by regression to the mean.
Day #6 Bets

Total Day 6 Results 10 Bets | 5W-5L-0P | Staked 0.74 Units | +0.241 Units Profit
---
Total Starting Bankroll at risk = 2 Units

Full Flat Stake being 0.2 Units
Medium Stake 0.15 Units
Small Stake 0.10 Units
Tiny Stake 0.05 Units
---
3 more interesting matches today...
---
Ukraine vs North Macedonia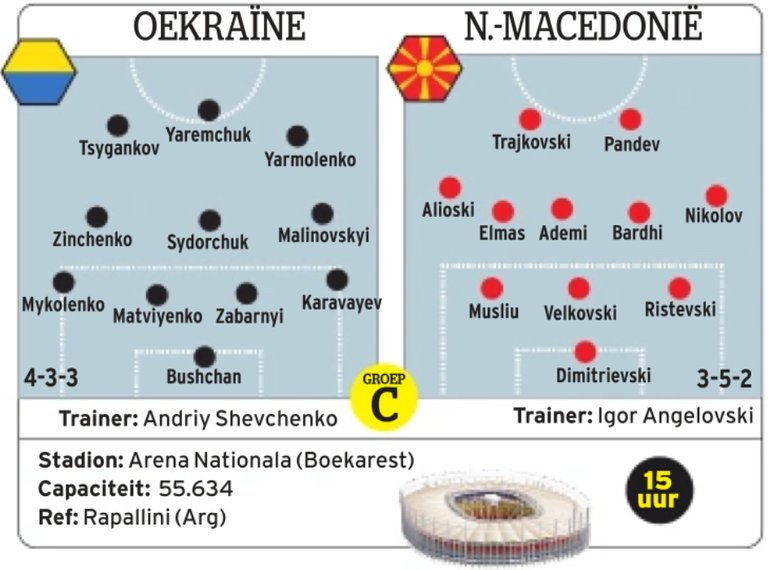 Both teams lost their first match in what where very open matches with plenty of goals. Despite being a small team, North Macedonia rarely fails to score in their matches. They ran out of energy late in their match which might be something to look at for a possible live bet. Ukraine was dominated by the Dutch team and the 2-1 pretty much came out of nowhere putting them back in the game. They should be the better overall team today. I'm waiting this one out and will mostly look at Ukraine and Over in the 2nd half depending on the scoreline.
No Pre-Game Bets
---
Denmark vs Belgium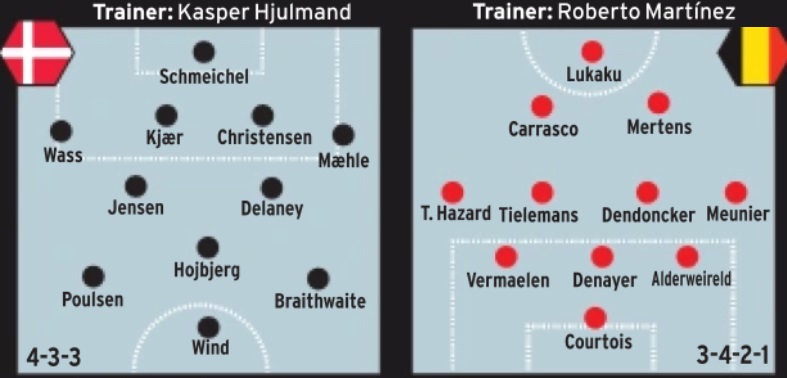 So Belgium won 0-3 against Russia a convincing performance even though they were unable to field some of their best players while Denmark went through a traumatic experience also missing one of their best creative players finishing that match which they ended up losing. The probability of Denmark still carrying what happened in their previous match, making it hard for them to put up a good performance in my view is higher compared to what happened to fuel them making them more motivated and sharp for this match. While things like this usually give teams a boost, the experience was just too emotional and shocking in order for it to give them an advantage. The players will quit playing for some time around minute 10 for Eriksen so expect this match to be played over 80 minutes instead of 90. I expect Denmark to play with a tight defense and Belgium if they take the lead not to push to possibly make it into a big score. A draw would not be the worst result as it leaves Belgium to be qualified allowing them to still win the group while Denmark despite the dramatic result in their 1st match also keeps things in their own hands to qualify. I need at least a -0.25 line on Belgium to offset the draw result and will wait out the first 10 minutes to get involved. Most likely, this match will play out as a very fair game with few cards but odds seem to be adjusted to this.
No Pre-Game Bets
---
Netherlands vs Austria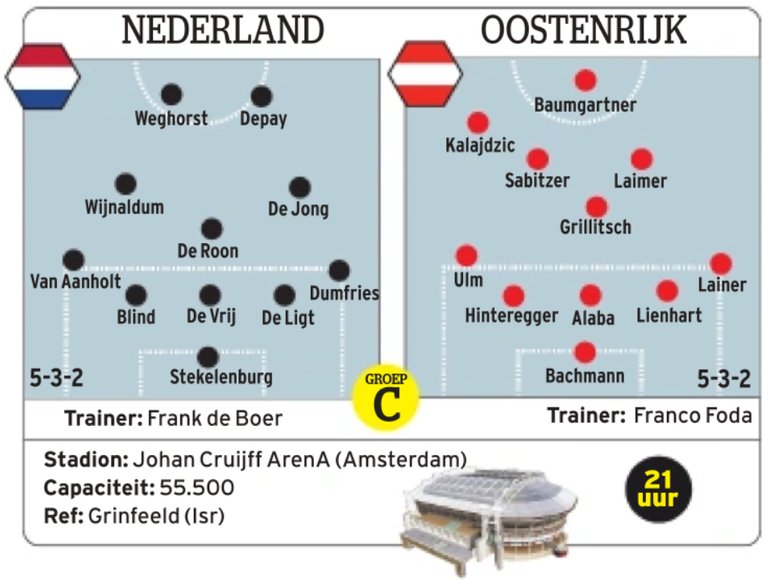 The Netherlands played one of the most open matches in the tournament so far winning 3-2 in the last second of the match. They have a good offense but not so goo defense so over once again or their opponents to score are certainly options. Austria won 3-1 to North Macedonia with the 2 winning goals coming very late in the match. Having only kept 1 clean sheet in their last 8 matches, it will be hard for Austria to not get at least 1 goal against in this match. Looking at the lines and the odds, pretty much everything points toward a victory of the Netherlands whith Austria also scoring a goal. Another match where I will just wait it out and see what it brings for in-game betting.
No Pre-Game Bets
---
Late info might change my view on what is written in these previews. I will cover these matches live in our SBC Discord Channel My Bankroll on this tournament is only 2 units with full stake bets being 0.2 units. I take all my Pre-Game & Live bets with my Betting Broker Sportmarket Pro who always provide the best offers on the market with a 1 click solution and don't limit winning players offering high limits. For more info check my Sportmarket Pro Review

---
Euro 2020 Betting Results
Day 06 Results 10 Bets | 5W-5L-0P | Staked 0.74 Units | +0.241 Units Profit
Day 05 Results 04 Bets | 2W-1L-1P | Staked 0.25 Units | +0.099 Units Profit
Day 04 Results 08 Bets | 5W-3L-0P | Staked 0.43 Units | +0.155 Units Profit
Day 03 Results 11 Bets | 4W-6L-1P | Staked 0.78 Units | +0.106 Units Profit
Day 02 Results 11 Bets | 4W-6L-1P | Staked 0.85 Units | +0.089 Units Profit
Day 01 Results 04 Bets | 2W-2L-0P | Staked 0.30 Units | -0.0195 Units Loss..
 Total 48 Bets | 22W-23L-3P | Units Staked 3.35 | +0.664 Profit | +19.83% ROI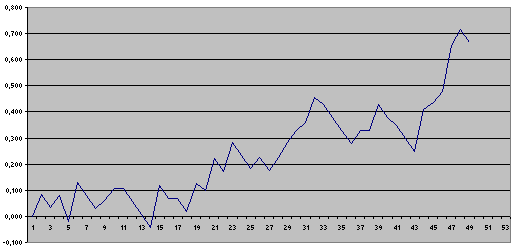 ---
I also plan to take some Beer bets in crypto. Full Guides to Decentralized Crypto Bookies I personally use where no KYC is required allowing anonymous betting from any location without individual limits for winning players...
---
IMPORTANT !
Past results don't guarantee Future Results. There are very few people that are equipped financially and psychologically to handle the ups and downs of gambling on a daily basis. If you're not a professional, every instinct you have will attempt and probably will sabotage your success. Human nature runs completely contrary to being successful at gambling. These bets are posted as a way to help myself in order to stay disciplined, always hold yourself accountable if you end up following. Proper Bankroll Management can highly decrease the risk of heavy losses!

---
---