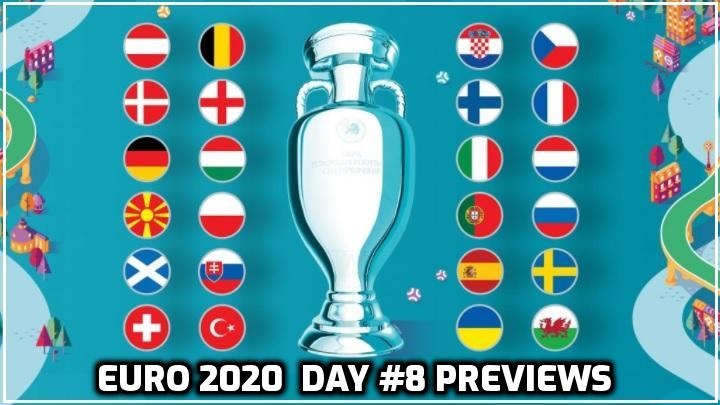 I am following the European Football Championship making previews on all matches while having some fun betting small stakes.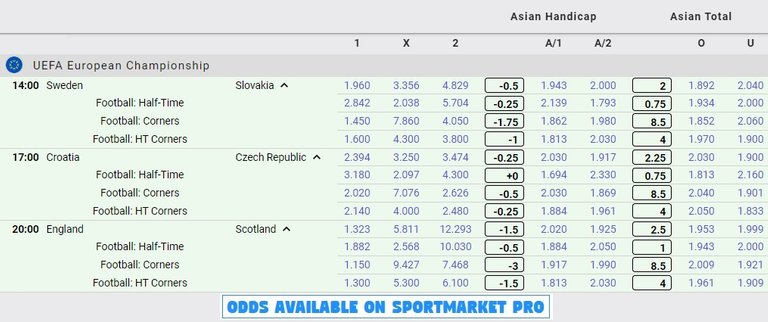 Yet another solid day betting the European Championship yesterday even though I am starting to feel my focus drop quite a bit. The hot weather probably has a lot to do with that. Something I'm surprised about is the fact that many of the odds and lines for these games end up having a lot of value in them actually. Being a sports bettor for nearly 2 decades, I have come to highly respect the Asian Bookies and the general market being able to almost make line setting into an exact science. Results have been great but I'm not changing my approach or stakes just sticking to the plan. I also had a closer look at betfury.io which have become another valid crypto betting option for me and I took my first couple of beer bets there today.
Day #6 Bets

Total Day 7 Results 5 Bets | 2W-2L-1P | Staked 0.38 Units | +0.165 Units Profit
---
Total Starting Bankroll at risk = 2 Units

Full Flat Stake being 0.2 Units
Medium Stake 0.15 Units
Small Stake 0.10 Units
Tiny Stake 0.05 Units
---
3 more interesting matches today...
---
Sweden vs Slovakia
Sweden was pretty much dominated (especially in the first half) by Spain but still managed to keep a clean sheet confirming their solid defensive numbers having kept 5 clean sheets in their last 6 matches. Slovakia took a 'surprise' win against Poland who overall was not good enough and often disappoints in these tournaments and they on top took a red card which helped Slovakia. The visitors are now also 6 game without a loss but took 4 draws in those also only having 3 clean sheets in the last 11 matches. Slovakia for sure would sign for a draw in this game and it is expected to be a match where they lay back while Sweden tries to move forward without taking all too much risk defensively. The only thing that stands out for me is Sweden having an average of below 7 corners in their last 9 matches only going 10 or more once and Slovakia also averaging below 7 corners never going above 10. This makes a combined record of 16W-1L-2P on the Under 9 Corners line which is getting 1.81 odds for this match. This is the bet I got myself into
0.2 units on Sweden vs Slovakia Under 9 Corners @ 1.810
. I also took a 100 TRX Crypto Beer bet on
Betfury
on Under 9.5 Corners @ 1.63 which are competitive odds with pinnacle who offer 1.581

---
Croatia vs Czech Republic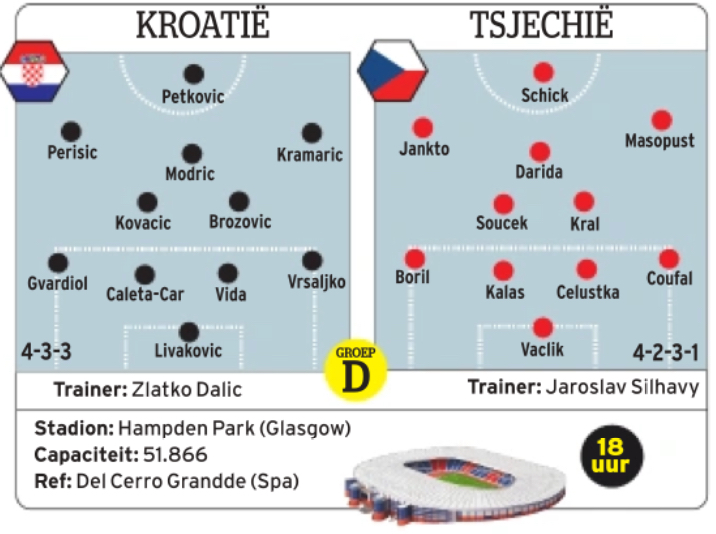 Croatia looked pretty poor against England lacking offensive quality losing that match by 1-0. After getting behind they were just not good enough to make a comeback and it became an under match. They will have to go for the win today while Czech Republic who took a deserved win against Scotland in a match where overall quality was rather low. Both aren't most impressive on the defensive side with Croatia only having taken 2 clean sheets in their last 10 and Czech Republic just managed to keep their sheets clean for the first time in 6 matches. Croatia right now because of the poor form they are in is not a team I'm willing to back and the main bet I will be looking at in-game is Czech Republic Team Total Over. Croatia has shown that they can take a good start in the match but this tends to fade rather quickly. They are also the team that has to win while a draw would be a good result for Czech republic. I did take a small
0.10 Unit on Croatia 1st Half -0.25 Corners @ 1.950
and a crypto 100 TRX beer bet once again using
Betfury
on
1st Half 1st Corner for Croatia @ 1.840

---
England vs Scotland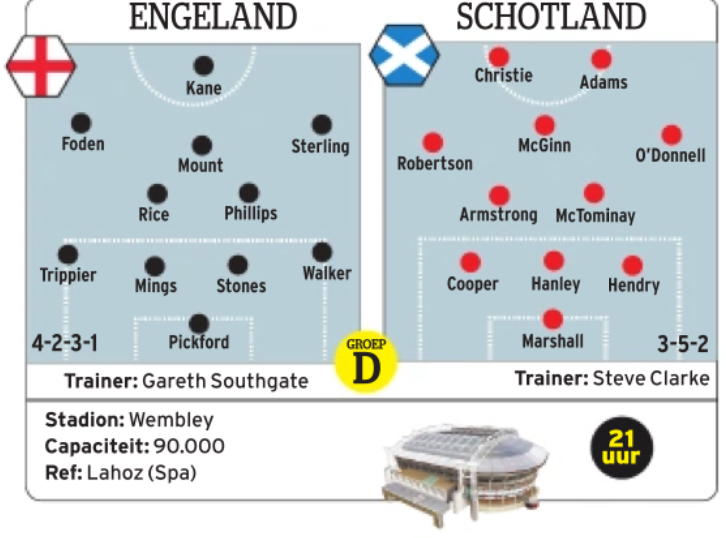 England took a deserved 1-0 win against Croatia taking their 6th clean sheet in 7 matches while Scotland showed not to be good enough to take anything against Czech Republic. It's a match with a pretty straightforward big favorite who have 7 straight wins now. I'm generally just not willing to back big handicap favorites pre-game in these tournaments and I'm also not willing to gamble on Scotland so I'm just staying away from this one pre-game.
No Pre-Game Bets
---
Late info might change my view on what is written in these previews. I will cover these matches live in our SBC Discord Channel My Bankroll on this tournament is only 2 units with full stake bets being 0.2 units. I take all my Pre-Game & Live bets with my Betting Broker Sportmarket Pro who always provide the best offers on the market with a 1 click solution and don't limit winning players offering high limits. For more info check my Sportmarket Pro Review

---
Euro 2020 Betting Results
Day 07 Results 05 Bets | 2W-2L-1P | Staked 0.38 Units | +0.165 Units Profit
Day 06 Results 10 Bets | 5W-5L-0P | Staked 0.74 Units | +0.241 Units Profit
Day 05 Results 04 Bets | 2W-1L-1P | Staked 0.25 Units | +0.099 Units Profit
Day 04 Results 08 Bets | 5W-3L-0P | Staked 0.43 Units | +0.155 Units Profit
Day 03 Results 11 Bets | 4W-6L-1P | Staked 0.78 Units | +0.106 Units Profit
Day 02 Results 11 Bets | 4W-6L-1P | Staked 0.85 Units | +0.089 Units Profit
Day 01 Results 04 Bets | 2W-2L-0P | Staked 0.30 Units | -0.0195 Units Loss..
 Total 53 Bets | 24W-25L-4P | Units Staked 3.73 | +0.829 Profit | +22.23% ROI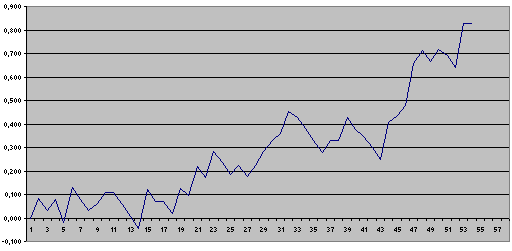 ---
I also plan to take some Beer bets in crypto. Full Guides to Decentralized Crypto Bookies I personally use where no KYC is required allowing anonymous betting from any location without individual limits for winning players...
---
IMPORTANT !
Past results don't guarantee Future Results. There are very few people that are equipped financially and psychologically to handle the ups and downs of gambling on a daily basis. If you're not a professional, every instinct you have will attempt and probably will sabotage your success. Human nature runs completely contrary to being successful at gambling. These bets are posted as a way to help myself in order to stay disciplined, always hold yourself accountable if you end up following. Proper Bankroll Management can highly decrease the risk of heavy losses!

---
---