World Cup 2022 | Day 5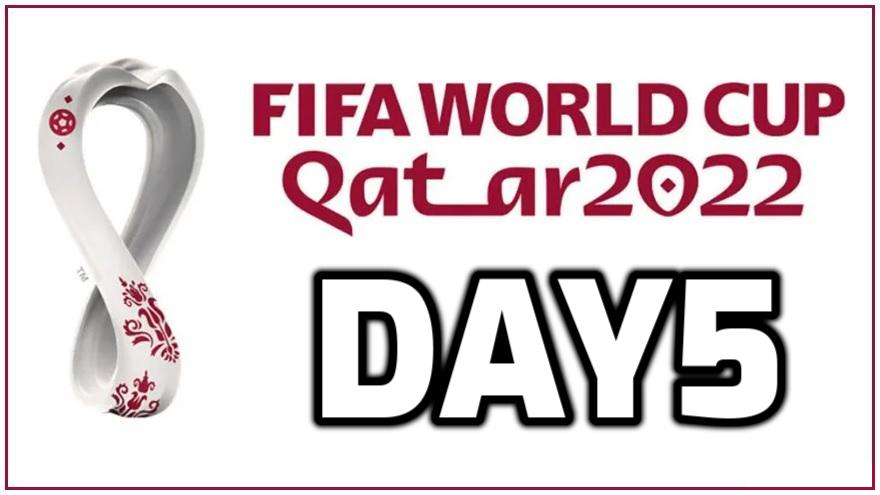 Similar to the Belgian League and the previous European Championship, I am covering the World Cup with Previews and bets to increase my personal discipline.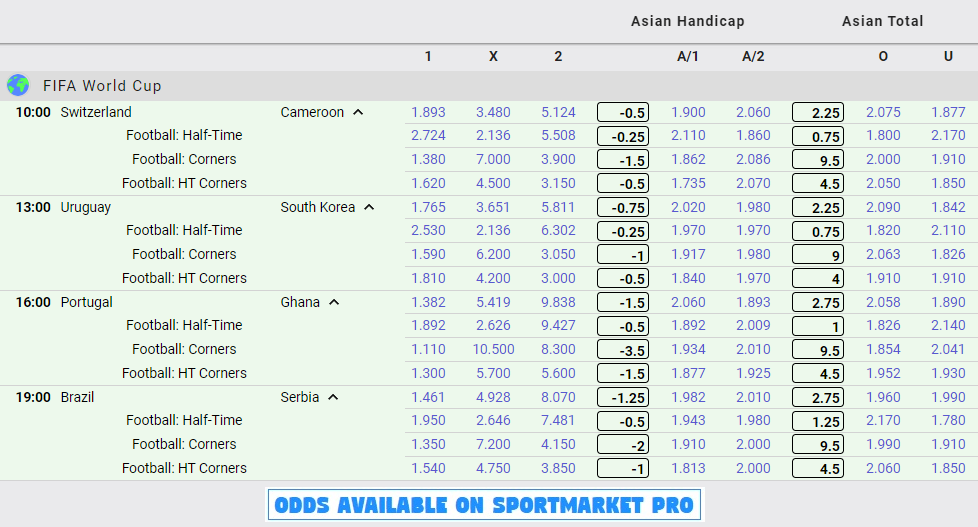 I took somewhat of an off-day on Wednesday having no bet aside from the pre-game Crypto net on Canada vs Belgium having both to score which was quite the miracle that Canada didn't score with a missed penalty and 2.5 expected goals.
I am looking to get things going again on Thursday likely just having 0.1 unit flat bets not chasing losses and just seeing where it all goes with a hard stop in case I would get to the point where I'm 2 units down in total. Right now, after a horrible 5W-15L Streak I'm down just 0.861 units so overall the damage is quite limited even though I'm not expecting to end the tournament with a profit unless I start having some bigger bets which so far I haven't gotten the confidence for yet.
Results Day 3
No Bets
Just brief notes and the line-ups on todays matches, I'll have more to write about once the 2nd matches from each group are played.
---
Switzerland vs Cameroon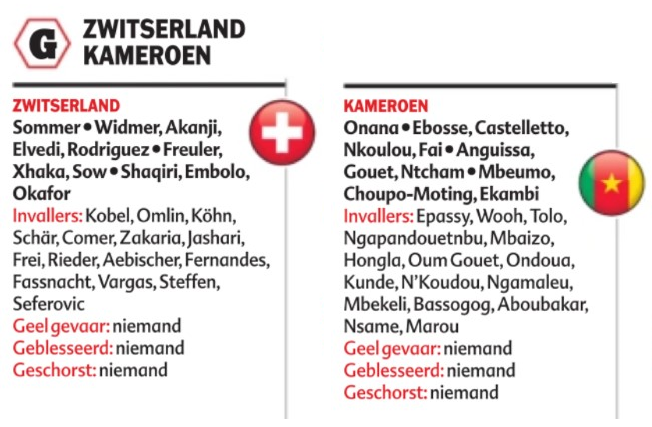 This match is just about to start when I'm writing this, I do have Cameroon to end last in the group as the African team in a difficult group. Similar to all these first matches I will see how it goes but the general expectatin is that Switserland especially if they have a good day should be too strong even though a win also won't be that easy.
---
Uruguay vs South-Korea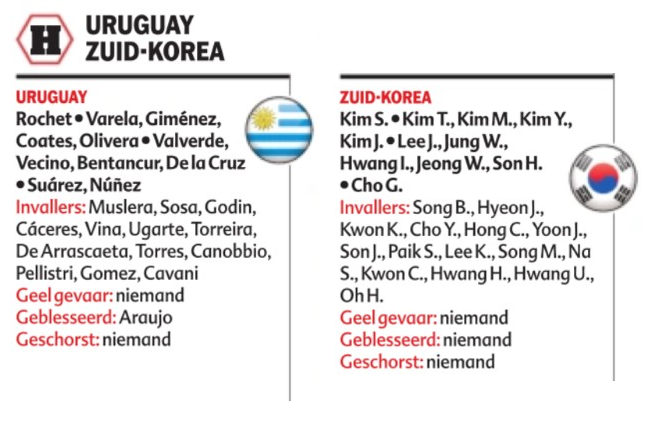 The thing I know about South Korea is that they didn't include Hong from AA Gent in the selection which kind of must mean they have a decent teams at least at that position. Uruguay traditionally is a good team and they have goals in them. Most likely it will be South Korea trying to keep things closed in defense luring on the counter with Urugual having most of the possession and taking initiative. Looking at most recent results both tend to be under in corners but the fact that games in this world cup tend to last 105+ minutes at least I'm cautious on the corners.
---
Portugal vs Ghana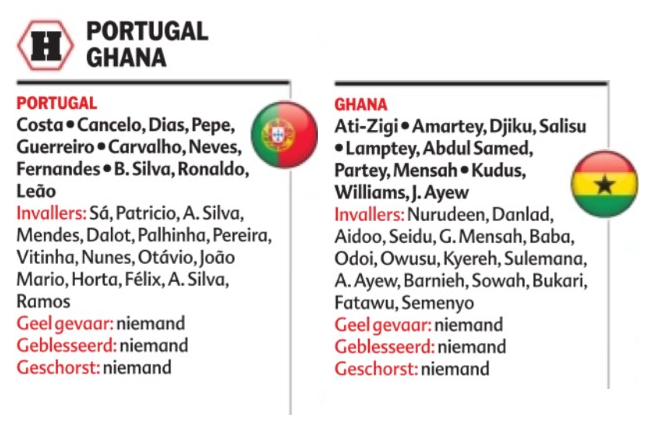 Ghana is an atheltic team doing a lot of tackles while Portugal got a lot of quality to the point where the individualism of Ronaldo might not be the best thing. Similar to the other games I don't really have a clue and will see how it goes.
---
Brazil vs Serbia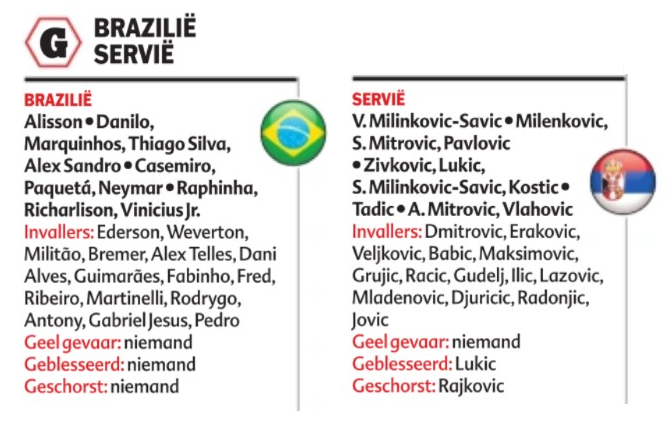 Bresil are the tournament favorites and just looking at their scorelines from matches they tend to score a bunch of goals just for the fun of it. Their only real loss came in the final of the copa america with 1-0 against Argentina. Serbia also has quality in the offense with many matches that saw quite some goals. Out of the 4 games today this by for should have the biggest chance to be most entertaining with goals. I just went with the very straightforward
Over 2.75 @ 1.994
for 0.1 unit.
---
Late info might change my view on what is written in these previews. I will cover these matches live in our SBC Discord Channel. I'm also sharing all my early pre-game bets there at the time that I am betting them myself.
---

I take all my Pre-Game & Live bets with my Betting Broker Sportmarket Pro who always provides the best offers on the market with a 1 click solution and doesn't limit winning players offering high limits. For more info check my Sportmarket Pro Review
---
World Cup 2022 Betting Results
Day 04 | 00W-00L-00P | 0.00 Units Staked | +0.000 Units Won
Day 03 | 02W-06L-00P | 0.60 Units Staked | -0.365 Units Loss
Day 02 | 03W-08L-01P | 1.05 Units Staked | -0.446 Units Loss
Day 01 | 00W-01L-00P | 0.05 Units Staked | -0.050 Units Loss
 Total 05W-15L-01P | 1.70 Units staked | -0.861 Units Loss | -50.6% ROI

World Cup 2022 Crypto Bets
| Date | Bet | Stake | Odds | Result | Bookie |
| --- | --- | --- | --- | --- | --- |
| 25/11/2022 | Senegal -0.5 | 40 USDT | 2.000 | TBD | Betfury.io |
| 23/11/2022 | BEL vs CAN BTS | 6000 XFUN | 2.211 | -6000 XFUN | XFun.bet |
| 20/11/2022 | Cameroon 0 Points | 10 USDT | 4.000 | TBD | Betfury.io |
| 20/11/2022 | Cameroon last Group | 20 USDT | 1.560 | TBD | Betfury.io |
---
Crypto & Blockchain-Based Bookies and Exchanges that I'm personally using as they allow anonymous betting with no KYC or personal restrictions...
---
IMPORTANT !
Past results don't guarantee Future Results. There are very few people that are equipped financially and psychologically to handle the ups and downs of gambling on a daily basis. If you're not a professional, every instinct you have will attempt and probably will sabotage your success. Human nature runs completely contrary to being successful at gambling. These bets are posted as a way to help myself in order to stay disciplined, always hold yourself accountable if you end up following. Proper Bankroll Management can highly decrease the risk of heavy losses!

Posted using SportsTalkSocial
---
---