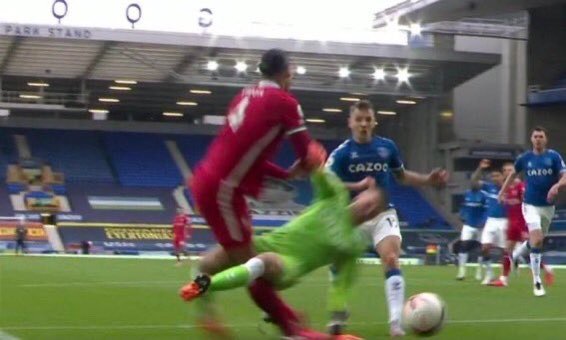 source
Pickford fouling Virgil van Dijk who is now out for the season.
In yesterdays match between Everton and Liverpool the referee in my impartial opinion made a huge howler. I believe the VAR official who looked at this on the replay should have overturned referee Oliver's earlier decision telling him to visit the pitch side monitor and make the call. The technology is there for a reason, so use it.
What had happened was van Dijk was in an offside position earlier in the move so a penalty couldn't have been awarded which is the right call. This happened directly afterwards and therefore the only call would be to red card Pickford for this challenge. This according to the referee wasn't reckless and dangerous as he obviously saw it from another angle or he surely would have changed his mind.
The VAR only works if you have the right people manning it and how many times must this be repeated. It is no good having the technology if the ones controlling it don't use it correctly. This changed the entire match which ended in a 2-2 draw.
The right call should have been to send the goal keeper off as the tackle is knee height. It is not surprising the van Dijk now has to sit the next 7-8 months out with an ACL injury. This is the tendon in the knee that stops your knee going past the uncomfortable point. This is a serious injury and takes time to heal.
With Everton down to 10 men it is a total different ball game considering Pickford made two great saves afterwards. It is calls like this by officials who clearly are way too lenient and are out of their depth. I know the VAR officials on duty don't really want to go against the referees first call, but someone needs to speak out and fix something that should be so easy.
It was not surprising to hear Everton's coach afterwards saying that the referee is a great referee and made the right calls. That should tell anyone immediately he knows they got away with one today.
I believe that something needs to change and possibly introducing a review system allowing the teams one call to be checked per game. If they get the call wrong they lose that review and therefore they need to make sure they are right before asking for the review. We know the referee is not always right and how many howlers do we have to sit through before they get it right.
If you can't make the right call sitting behind a screen then you have no right to have that as your career. In rugby we have tv match official referees and frankly one or two are failed referees who should not be there either. The one was so bad who still officiates on tv decisions is the reason I took up refereeing in the first place. All players and fans want is the right decision and how hard can that be?