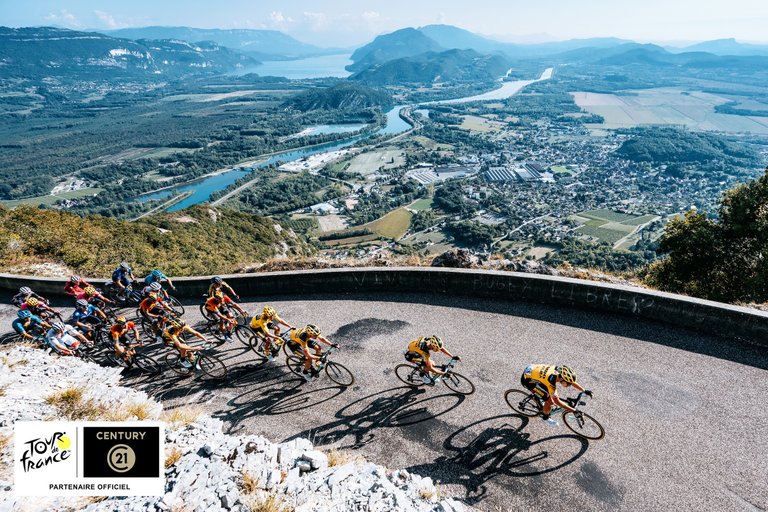 source
I must admit I look forward to the Tour de France every year as it is something I an follow over a 3 week period. I was never an avid cycling fan and I am still not really,but I enjoy watching this one event. The one country I enjoy exploring is France and this gives me a flavor of what I am missing as the Tour crisscrosses the country.
I think what I enjoy about it is how the course changes every year trying to favor the local French riders. The organisers hated when Lance Armstrong and US Postal dominated the race for years and more recently Team Sky/Ineos. It was so obvious as the team time trial which I enjoy was dropped due to how good those teams were in that particular expertise.
This year has been totally different though as maybe Ineos have just got too cocky after winning for the last 5 years in a row. Actually the team has won 7 of the last 8 with 4 different winners. Not going with two main riders and only one this year the team has failed in their defence of their title. One bad day is all you need and Bernal has had a few. In the past another team mate would take over the number one mantle keeping their defence in check if any mishaps happened.
Egan Bernal is last years defending champion and has been found out this year. This is good for the sport as change makes it interesting as something being dominated by one team does become boring over time. I think having a strong team is the key as Bernal is missing some ex winners of this race on his team.

source
**Dominating the tour this year are two Slovenians on different teams. They are the future of the sport as they have distanced everyone this year.Tadej Pogacar is seen here winning yesterdays mountain stage just ahead of the current leader of the Tour Roglic in the yellow jersey. **
The top two riders this year I have never heard of before and that is how the sport should be. In the past the winner needed a strong team around them who would sacrifice themselves on every stage making sure their number one was protected or helped into advantageous positions.
Primoz Roglic who is the yellow jersey holder and likely winner this year is on Team Jumbo-Visma. Yesterday in the mountains he had 4 other team mates and himself in an elite group of around 13 riders. Roglic has a strong team this year and if they stick together and injury free they should be dominating this event for some time to come. I had no idea that he is ranked as the number 1 road cyclist and has been for the last 8 months. He has another team mate in Tom Dumoulin who I thought was a possible winner this year which won't happen, yet shows the strength of their team.
Tadej Pogacar the other Slovenian who won the stage yesterday is only 21 and has shown what he can do already. He is currently lying in second place and just don't see him being able to catch his fellow countryman before this weeks finish in Paris. Maybe next year if he has a stronger team built around his needs as event though he won yesterday was on his own and had no team members helping him up the mountains slopes. The problem comes if he has a mechanical issue and needs a team mates bike to carry on.
This year has seen new faces and many young riders coming through unfortunately I haven't seen any French riders catching the eye who could possibly win in the next few years. Slovenia of all places has a possible multiple winner who looks certain to win this year barring injury with a youngster to take over in the next few years.