source
Arsene Wenger was the manager of Arsenal from 1996 -2018 and was the most successful manager the club has ever seen. His nick name of "Le Professeur" was very apt as he bought a new way of thinking to the players at the club. Strict dietary controls and the way he studied and recruited players on a limited budget was a new way of doing business back in the day for the club.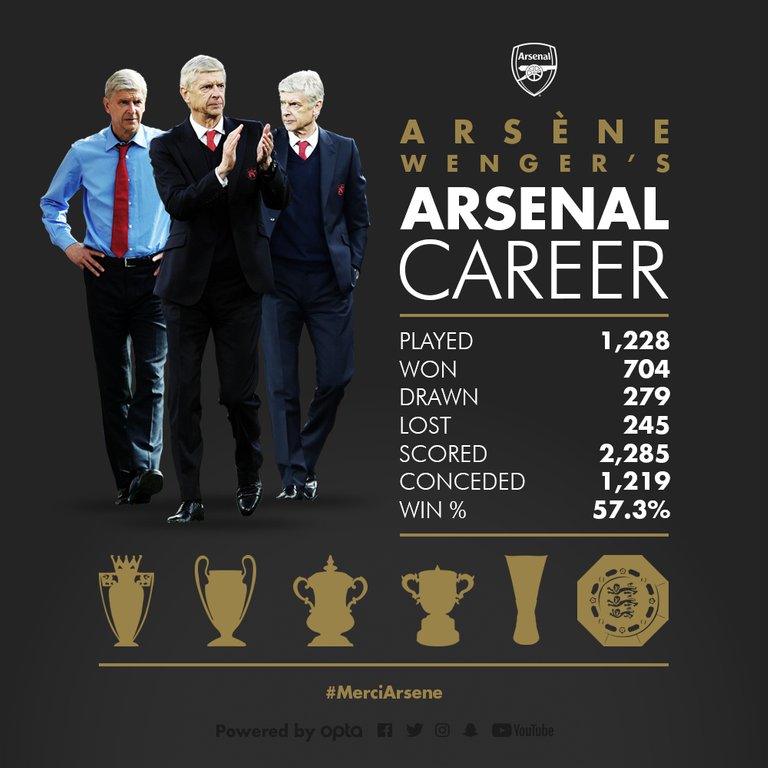 source
They could only wish for another Arsene type manager right now.
When recruiting Wenger relied on scouts but also he scoured the data of every footballer in Europe. The stats told him something that others were missing ad how he used them to shape and balance his team. I am sure many of you saw the film Money Ball with Brad Pitt and how he hired a statistician to recruit his players. Wenger was ahead of his time and the Board was happy as he didn't go for the top players that cost a small fortune. Wenger was doing good business for the club.
It is hard to believe the fans who once adorned him could now want for something better. During his 22 years at the club he had a run of 49 consecutive games unbeaten which was then a record and still is. Liverpool came close this season and managed a run of 44 games before losing to Watford of all teams.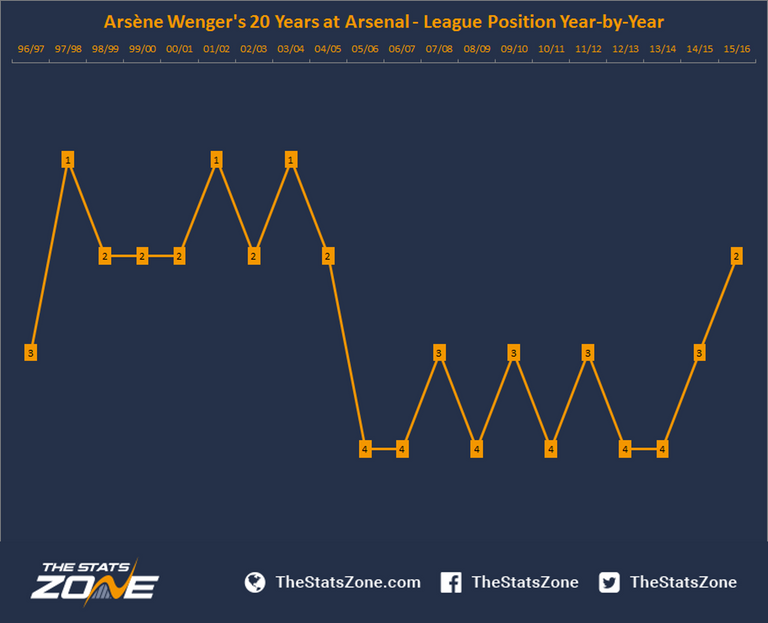 source
Not showing the last 2 years as surely he deserved a break as I believed the board should have helped him more than they did.
During the 22 years he was in charge of 1235 matches and lost only 248 which is roughly 20 percent. If one looks at that as his record he is only losing roughly 7 matches in the Premiership each season and look at what has happened since the fans chased him away.


source
Wenger signed 98 players in total and this squad selected has no player over a purchase price of £7 million. Towards the end he was desperate and splashed out more than he would normally as time was running out.
Wenger bought Arsenal trophy successes but that wasn't enough as the fans always want more. Premiership Titles x 3,FA Cup x 7 and Community Shield x 7.What is remarkable is in 2016 they finished second in the league yet the following year they missed out on Champions League status for the first time in 20 years. The club supporters couldn't handle this and when they missed out again he was forced out of the club.
I think the Board should have fought for him as he ran the club like any top business would. He never chased the big signings which the supporters wanted as it was not good business. The fans made his life hell and he left the club a broken man as Arsenal was his life.
Looking at where Arsenal are sitting right now supporters must be wishing that Wenger was still in charge. Currently in 10th and having 3 injuries and a red card on top of the two losses things are not looking very rosy. Champions League football can be kissed goodbye for another season as only a miracle would get them close now as they don't exactly have an earth shattering squad to pick from either.
Managers like Wenger only come around once in a lifetime for clubs and the best way is to let them bow out gracefully as that is the very least they deserve. What the fans did to him was unjustified as Wenger had spoiled them over the years he was there. His successes had bought down his undoing and the fans didn't deserve him in the end.