Choking On The Big Calls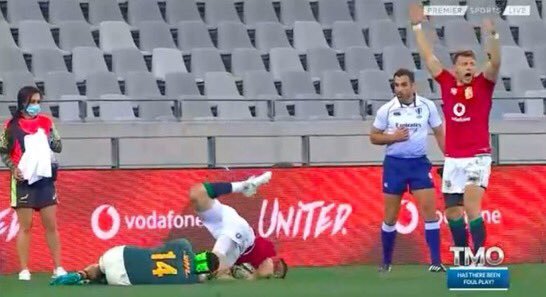 source
This happened right in front of the touch judge and they still got it wrong. A referee is there not only to make the right calls ,but to have players safety in mind and they are failing on both counts. Having been a referee myself all I want is a good game to watch with no biased calls and just correct ones. The series is 1-1 and this should be a decent spectacle for rugby fans and I am not so sure of that after what we have seen so far.
Over the weekend we saw South Africa play the second test against the British and Irish Lions. Just like the week before the officials managed to botch the game up missing the big calls. What is so hard as this makes no sense as something is either wrong or right.
When Chesney Kolbe took out Connor Murray in the air this is a straight red card with no debate. A player has to respect the player in the air waiting for him to return to the ground before making contact. Kolbe had eyes for the ball only and is no excuse for what happened next as he had no chance of winning the ball without jeopardizing Murray's safety.
The referee and TMO bottled their decision calling it a yellow card because Murray landed on his back. Not quite as he had to use his arms to ensure he didn't land on his shoulders and neck area. The South African team should have been down to 14 men which possibly would have made a difference.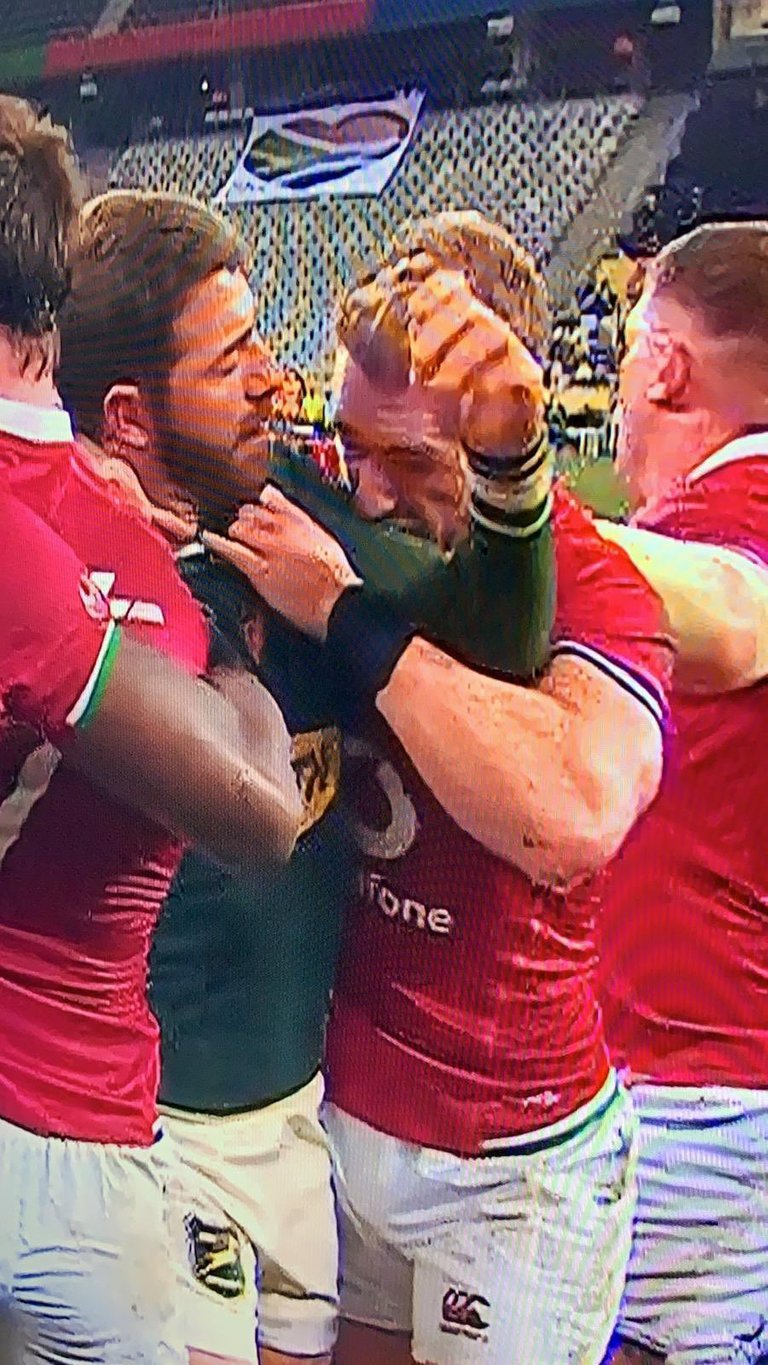 source
What followed next was Stuart Hogg biting Willie Le Roux which is another instant red. Both teams would have been down to 14 men and game on but no as the biting incident wasn't even mentioned until after the game. Funny Sinkler was sited for biting and not Hogg where there are actual photos showing intent. I have no idea if he had the gum guard in his mouth at the time as that shouldn't make a difference as it shows intent.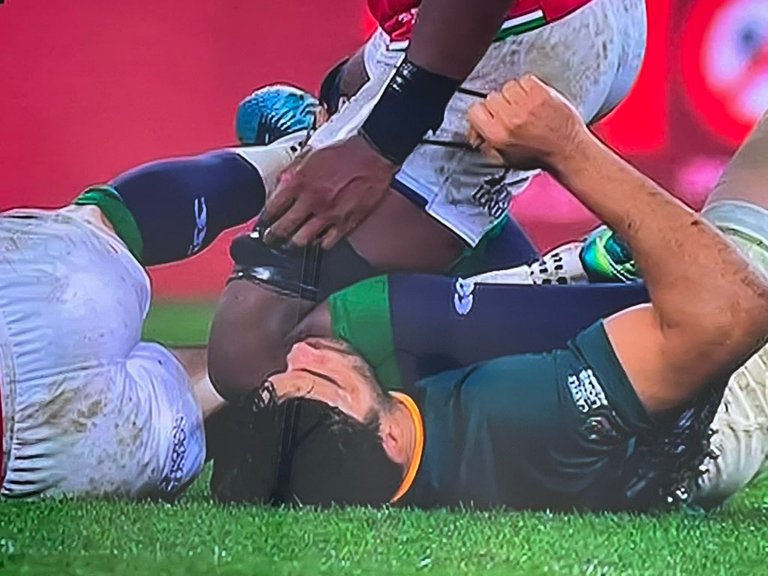 source
Blatantly obvious what is going on here and he even moves his knee to get a better angle with more weight on it. I have no respect for players who use tactics like this on purpose and are rugby scum. Imagine being a sponsor of that player and seeing this?
Further on in the match we had Itoje kneeling on De Allendes throat which is not a cool move and something that should see instant red. This is something I haven't seen before and must be out of pure frustration as his side was getting thumped. I hope he plays next week as he needs to learn a harsh lesson of right and wrong and this shows disrespect for your fellow competitor. Only thing I can call is he had a total brain freeze and lets hope and prey he plays next week as many will want to take chunks out of him after seeing this.
Refereeing a rugby match is not difficult and why do people say we must have empathy for the officials when they have a tough game. They are well paid and are there to make the right calls no matter what. From the two matches I have seen so far these officials have no place on a rugby field and need to grow some balls. What make sit doubly frustrating is the referee has his own eyes and can see what has happened yet he goes and asks for advice from an official sitting in the stands.
Tackling an opponent with your shoulder is another part that needs to be addressed. Just because your arm is up and following the shoulder doesn't mean the intention to harm isn't there. Both sides are blatantly getting away with this and someone is going to be seriously injured before any changes happen.
The one thing I did notice was Rassie Erasmus having a confused look when the referee made a call which was clearly the right call. The players and coaches obviously don't know all the rules which they should and instances of Kolbe competing in the air for a ball he has no right to do will not happen. Players need to be playing smarter and not the clumsy bully boy rugby we are seeing currently.
The last game of the series is this weekend and give the British and Irish Lions no chance as they have angered the South African's after their display. There will be a back lash and we have seen nothing yet so lets hope the officials bring their "A" game as someone could get seriously injured.
---
---