source
With budget caps in place these days Formula One teams have to try and budget in accident damage as this has to be included in the running costs. Unfortunately Max Verstappen after his crash at the British Grand Prix leads the way, but maybe not for long. Today during practice in Hungary Yuki Tsunoda crashed yet again and must be a concern to the team.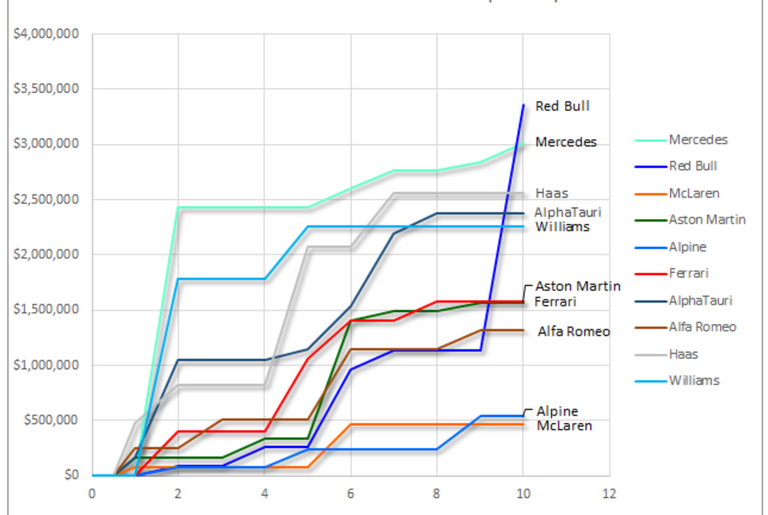 source
Todays crash would have cost the Alpha Tauri team another $800 000 which included a new gearbox estimated to cost in excess of $500 000 to replace. What is worrying is this is Tsunoda's fourth crash that I can recall that involved no other cars and was entirely down to his own fault. He did something similar in France when he jumped on the throttle too aggressively and lost control spinning into the barriers.
source
As you can clearly see there are no such thing as cheap parts on these cars.
At some point there has to be a time when teams look at drivers as a liability as this is starting to add up now. We are not halfway through the season yet and he would have cost them more than $3 million in damages. Compare that to Lando Norris who hasn't had any damages or Sergio Perez who has only cost Red Bull $87 000 then Tsunoda has to be walking a tight rope and a concern to the team.
Teams have a budget of $145 million which has to cover team salaries (excluding drivers and senior management), car development (current and next year) plus all the other costs involved that any business would have. Accident damage is an unknown variant and Tsunoda on his own through negligence is already costing over 2% of the budget.
This is only the 11th race weekend of the season and Tsunoda has crashed 5 times and the weekend is not over yet. There is still one more practice session plus qualifying before the main race so anything is still possible.
Getting rid of Tsunoda is not an option however as he is Honda's golden boy as he has been supported by them since 2016 through their Dream Project. He would have been used as leverage when negotiations happened for Red Bull and Alpha Tauri securing the Honda engine. Now Red Bull have their own rights to the engine having bought them out meaning Tsunoda is no longer a protected species and is looking vulnerable to say the least.
One can recall another driver by the name of Satoru Nakajima who lasted 4 seasons in Formula One. He was also a driver that came with a Honda engine backing and never really lived up to the hype and many questioned his eligibility. 80 races and only 16 points tells it's own story. Having an engine supplier is big and sometimes teams accept the deals knowing they have a second driver who isn't up to much, but the savings outweigh that.