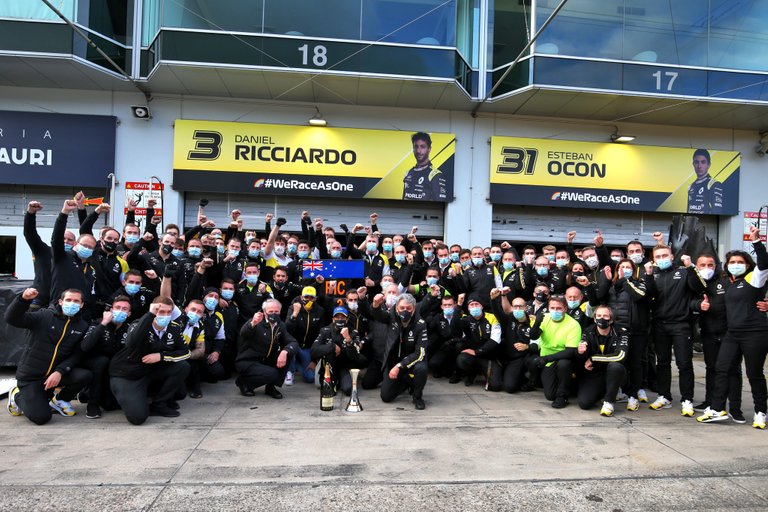 source
2011 was the last time Renault visited the podium so a huge result for them.
Daniei Riccardo and his team principal at Renault Cyril Abiteboul had a bet if he finished third or better. The bet was dreamed up at Spa,Belgium when the car started to perform better so what better than to put something on it. Everything was in Riccardo's favor as he had until the end of the season to make it happen. You have to be aware of the risks betting with an Aussie as in most cases you will lose. I am sure Cyril was happy to lose this bet though.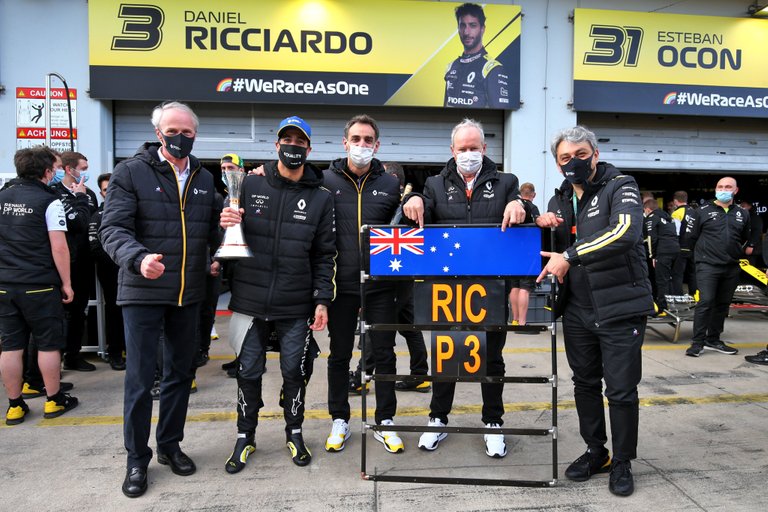 source
The CEO of Renault on the far right who was there to watch the race and to meet Red Bull who most likely will become their clients as they need engines from 2022.
The bet was to get a tattoo designed by Riccardo and all Cyril had to do was choose the size and placement. This is something the two of them will never forget especially Cyril. Every week since Spa the pressure has been on and Cyril has had some close shaves with Riccardo coming fourth just missing out.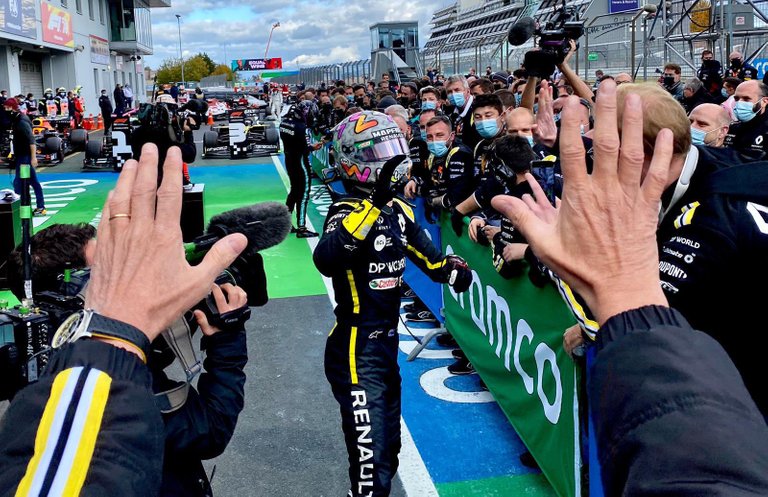 source
Celebrating with his team after the race.
From my understanding it will be a team thing when it happens as Riccardo said he will invite everyone over for the ceremony. It will most likely happen in London as I can't see a tattoo artist being part of the teams bubble so it will happen most likely over the next two weeks before the next race in Portugal.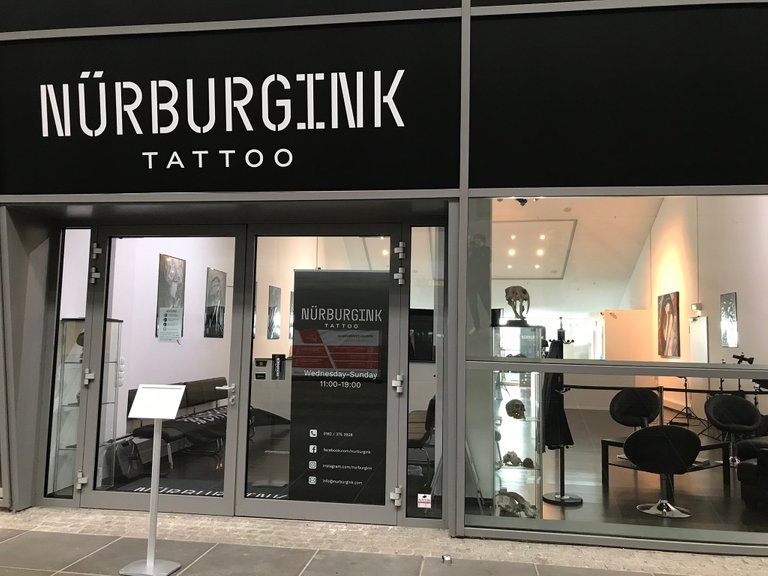 source
Not happening this weekend as the moment needs to be savored and planned.
What was noticeable yesterday was how popular Riccardo is with his team members and it will be a sad departure at the end of the season. They all seem so close and have got something good going on right now. Everyone has been working toward this goal and Riccardo is just the last piece of the puzzle making it happen.
Riccardo left Red Bull two seasons ago when he was doing so well and things didn't quite turn out the way he expected. It has taken nearly two seasons to get to grips and help develop the car which is a realistic time frame. Cars just don't perform overnight and take time to adapt not only to the driver but with all the updates constantly happening.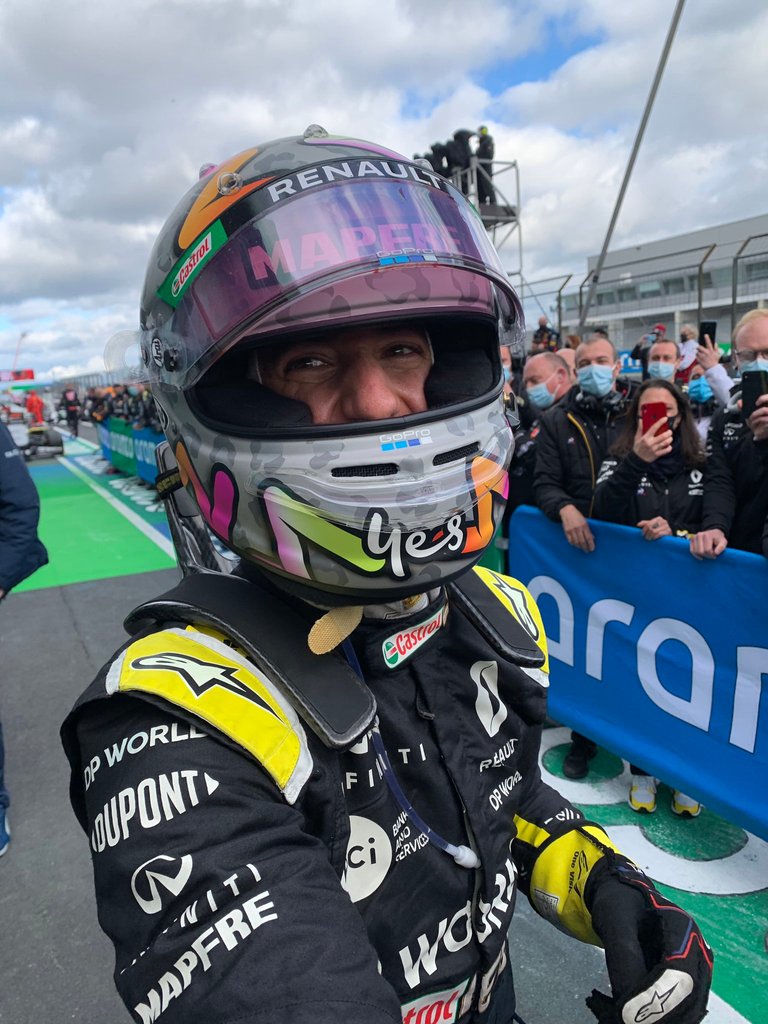 source
His helmet can't hide the smile.
The one positive thing about him leaving is he is going out on a high and the team is improving. It would be terrible leaving a team that wasn't performing or improving so it will make things much easier now that they are. Alonso coming in will help add something as well as they need some experience and knowledge to maintain the development.
Riccardo going to McLaren will take some time to settle but I doubt it will be two seasons as they will at least have the Mercedes engine. His driving style may force some changes for his car as he is known for his late breaking and aggressive overtaking. He is getting his mojo back now so it won't take him long to settle in as he seems to settle in with anyone. He has a positive vibrant personality that rubs off on everyone around him so a perfect fit for any team.