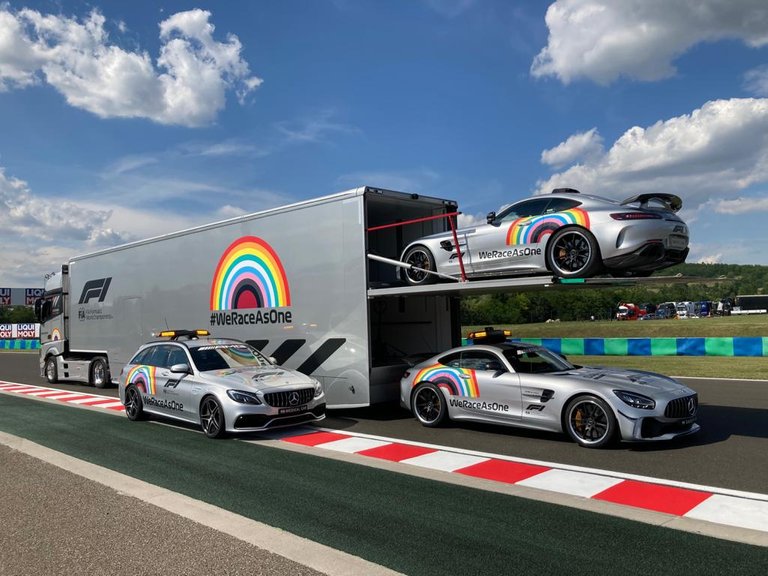 source
Formula One has done their bit with the race as one campaign. i think very little can change as the teams only employ the best of the best. If you had to employ now trying to make changes that surely would be racist and unfair in itself.
As expected Lewis Hamilton is starting to pick up flak for his criticisms of Formula One not taking the "end racism" seriously enough. He complained that the knee ceremony was too rushed and more of an after thought at the weekend. He said nothing was planned and it looked shambolic. I was sorry to see it televised this week as last week they skipped it. Someone must have complained.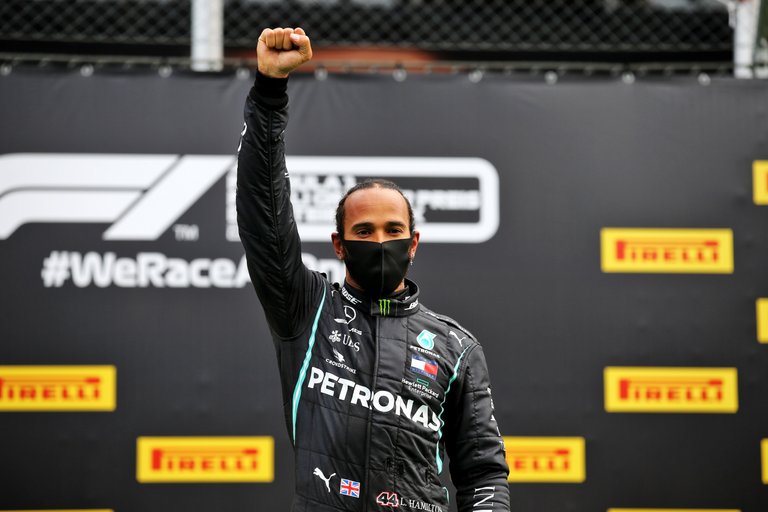 source
Becoming way too political now and has no place in sport. Starting to hope Bottas wins all the races from here on in. He has been labelled as militant, politics and sport do not mix well.
Honestly what does he expect as it is a rush to just get the drivers ready for the national anthem before the start of the race. Out of the 20 drivers there were quite a few missing as to be frank getting ready for the race takes priority. Verstappen was having his car rebuilt by mechanics after crashing in the lap to the starting grid. Some say this whole thing is important but it can't take a higher importance over the sport itself. It is taking away from the event and that is not good. If people have a problem with that then they seriously need to look at themselves.
The first race of the season drivers made it clear whether they were kneeling or standing and Hamilton doesn't like the fact that quite a few are standing. Politics has no place in sport and surely wearing a t-shirt with end racism is enough. Hamilton has to be different by using a black lives matter shirt. Very few sports people want to be associated with that movement these days as it has other political objectives.
I can understand where the drivers are coming from as they have sponsors to protect at the same time. Companies do not want to get caught up in the middle of something when there is no need to stick your neck out. Each driver made a statement at the beginning on their reasons for not taking a knee and that should be that. Everyone has a personal choice and cannot be forced like some of the other sports are obviously doing.
Ex racing legends like Sir Jackie Stewart and Mario Andretti have spoken out saying that there are no issues as driving should do the talking. I agree as very little can change and it is meaningless if it is forced to change as it would be just fake. If you are good enough to be an engineer or a mechanic skin color has nothing to do with it. Same applies to driving yet that counts 99 percent of everyone out as you need to be a one percenter to afford to be involved from the beginning.
Romain Grosjean is the drivers spokesman along with Sebastien Vettel and the feeling is they have done enough. Hamilton is talking as though this is going to happen all season and maybe for him, but the others are not as eager to continue. Trying to get other drivers to take the knee is not right and drivers feel uncomfortable enough now to just not pitch up. This is why the whole thing is a joke and looks chaotic. It is a free world with your own decisions and I am happy to see drivers having the freedom to do what they want. At least some seem to have a brain of their own.