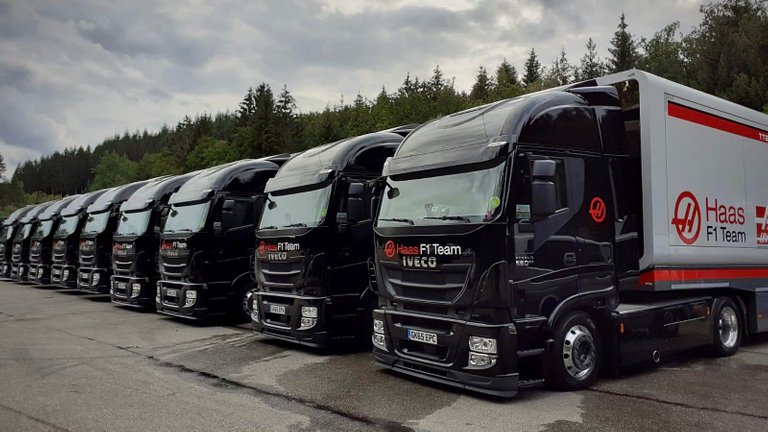 source
Teams have huge crews to pack and unpack. Many people where two hats at race weekend and why some of the drivers have been seen helping pack away. I think they should all be working with no exceptions as they are all one team after all.
In 2004 things in the Formula One world changed and frankly they have become even more hectic and stressful. I am talking about planning and logistics as that is where the real headaches are. In 2004 there was a fly away double header back to back introduced which was the first time as all back to back races had been local up to that point. There were 18 races that season and it was pretty hectic.
If we look at what was supposed to happen this season with a scheduled 22 races with 9 based in Europe and the other 13 all fly away destinations. In total 7 of the races were back to back with only 8 races giving you some comfort of room to breathe. In 2018 the FIA experimented with a triple back to back and was shelved as it was asking a little too much of everyone involved.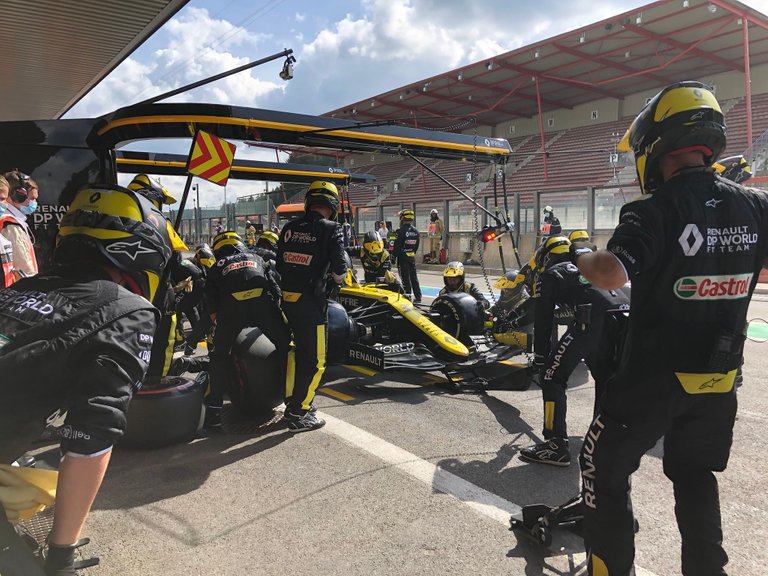 source
The pit gantries have to be down and disassembled before the end of the race to allow trucks access to come in immediately once the race has finished.
The real work begins as the race ends however and there is little time to celebrate as things need to happen at speed. the sooner you get done the sooner you can have a break as the weekend only starts from Tuesday to Wednesday for the teams during season. Being super organised is the only way to work as everything needs to be packed away within 6 hours or so. Luckily the crew don't have to pack away the promotional housing as that is left up to another division entirely. Maybe that is not the case for the smaller teams on smaller budgets and bet that is part of the gear they do as well.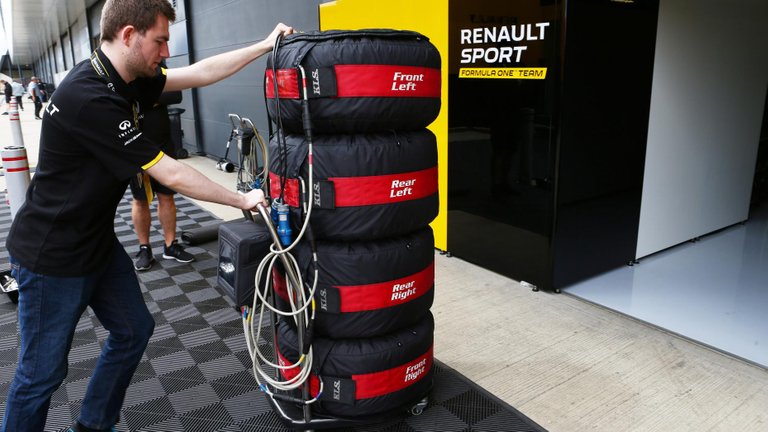 source
Stupid piece of information I read about is due to the cancelled races this season it saved Pirelli from manufacturing 1800 tyres.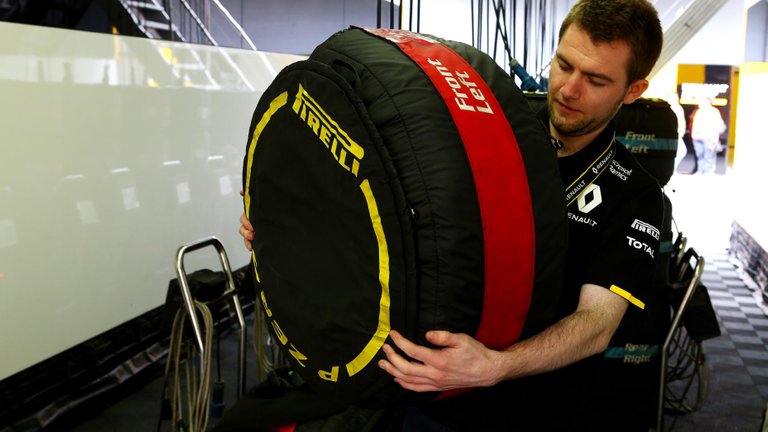 soure
Renault have 33 sets of tyre warmers on hand at every race weekend (4 blankets per set) @$12 000 is just on $400 000 on tyre warmers alone.
With so much time pressure placed on the team the break down and packing starts as soon as the race starts. Any team member who isn't involved in the pits or on the computer banks has to be out back packing. When the race is over there is a sequence of events that clicks into high gear.
A fly away race will see 35 tonnes of Air freight packed up and readied plus another 3 x 40 ft shipping containers. This changes when in Europe as trucks are used instead and there will be 5 trucks that need to be loaded. Everyone in the team is assigned to certain containers or truck teams with each team responsible for 2 trucks or one container. The other truck and container is left to the spares department who know where everything needs to go. How it is packed is the same way it has to come out so everyone knows where everything is at any time. The top 3 or 4 teams will have roughly the same amount of equipment at every race so it will vary considerably with the bottom half of the grid due to budget constraints.
Space is a problem and any of you who have worked logistics will know how crucial this is. The more space you have the easier the job becomes and most of the tracks these days have truck access. The pit garages are all similar except in size offerings with Monaco being the worst and extra crew members are flown in for the pack away. This will take an extra day to complete as most things are stacked over three floors.
When the cars are finished after the race they are checked for anything and double checked again by the technicians. Any information gathered could be useful and is all part of having safety protocol in mind. Fluids are drained from the cars and then dismantling starts. Once the pit crews are finished they join the rest of the crew to finish loading the containers or trucks.
Things that are urgently needed back at the factory will be loaded into a van and sent on it's way withing hours after the chequered flag. The It crew who are responsible for all the computer related equipment during the race have to also take down everything and make sure it is all safe to travel. Luckily most race days the complete set up is replicated no matter where they go. This is one reason why teams don't just chop and change staff as everyone has a particular role to play. Being a team player brings a whole new meaning when packing and unpacking.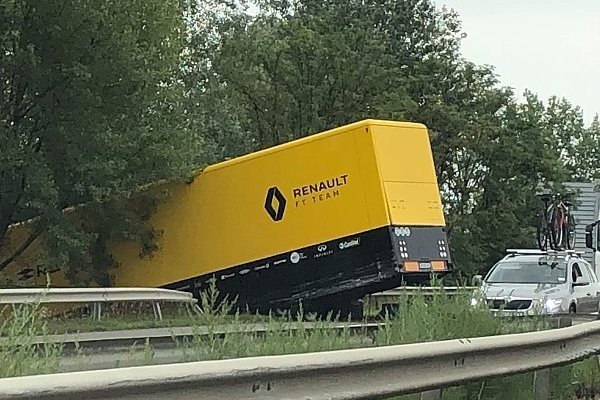 source
Understandable that these things will happen with so much driving and the sheer numbers of trucks moving from one event to the next.
The trucks left Spa, Belgium in the early hours of Monday morning this week and arrived at Monza, Italy in the afternoon. The following week they drive from Monza to Mugello across the Alps which is a short hop by their standards of only 800 kilometres. Many teams double up on drivers to avoid tiredness guaranteeing no delays and stop overs. Thursday teams will arrive to find most of the stuff ready to be packed out for them to set up and repeat the whole process yet again.
This year the teams have been fortunate with a few double headers close by in Europe which is unheard of as you set up once and can leave it for two weeks. The trucking guys have been busier than normal as their is only a few fly aways at the back end beginning with Turkey before hitting the Middle east.