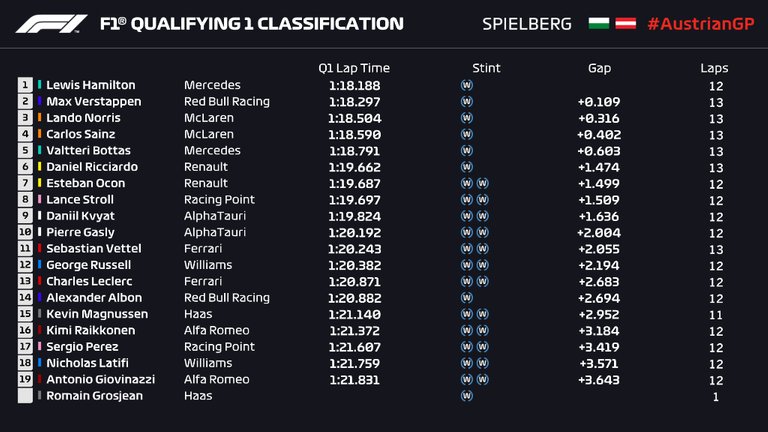 source
This season has started off in not very normal circumstances. The first race last weekend we learnt very little as most of the cars did not finish and the ones that were left were not in the best of health either. Mercedes commented that their cars were lucky to finish. I can't believe I am saying this but I am actually looking forward to Silverstone in two weeks time as I would like to see who has the best car still.
Different climatic temperatures and pouring rain have hampered the teams yet again. The car set ups that would have been in place last weekend had to be adjusted as this has now changed the track performance yet again. Saturdays weather forecast said 60 percent chance of rain and it poured. Sunday says a 50 percent chance of rain so I assume it will rain again today.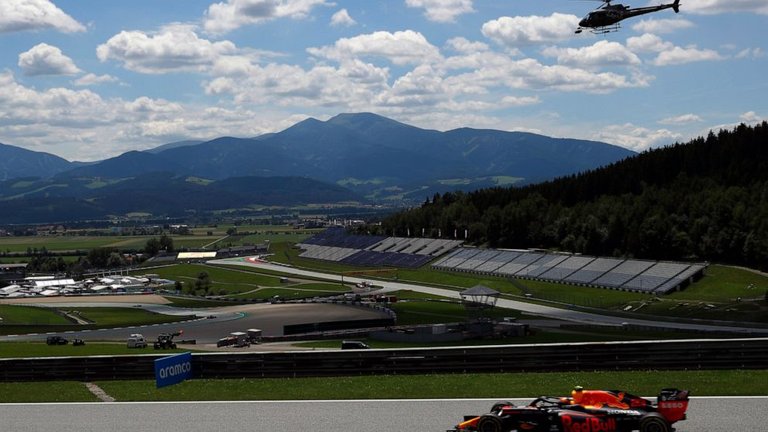 source
Terrain doesn't help medical teams if overcast with low cloud cover..
The FIA has certain safety procedures in place and one being the safety for the medical helicopter crew. The Red Bull Ring is in a valley surrounded by mountainous terrain. Firstly there will be no race if there is cloud cover below 500 ft. The helicopter crew needs to be able to navigate safely to nearby medical facilities in Graz which otherwise would mean an hours drive away.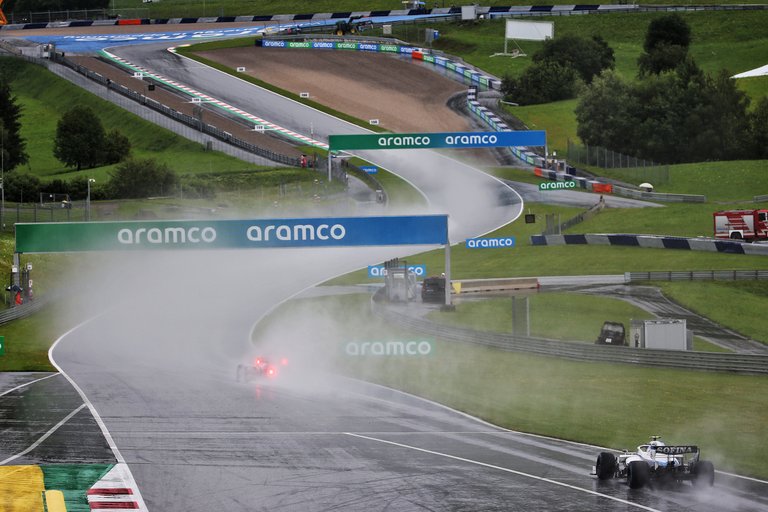 source
Those of us who live in a valley know too well how the weather can quickly change. When it is sunny you can't beat it ,but with rain comes low cloud cover that hides hills and mountain peaks. I am sure the race will go ahead but it is crazy to think there is still a remote chance it might not after all the waiting that has happened.
Possibly there is one team praying for a cancellation and that is Ferrari. They start tomorrows race in 10th and 14th which is rather strange knowing they are that bad.The upgrades haven't exactly turned their fortunes around and personally should have been left for next weeks race. Vettel in 10th was 2 seconds off the pace and I don't see any quick fix right now.
After the rain soaked qualifying that may mean absolutely nothing if there is a dry track tomorrow afternoon. The car set ups would have been set for dry conditions so every team is in the same boat tomorrow. If it rains they may struggle over 71 laps so I am hoping for a little rain, but mainly dry to make it more interesting.
Mercedes two drivers along with Red Bull's Verstappen look like the only three title contenders this season.They are in a class of their own with a whole host of others all very similar in pace and then there is a third category with Ferrari just ahead of Williams which sounds bizarre.Less than 1/10th of a second split Vettel and Russell so who knows how far Ferrari can slip down the pecking order. Whatever happens Ferrari need to fix this before they celebrate Ferrari's 1000th race later this season.