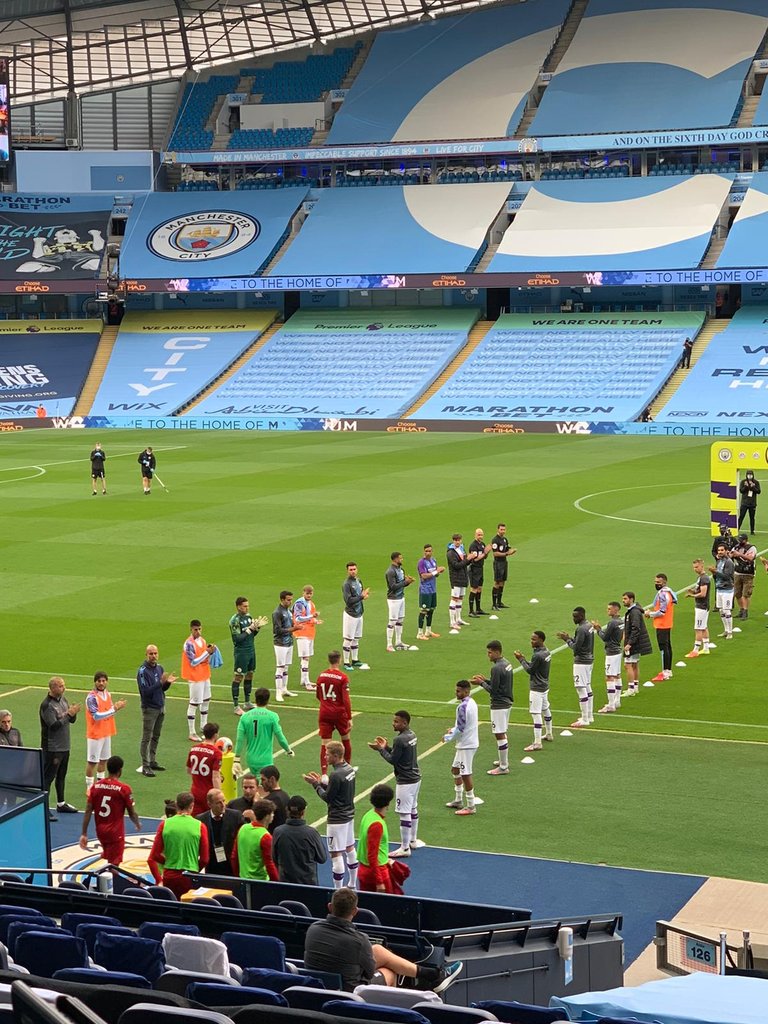 source
Manchester City showing respect to Liverpool for winning the League with a guard of honour.
Watching Manchester City clap on Liverpool last night with their "social distanced" guard of honour was great to see. I hope the other teams do something similar over their next 6 games. I think this shows class and respect where it is due.
What makes it even classier is Manchester City were the outgoing champions and they know how difficult winning the league is. Consistency is the key over 38 matches and Liverpool have won it at a canter. The result didn't really matter that much tonight but Liverpool need to be careful.
Overt the last two seasons Liverpool have been the team to beat and it has all been down to a positive mindset. A winning attitude is hard to obtain in a team culture and once you have it it doesn't take much to lose it. Confidence comes from winning games and winning games week in and week out.
Liverpool have 6 games to complete this season and even though they have already won the title they need to keep the winning mentality intact. The loss to Manchester City can be forgiven as a blip but they need to knuckle down now and win the remainder of their matches.Anything else will leave them second guessing next season.
The 2020/2021 season will not be like other seasons as the gap between the old and new season will be much shorter. Liverpool need to see these games as possible warm up matches for next season but ones that still count and hold the same importance. I would say that these are actually more important to the team right now as it shows they still have the desire to win.
Up until last night Liverpool had only lost 2 games in two seasons one being against City which cost them the League the year before and Watford just before the Covid forced break. Watching Liverpool make so many defensive blunders in one game can be excusable for lack of sharpness and possibly feeling the effects of the hangover from winning the league so early.
Liverpool's remaining fixtures are not against teams you would expect them to lose against but then again some of the teams are fighting relegation and competing for the top 4 positions. Anything is possible on the day and Jurgen Klopp will have to do some serious talking as this team could unravel if they are not careful. I don't think that will happen as one game doesn't make a great team bad ,but a sequence of poor games will raise more questions than answers.
Klopp is no fool and will know how to lift the team from this defeat as they need some motivation. If you think about it they have won the League already so what is there to get them motivated? Personally I think the team needs to break the 100 point mark on the League table to set a marker down to all the other teams.
Manchester City achieved that tally in 2017/18 and possibly what was driving them so hard last night. They don't want Liverpool breaking their record. Liverpool need to win the remainder of their matches to achieve 104 points and set a new record which has to be their motivation now. They as a team have nothing else to aim for and this must be their target from now until the end of the season.