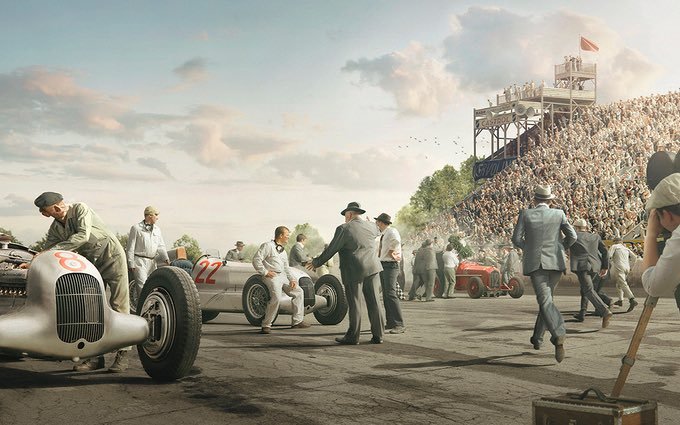 source
This weekend we have witnessed the Eiffel Grand Prix at Nuremburg and we have to travel back in time to 1934 to see where the Mercedes Silver Arrow was born. The night before the race the team decided to remove the white paint leaving just the silver aluminum metal body shell. The reason was for weight saving as the car was 1kg over the 750kg weight limit.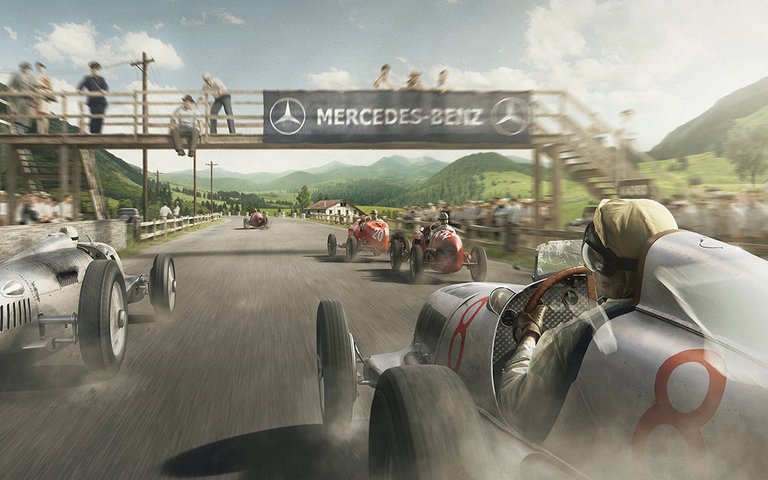 source
The mechanics had to scrape the paint off otherwise the team would have been disqualified for being overweight. Manfred von Brauchitsch went on to win the race in the shiny aluminum bodied Mercedes showing it was a mistake that caused the team to change to silver. A legend was born and they have stuck with silver ever since.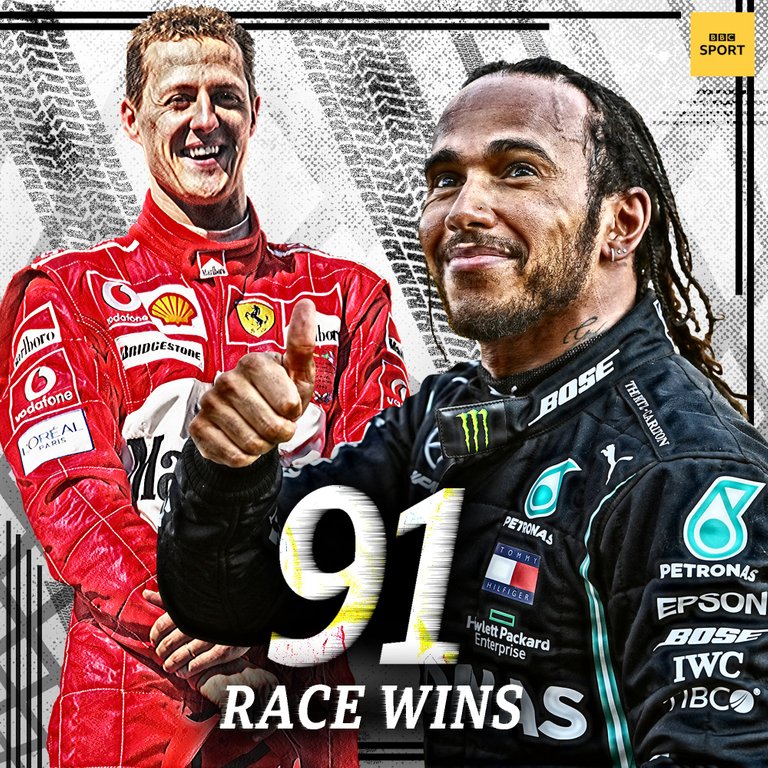 source
Hamilton equaled Schumacher's win record today.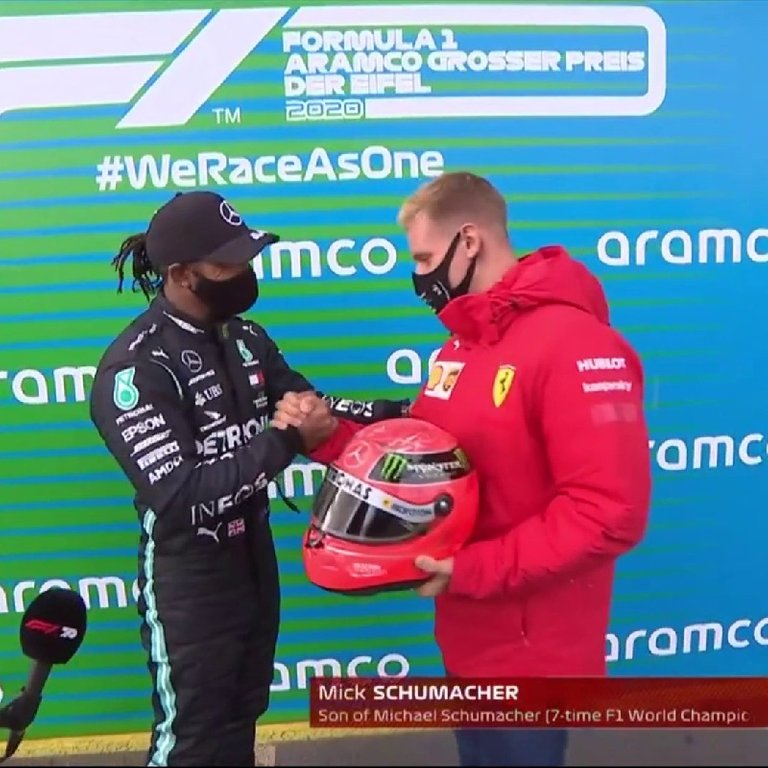 source
A special gift for Hamilton from Schumacher's son handing him his helmet for his record equaling achievement.
Todays race was somewhat different even though Mercedes and the silver car won yet again. It was all about reliability as we saw a number of cars retired for engine and battery pack failures. Hamilton has a 70 point advantage now so unless something seriously goes wrong he should have the 7th world title wrapped up already with races to go. He could win the title as early as Istanbul in a few weeks time.
The conditions experienced today are considered extreme due to the cooler weather and cold track creating problems they are not used to. Tyres that don't retain their heat grain and deteriorate quicker than normal and you can't drive through that like you can in warmer conditions. The casing of the rubber tyre would be too thin not retaining heat adequately enough so changing the tyre is the only option.
What was noticeable from todays days race is that Red Bull and Mercedes are light years ahead of the other teams and next year should be far more interesting as Red Bull are gaining slowly. At one stage Hamilton and Verstappen were nearly 1 minute ahead of everyone else until the introduction of the safety car bunched everyone back up again.
Alex Albon has shown over this weekend that he is likely to be discarded as Red Bull's driver for next season. Firstly yesterday during an interview he let on that he would be happy with a 4th place finish which tells everyone he is not up for the fight and not worthy of his seat. Surely you are there to try and win otherwise what are you doing there? Your team mate has shown you have the car to make a challenge yet you are just settling.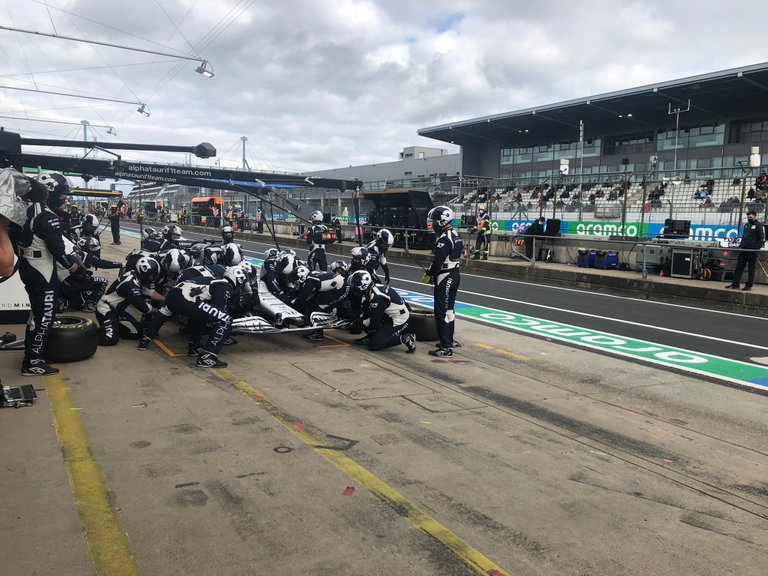 source
New wing for Kvyat after Albon drove over it with his rear tyre.
During the race today he locked up twice forcing his team to pit him earlier than expected. You cannot afford to make so many mistakes plus to top it off he crashed into the Alpha Tauri car of Kvyat giving him a 10 second penalty. This is the sister car as they are all part of the Red Bull set up. Capping off his afternoon he complained over race radio for everyone to hear that the other drivers were racing too hard against him. This was a massive red flag which surely is a clear indicator he is not good enough.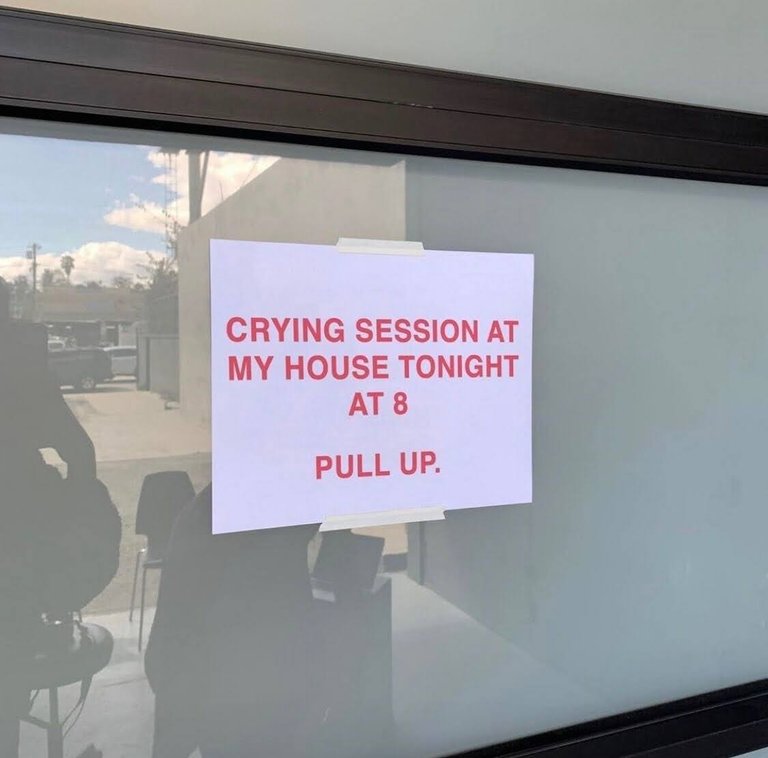 source
Albon is just too weak and obviously he has had it too easy in his career so far. What happened to rolling up your sleeves and fighting for something.
Formula One is meant to be the best cars and drivers fighting it out amongst themselves and he is looking way out of his depth. Just because you did well in GP2 doesn't mean you have the "right stuff". I believe his time is up and his formula one career is over as why would anyone take on a driver who clearly doesn't have what it takes.
Eventually Albon's race was over for a mechanical failure, but he had shown nothing and has everyone talking. A team needs two decent drivers in order to mount a challenge so surely Hulkenberg who filled in for Stroll today who is ill has to be sitting pretty. Hulkenberg received a phone call and arrived within 30 minutes of qualifying and then finished 8th in the race with only 4 laps of qualifying under his belt. This tells you he has something special as he is only a temp filling in for someone. Imagine what he would do sitting in a Red Bull.
I do believe teams need to get the right mix of drivers as there are many with question marks over them currently. Many have found the easy way through due to family connections they have. Mick Schumacher looks to be joining Formula One next season and he looks to be decent enough yet he needs to prove he has what it takes. He has more pressure as he has to live up the the family name which I believe he will.