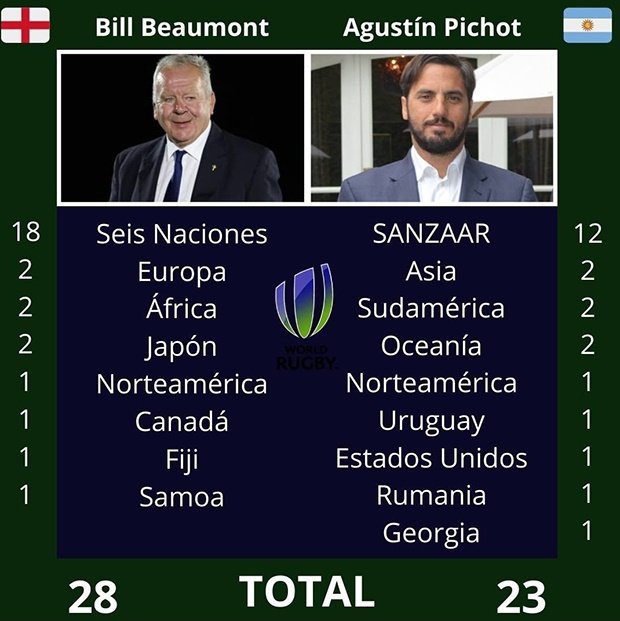 source
Some surprising votes one wouldn't have expected
.
The battle for the leadership of World Rugby was won by Bill Beaumont over Agustin Pichot recently. World rugby is crying out for a change in leadership and direction and this seems will never change with the 6 Nations voting as one block together.
Some of the "bankers" for Pichot never toed the line which could easily have swung it in his favour. The crucial part however is the 6 Nations vs the 4 votes of SANZAAR giving them a gap of 6 before they even start. This too many is unfair and why Italy was included in the Six Nations. Weakening the tournament yet boosting their voting roster.
South African Rugby supports African Rugby financially yet they had 2 turncoats and suspect their financial assistance will now dry up. You can't hide once the votes are revealed and I wonder who got paid or what promises were made. This was crucial as that would have made it 26/25 and still some bankers in play.
The crucial votes that were just as shocking as the African ones were North America (must have been promised the World Cup in 2031), Canada (possible pool games at that World Cup as joint hosts) Fiji and Samoa. Bill Beaumont handed out $100 Million in aid to countries helping them get over the Covid-19 period which may have helped.I am thinking that these payments had something to do with how some of the voting went and would love to know how much went where and the reasoning behind it. One has to think like this as otherwise the voting doesn't make sense.
Japan would always vote with World Rugby as I believe that was the payback for getting the tournament in the first place. Samoa and Fiji are basically bankrupt as sporting bodies go so receiving an extra million or two would be a simple decision for them.The Covid-19 came at the perfect time for World Rugby as they could "bribe" assist countries with aid legally without raising eyebrows. Bill Beaumont and co were lucky this time and everyone now knows exactly where they stand going forward.
world rugby better look after "their" special cases now as I cannot see New Zealand, Australia or South Africa opening up their arms to those that blind sided them. Zimbabwe,Kenya and Namibia will be getting no special treatment from here on in along with Fiji and Samoa. This is so blatant to what has transpired and they are no different to what FIFA was up to with Sepp Blatter at the helm.
The danger right now is World Rugby in general has stagnated to such a point it is becoming a bore. What is required is international tours with a World wide international window. Bring back the historic tours of New Zealand touring South Africa with tests and mid week games against local teams. Australia having a 3 test series against Scotland or England and not just one off meaningless tests. The end of year tour to Europe is more about players doing their Christmas shopping and has nothing going for it. The players are not excited to even go as they have completed their season in the Southern Hemisphere weeks before already.
The SANZAAR backed countries need to find someone charismatic who can lead them. Pichot for me was the wrong choice and they need someone who will make people stand up and listen. Possibly a Sean Fitzpatrick or a Richie McCaw type person who has the respect of others before they even walk into a room.
France is the next World Cup in 2023 so if they alternate Northern and Southern Hemisphere like they have I expect South Africa to get 2027 with the USA and Canada to host in 2031. We shall see as possibly they will move the States to 2027 as part of the vote deal. Trust me this was a shady vote that happened and everything and anything could have been on the table.