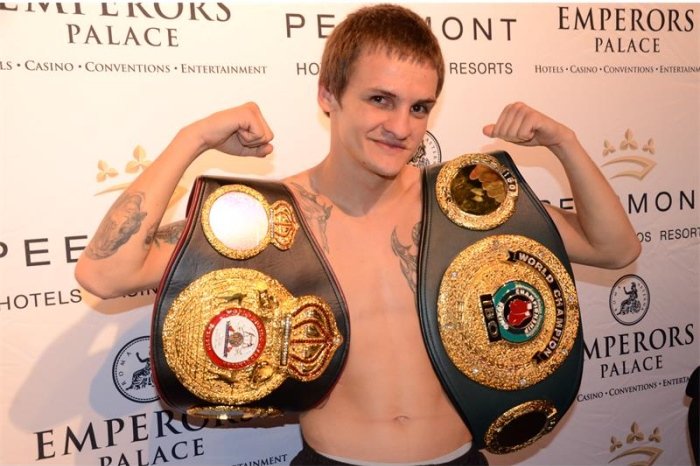 source
This could be the breakthrough we needed on sportstalk as getting a world champion to join our ranks would be more than awesome and bringing with him his fan base would just be the cherry on the top.
I never thought the day would turn out like it did when I woke up this morning as I went into the office for once and things kind of just happened. The family business has Everlast as one of their brands which most of us know is a well known boxing brand around the world.
Boxing has been on a sabbatical as such during the pandemic which is a real problem for the fighters as what do they do? Today in walked Hekkie Bulder who is South Africa's most decorated fighter. Most of you may not have heard of him as he is a junior flyweight or lightweight. In his last fight which was back on the 31st December 2018 he lost his WBA Junior Flyweight title to the current champion Hiroto Kyaguchi who stopped him in the final round of the fight.
source
He is now on the comeback trail and came in to collect gloves and strapping etc. The problem he said was that during the lockdown period he hasn't had a pool of fighters he could fight locally and had to wait for international fighters. There was one local fight he could have taken but in his mind that was a backward step and wouldn't further his career.
Titles won to date.
IBO All Africa junior flyweight, IBO junior flyweight, IBO minimuweight, WBA interim minimumweight, WBA minimumweight, WBA "super" minimumweight, WBA Pan African junior flyweight, IBO light flyweight, WBA/IBF/Ring magazine light flyweight titles, and WBA "super" light flyweight title.
source
We spoke for a few hours this afternoon and has agreed for a photo shoot next week with his belts. The plan is to get him on sportstalk in some form or other so I don't want to tell all right now. Either I do a series on him with his stories or he can do that himself as he has so much to offer. The best would be to get him to join us so let me do my magic as I believe that this can be done and not a difficult sell. A really down to earth guy who has loads of great stories and hopefully the first of many professional sportsmen that will join us.
We chatted about training and dietary needs building up to a fight plus what it is like on weigh in week which was fascinating hearing it from his view point and past experiences. Whatever happens we will do a series in some form that will lead up to his fight on March 21st which I will be attending. He doesn't even know where the fight is happening yet as the venue is still being negotiated along with everything else. I will have more information next week, but this is a great opportunity not to be missed.
He is 32 so the time is ticking and the lockdown period has been super frustrating as your career is on hold. He is the no 1 ranked contender for the WBC and expect him to win in 3 weeks time putting his career back on the right path. His plans are simple and that is getting the world titles back over the coming years. Whatever happens this will be pretty cool for all of us to follow as this does not happen everyday.