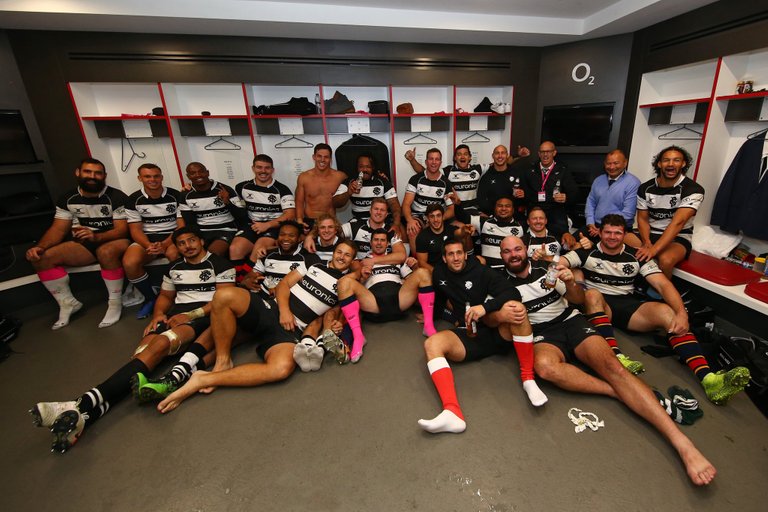 source
For those of you that know nothing about the Barbarians Rugby team they are an invitational side only made up from players around the world. The jersey and shorts are the same for everyone except you have to wear your own teams socks showing who you play for. It is a huge honor to be selected as part of this club steeped in history.
I am sure all of you who have kept up in the news that the outcome of the Barbarians 13 will be announced any day now. The 13 players involved broke their quarantine and went out drinking 3 nights before their match against England. The game was cancelled and the independent disciplinary hearing was set up.
Independent as people away from the sport are deciding on this which I believe could be good or bad. This could be an own goal and a public relations disaster. If the Rugby Football Union was doing this there would be fines and bans which help no one. Bans would be enforced and to be honest it wont effect anyone as many are on the verge of retiring anyway. The Barbarians is a team made up by invite only and is seen as an honor to represent them.
I am hoping to see the 13 receive a community service type punishment as this is what is needed more in the rugby community and would be a good way forward. This would make more difference than anything else as the revenue lost by the businesses who besides the stadium lost a small fortune from this episode. The Twickenham stadium reportedly lost over $1 million from lost television revenue alone.
The players admit what they have done was wrong and are guilty as charged. Spinning the negative into a good feel story is what should happen and seeing the players mowing a rugby field or painting fences or coaching kids is what needs to happen now. Fining and banning players is just a cop out and what better than to turn this around and do some good.
Guys will be guys and going out drinking would normally happen in any rugby team. The only thing they did wrong was to go out and drink in public risking their quarantine which was dumb and they see that now. They couldn't just say sorry as the game had to be cancelled wasting everyone's time that they can't take back.
I would like to see any red cards in various sports end up in community service as money to these guys means nothing. If you are earning tons of money each week the last thing you want to do is take up your time on community service so this would be a bigger reason to behave and avoid cards. Players would think twice if this was in place as fines are just too easy to pay.
Imagine the response if top footballers went and did coaching sessions at a few local clubs playing with the kids. It would inspire more children into the sport and the same could happen with the 13 Barbarian players who are now waiting on their fate. Clubs need help especially now and what better way to help the various communities by doing this.