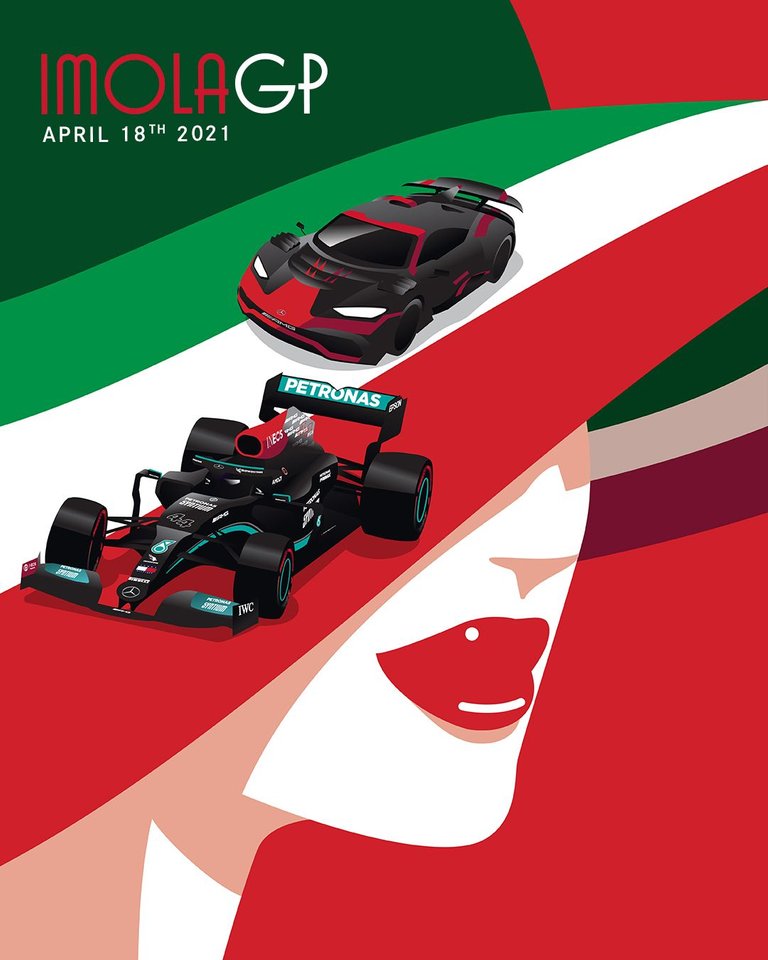 source
Todays Formula One race at Imola had it all as we knew it was going to be a special one after the warm up lap. Before the race even got going we had drama as Alonso skidded off into the sand on the prelimary warm up. Vettel and Stroll had to have their brake pads replaced due to over heating and a small fire.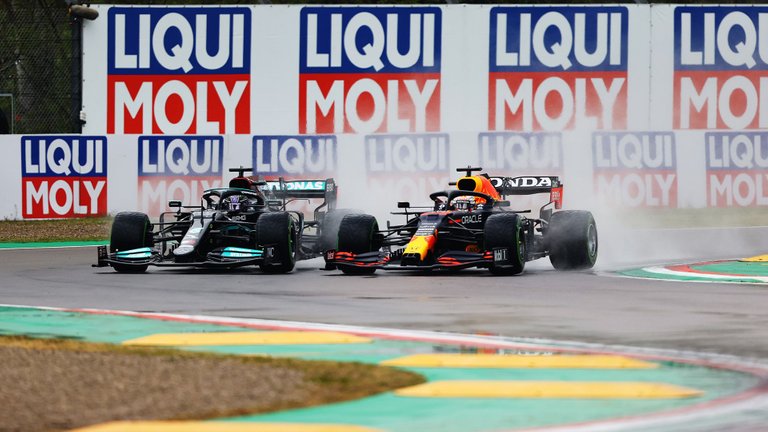 source
Verstappen squeezes past Hamilton at the very first corner to take the lead.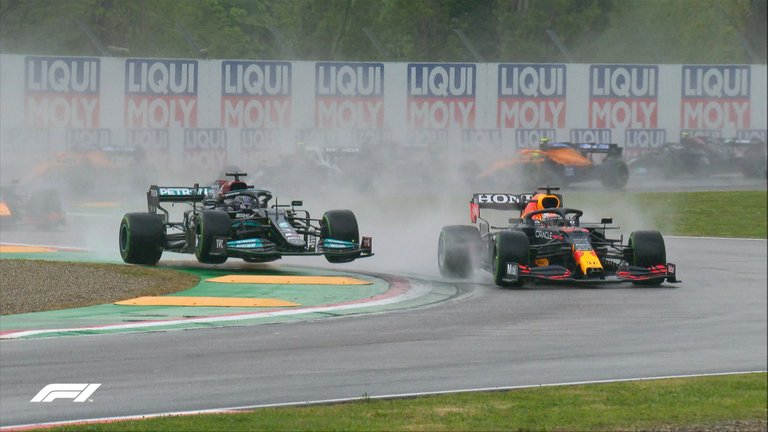 source
Hamilton forced wide over the kerbs damaging his front wing.
Once everything got under way we had Verstappen from P3 on the grid swoop past Hamilton to take the lead at the first corner and that was rather telling. With wet conditions and low grip Max started in 2nd gear and literally coasted past the Mercedes with a gradual, but steady acceleration.
The race lost Latifi in the Williams after finding the sand trap and even though he managed to recover he hit Mazzipan on his way out and collided with the barriers and this time it wasn't the Russians fault.
The race had steady drizzle over certain parts of the track leaving moving from wet tyres to slicks a big gamble. Vettel in the Aston Martin was first to pounce as he had nothing to lose being in 15th position at the time. Too early was his call and judging by the rest it was about 6 laps too soon.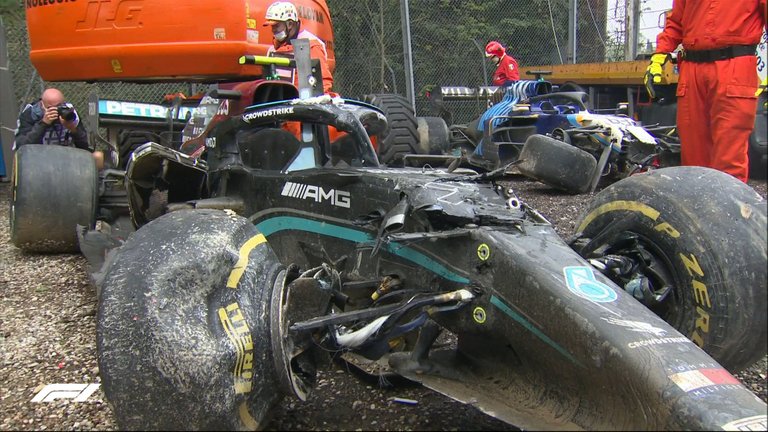 source
Photographer getting trade secrets for another team. Amazing how teams employ photographers for such an opportunity that don't happen very often ,especially with Mercedes. Funny he isn't interested in photographing the Williams car.
As soon as Vettel's tyres came into their own setting the fastest times the other teams changed over. We saw Bottas and Russell come together on the fastest part of the circuit hitting the barriers whilst doing 280km/h. Fortunately the cars are built with safety in mind and both drivers escaped unscathed even though Bottas was a little winded. Hamilton went off the track just ahead of them and also managed to recover making his way back to the pits as the race was red flagged.
After a lengthy delay the race was restarted which saw Verstappen pull away and head off into the distance never to be seen again. Behind him was Lando Norris in the McLaren but the gamble of using the super softs didn't quite pay off as he was picked off by Hamilton with 4 laps to go. Hamilton had managed to get past Riccardo, Sainz, Le Clerc and Norris to finally finish 2nd overall.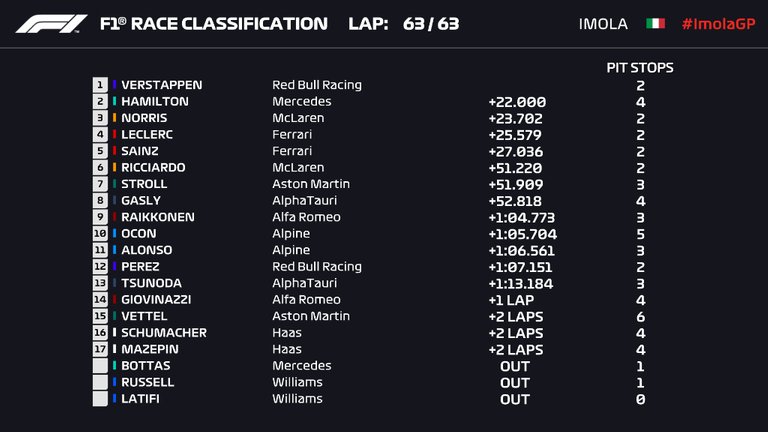 source
This was a different type of race that didn't tell us too much that we didn't know already. Red Bull and Mercedes will be fighting for the championship with McLaren and Ferrari battling it out for 3rd spot. Aston Martin have teething problems and the Alpine Renault team are not yet up to speed.
At least this season we do have a championship battle going on and Hamilton leads Verstappen by one solitary point as today he came second, but the crucial part is the point he secured for the fastest lap being the difference after two races completed.
Next stop is Portugal in two weeks time so teams have a chance to tweak whatever went wrong today. Aston Martin have brake and gear box problems so have plenty to do.