Way back over the summer I began predicting how I thought the 2019-2020 NFL season would pan out. I literally went through week by week how each matchup would go. It was pretty tedious. It was pretty fun too!
Check out my predictions from a few months back here.
Now that the season is practically over, I thought I would be fun to see how accurate or in-accurate I was. You never know how a season will go year in and year out! I know I was way off on several teams. This should be interesting. I will use these posts I have written to hopefully be more accurate next season.
This post I will be writing about the NFC East Division.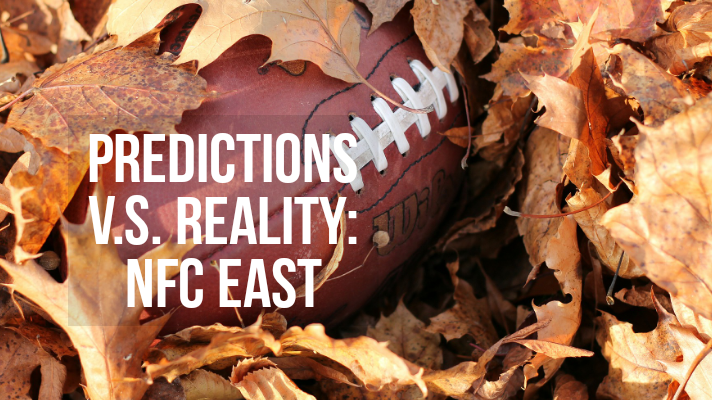 | Final NFC East Standings | Real Record | My Pre-Season Prediction (Predicted Div. Placement) |
| --- | --- | --- |
| 1. Philadelphia Eagles | 9-7 | 11-5 (1) |
| 2. Dallas Cowboys | 8-8 | 8-8 (2) |
| 3. New York Giants | 4-12 | 2-14 (4) |
| 4. Washington Redskins | 3-13 | 3-13 (3) |
1. Philadelphia Eagles
Real Finish: 9-7, Division Champions.
My Prediction: 11-5, Division Champions.
The Eagles are an interesting squad. I predicted a slightly stronger season for them, but they were still division champs like I predicted.
I am a fan of Carson Wentz and the coaching staff in Philly. This team just needs some younger and healthier guys injected and I think this team will remain pretty good. The team needs receivers and better health overall. The very fact that they scratched and clawed their way to the playoffs despite the media bashing them shows their true character and grit. This team has a decent foundation and future. I expect this team will be competitive as ever next year and slightly better. I don't envision a Championship coming out of Philly, but it should be a decent season.
2. Dallas Cowboys
Real Finish: 8-8, Second in Division.
My Prediction: 8-8, Second in Division
Well I predicted the 2019 Dallas Cowboys record with virtually one-hundred percent accuracy, feels pretty good!
This team obviously has potential, but lacks consistency. Dak is good. Not bad or amazing but good. A lot of the hype with Dak comes from his rookie season and the fact that he plays Quarterback for the most famous NFL team. Possibly the most famous team in America.
I honestly like the Cowboys style of play for the most part. From my perspective, they seem to try to have a balanced offense. I wish they would give the ball to their running back Zeke Elliot a little more. But I like their offensive approach. They have a good trio with Dak, Zeke, and Amari.
If the Cowboys want to succeed next year and in future years I believe they need to get more depth at Receiver and Tight end, basically better pass catchers. ALSO they should get better on defense by a significant margin. I don't have any stats but their defense felt very middle of the road.
This team is ok. I like their hiring of Mike McCarthy as their new Head Coach. They really needed to let go of Jason Garrett. This team will likely be right there with Philly competing for a division crown but I don't know if they are Championship caliber.
3. New York Giants
Real Finish: 4-12, Third in Division.
My Prediction: 2-14, Last in Division.
Well my prediction for the Giants was pretty spot on. I predicted this team would struggle And they did.
I haven't exactly watched many Giants games but I am feeling 50-50 on Daniel Jones after his rookie season. A lot of people like him though which is good. This season will tell a lot for me as to what kind of a career he may or may not have. But then again some guys don't develop until year four or five. Most teams are unfortunately not that patient. Overall I just have mixed feelings about Daniel Jones. He definitely belongs in the league I just have trouble truly figuring out his potential.
I like the direction of the team as a whole. They prioritized a high level running back which I really respect. Saquon Barkley is awesome. Most teams belittle the running back position. They hired an intriguing head coach from New England and perhaps made a nifty move when they hired Jason Garrett, former Cowboys head coach, as their offensive coordinator! Power move indeed! Giants and Cowboys games should be very interesting.
The Giants will improve at the very least and perhaps be a dark horse in this division.
4. Washington Redskins
Real Finish: 3-13, Last in Division.
My Prediction: 3-13, Third in Division
I predicted the Redskins' record perfectly. I almost got their place right as well but they finished last instead of third.
This team never had much hope in 2019 but they are pretty much in total re-build mode, so I don't find it too disappointing or embarrassing for them.
Honestly, 2020 will likely not be their year either. I expect progress from this team to mostly come in 2021. They have a young quarterback who I think is a good prospect. If Dwayne Haskins works hard himself to get better, if he has decent and patient coaching I really believe Haskins can be a very good quarterback. I don't want to compare him to past NFL Legends play style quite yet. But I just have a gut feeling about Haskins. ONLY if he works hard and has good patient coaching. I know that could be said for nearly any and every prospect but I really feel that way about Haskins. If he doesn't have support then it could be hard.
In most years I would say that being on the Redskins could be a death sentence for a young QB but since they hired Ron Rivera, an actually good and established Head Coach, I believe that hire could be one of the best decisions ever made by that franchise, at least during my lifetime.
Rivera hasn't committed to Haskins yet though, which is a bit interesting. They do still also have Alex Smith on the Roster even though he is still rehabbing from that terrible injury two seasons ago. Who knows if or when he will be back. Or if he will be able to play as well as he did years ago.
Overall this team is a bit of a messy mystery. But they seem to be trying to fix it.
It will be a few seasons before I really start to take the Redskins even a bit seriously.
Well that wraps up my thoughts on the 2019-2020 season for the NFC East.
What are your thoughts on this past season and the future of this division?
The NFL season is so far away but at least there is the combine and draft and many off-season questions.
Steem on everyone!