I am pretty pumped for the fights tonight!
I am excited to watch all the fights!
Some notable fights I'm looking forward to other than the co-main and main events are:
Diego Sanchez vs Jake Matthews. Two high quality veterans of MMA. Fan favorites. Everyone knows Diego is a little nuts, although maybe not quite as nuts as everyone wants to portray. Diego's energy is what makes him a tremendous fighter and must-watch! Jake Matthews is capable of beating most guys in his division. Surprisingly he's only 26 but has been fighting in the UFC since 2014. This will be fun! A great matchup that i am glad is happening.
Hakeem Dawodu vs Zubaira Tukhugov. I've been a fan of Hakeem for awhile now. He's explosive and super tough. He's a young up and comer and I believe he has championship potential. I don't know all that much about Zubaira but I know he's pretty tough and from Russia. A lot of the Russians in the UFC have been tough grapplers, but they're also well-rounded much of the time. Everyone thinks Khabib can only grapple, but he's more than respectable on the feet. Zubaira has only fought three times in the past four years and he's got a tough fight on his hand versus Hakeem!
There's some decent fights otherwise, like Kai Kara France vs Brandon Royval. But the co-main and main event is really what I'm looking forward too!
---
Two Championship Fights!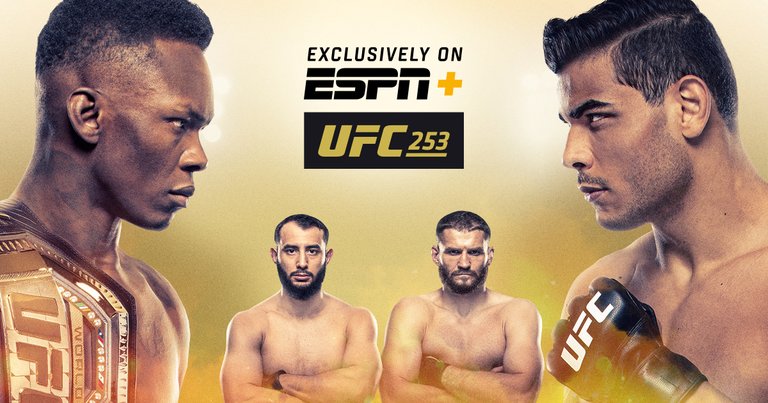 Src
Co-Main Event - Reyes vs Blachowicz
It's definitely kind of weird to see a Light-heavyweight title fight without the names Jon Jones or Daniel Cormier. But both Reyes and Blachowicz are highly qualified to be in the spot they're in. They have earned this position. Many people feel like Reyes won 3 out of 5 rounds versus Jon Jones from when Reyes fought Jones for the title not too long ago. That was a great fight! Blachowicz has been HOT. He avenged many of his losses from earlier in his UFC career and he has recently beaten solid names like Rockhold, Souza, and Corey Anderson in that order. Reyes and Blachowicz are both well rounded in their own way with pretty similar skillsets. Reyes may be a bit quicker, and Blachowicz might be a little grittier, technical and old school. This might be a very memorable title fight between two beasts.
Main Event - Adesanya vs Costa
This fight has got some FIRE behind it. These guys don't like each other as far as we fans can see. This matchup appears to be aggression versus finesse. Power versus counter-striker. Skinnier man versus thicker dude. Both of these guys are well-rounded though, I think that's what people are forgetting. Costa is athletic and can counter and Adesanya also has power! Most people think it's purely the other way around for this matchup. I know Adesanya has proven himself as being good enough in the grappling department, but a part of me still wonders how he would do once someone can actually put him on his back. Easier said than done but I wonder! Adesanya better be ready I think. The more I think about it the more I begin to think this is potentially a bad matchup for Israel. I feel like he's maybe facing a more muscular version of Kelvin Gastelum, and for a long while Adesanya struggled with Gastelum. But still, Adesanya is FANTASTIC in his own right. I don't doubt his ability to win this fight at all.
This main and co-main is about to be epic tonight!!