Sportstalk Sunday (American) #4

Good morning Everyone! Another great day of football in front of us as today we decide which two teams will be facing each other in the Super Bowl in a couple weeks. If you are a fan of football then you couldn't really ask for better matchups than we have today. Superstar QBs, fast physical defenses, dynamic playmakers, an old, veteran coach who has been there before, and three young, hungry new ones that are seeking their first titles. These games should have everything you want as a football fan and they are going to be fun to watch.
NFC Championship
The first game will pit the top two seeds in the NFC against each other in a matchup that seemed destined for much of the year. Philadelphia ran out to a blazing 13-1 start and were clearly the class of the conference before stumbling a little at the end when QB Jalen Hurts missed a couple games with injury. They have since righted the ship, and proved they are back last week in a 38-7 thumping of the Giants.
San Francisco took the opposite approach. After starting the year 3-4 with injuries to their two top quarterbacks, they have since rattled off ten in a row under the leadership of the very last player taken in last years draft, QB Brock Purdy. The rookie has yet to lose a game in the NFL and is the fifth to lead his team to the conference championship game in his first year. Incidentally, the first four went 0-4 so history is definitely not in his favor.
As opposed to the second game, which features two dynamic offenses, this game will be much more about the defense. San Francisco statistically has the best defense in the league this year and Philadelphia is not far behind them. Both are fast and physical and are able to get to the quarterback with dominant defensive lines.
The Eagles, however, have a quarterback who can run. Jalen Hurts is only the third QB in history to throw for over 3500 yds and run for over 750 yds. With him at the helm, they have been one of the best offenses in football because they can hurt you in so many different ways. With the addition of AJ Brown, they now have a dominant receiver, a solid cadre of running backs, and a quarterback that can use them all while at the same time making plays himself. It will be a tall task stopping them no matter how good the 49ers defense is.
The 49ers also have their share of weapons though, and when he has to, Purdy is no slouch at running the ball either. The biggest key for them is going to be establishing the running game. With Christian MacCaffrey healthy, a bruising offensive line, and a set of very physical tight ends and receivers, the 49ers have the chance to play the best defense of all against Hurts; namely, don't let him on the field. The Eagles have been prone to the run so there is a very legitimate chance the 49ers will be able to shorten the game by controlling the clock. If that's the case, who knows how the young Hurts will react when he does get his opportunities. If he gets hurried or frustrated, the 49ers defense can certainly make him pay.
In my mind, this game will really boil down to Jalen Hurts. If the Eagles are able to get off to a fast start and he gets rolling, game over. If the 49ers are able to make it a grind, all bets are off. Whereas Purdy has been able to rely on his defense to put him in good situations, the Philly defense has relied on Hurts to put them in good situations. Personally, I think Hurts is that good and will lead his team to their second Super Bowl in the last five years, but you still need to play the game. Turnovers, muffed punts, fumbled snaps, anything can happen and both teams are good enough that those mistakes can mean all the difference. It's going to be fun to watch.
AFC Championship
The second matchup has Cincinnati returning to Kansas City for the second straight year. Last year the Bengals were able to come away with a 27-24 victory before losing to the Rams in the Super Bowl. After again beating the Chiefs earlier in the year by that same score, Joe Burrow is now 3-0 against Patrick Mahomes. They are the only team to beat him three straight times and will look to continue that streak tonight.
Among the many storylines these two teams have developed over the last three years, none stands bigger than the Mahomes vs Burrow aspect. Though they are never on the field at the same time, these games are always viewed as Mahomes against Burrow. The Chiefs are now in their 5th straight AFC Championship game largely because Mahomes has been the most dynamic player in all of football over that time. His ability to play from the pocket, but also use his legs to extend plays and either run or find players downfield, has allowed them to overcome any defensive liabilities they've had and beat most teams they've faced. Today, however, he is dealing with a leg injury sustained in last weeks win over the Jaguars so that mobility is in question. That may be a very important key to this game. If he is limited, it may spell trouble for a Chiefs team with a decent defense, but not great.
Burrow on the other hand was second in the league in least amount of time spent holding the ball. He got rid of it in an average of around 2.5 seconds which means defenses don't have much time to get to him. Tom Brady is considered by most to be the greatest QB of all time largely because of this same ability. They both are able to make quick decisions and deliver the ball early to their playmakers thus rendering pass rushes almost useless. And Burrow has two incredible playmakers in Jamar Chase and Tee Higgins to get the ball to. Both are big, fast targets that can make a lot happen after the catch.
This game will probably again come down to which team makes a mistake. I think that the Bengals defense has a better chance of impacting the game but both quarterbacks are so good, it may not matter. It very well may come down to a fumble or a tipped pass. Whichever team gets that break will probably win. If that doesn't happen, then it will be which team can keep the other out of the end zone and force a field goal or two. Like I said, from my perspective the Bengals have a slightly larger margin for error with their defense, but it's in Kansas City so...it's a tossup. With the Bengals 3-0 record against the Chiefs, it's hard to bet against them, but it's hard to imagine Mahomes losing four straight times to anyone. You'd think the odds would catch up at some point.
That said, I'm going with the Bengals.
There you have it, our final football feast of the year. Six plus hours of the best of the best going at it in the elements. It's a great day to be a football fan.
Australian Open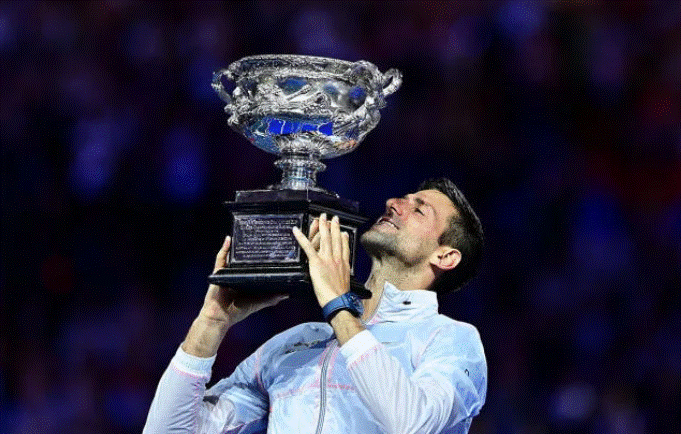 Although football is clearly the topic of the day here in America, I would be remiss in not pointing out the Novak Djokovic just won his 10th Australian Open and 22nd Grand Slam singles titles, once again tying Raphael Nadal for the most ever. After missing last years event due to authoritarian vaccination restrictions, Djokovic came back this year to retake the title he wasn't allowed to defend last year. In a dominant 3-set victory, he now retakes his ranking as the Number 1 player in the world where he has already spent a record 373 weeks.
Oh, and by the way, he is now a ridiculous 20-0 in semis and finals at this tournament. In other words, he's won 20 straight matches against the best players in the world playing their best tennis. Pretty incredible. It seems almost inevitable that he will ultimately end up holding the most Grand Slam titles of any men's player in history. Nadal is still playing so obviously will have something to say about it, but Djokovic is a little younger and is just so strong.
Do yourself a favor and take the opportunity to watch these two whenever possible over the next couple years. They are the greatest ever and their days are numbered as far as winning these events.
See you next week!
Posted using SportsTalkSocial
---
---