Let's talk about the NBA Conference Finals so far...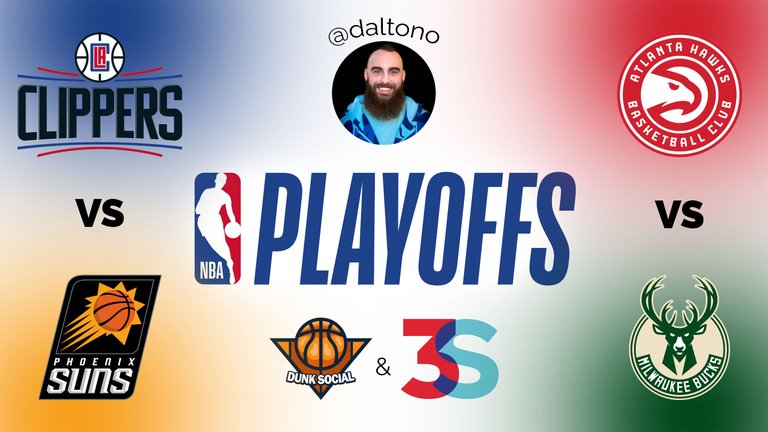 ---
2021 NBA Playoffs have been crazy!
With games 1 and 2 out of the way in the Western Conference, things are starting to get very interesting. I called Suns in 4 in my last video, but it looks like I was wrong. The Clippers got back to their homecourt in LA and were able to shut down Booker and the Suns. Chris Paul was back in the lineup, but it just wasn't enough to stop Paul George and his Clippers. Kawai Leonard was still out and is expected to miss the remainder of the conference finals. Game 4 is tonight and I see it as essential for the Clippers to claim as theirs. After tonight's game, the teams are headed back to Phoenix to play Game 5.
Over in the Eastern Conference, the Bucks and Hawks are going back and forth. The series is tied 1-1 after last night's blowout Game 2 win by Giannis and his Bucks. We saw Trae Young go absolutely nuts in Game 1 with 48 points, but it looks like the Bucks coaching staff was determined to not let that happen again. The Bucks defense was able to hold Trae to a measly 15 points in Game 2. With the series heading down to Atlanta for game 3, I see Game 4 as a must-win for the Hawks. Otherwise, they will only be able to tie the series back up before heading north to Milwaukee again for Game 5.
In today's video, I want to go over the last three games in 2021's NBA Conference Finals. There is a lot to talk about, but I promise not to waste your time and to get straight to the point.
I have some of the highlights of each game playing, but if you want to watch the highlights in full length I will have that for you below.
Bucks vs Hawks (Game 1)
Clippers vs Suns (Game 3)
Bucks vs Hawks (Game 2)
Thanks for watching my video
Let me know who you want/predict to be in 2021's NBA Finals. I personally would love to see the Suns vs Hawks. I think that Devin Booker vs Trae Young would be a crazy series to enjoy watching. Only time will tell who will be 2021's NBA Champions and go down in history as the best this year.
---
▶️ 3Speak
---
---