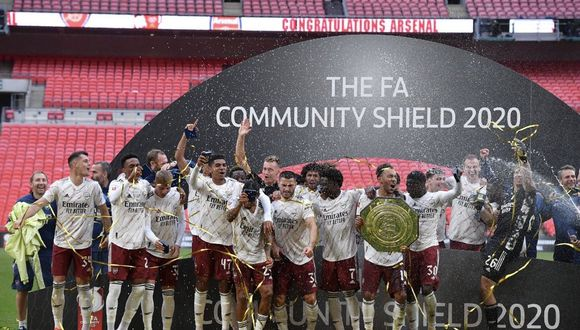 There was no better way for Arsenal to finish their previous season than winning the FA Cup, and there is no better way for Arsenal to begin this new season than by winning the Community Shield. In 1 month Arsenal has added 2 new trophies to its collection.
As a result of the pandemic the FA Cup final was played on 1 August 2020, and the Community Shield was played just a few hours ago. It is funny but ever since Mikel Arteta stopped being Guardiola's assistant and began his career being the main coach he has won the same trophies as Guardiola, with the difference that Arteta won the main cup, the FA Cup and Guardiola won the lesser cup, the EFL Cup. Both have won the Community Shield since they parted ways 1 year ago.
Not too long ago Liverpool would have beat Arsenal easily, let's remember Liverpool reaches 2 Champions League final on a row and they have also been extremely competitive in the league for 2 seasons in a row. However, Arsenal appears to have improved under Arteta's leadership. They beat Manchester City in the FA Cup, and in today's match against Liverpool, they played really well.
I noticed that after the pandemic Liverpool hasn't been able to play as good as before. A positive dynamic appears to have been interrupted and they better solve their performance issues, otherwise, this season will be a huge disappointment for them. The Liverpool capable of scoring 4 goals against Barcelona and achieve +95 points in the Premier League isn't there, at least not currently.
They lost the match on the penalties but Liverpool was the favorite to win this trophy by a lot. Arsenal, despite being an inferior team felt fresher. This is excellent for Arteta's record and if he can continue with this good dynamic I can easily see this coach training a better team in a few years.
I want to finish this post with a question that might be silly but it can be interesting to know other people's opinions. Which is more valuable, winning only the Premier League like Liverpool did or winning the FA Cup and the Community Shield like Arsenal just did?