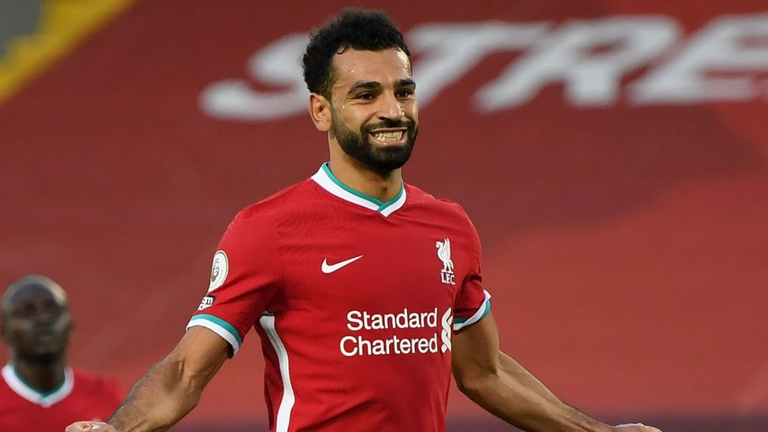 Source
This season couldn't have started better for Salah. Liverpool's main star scored a hat trick in the first match and even though 2 of those goals were penalties, it is still the best possible way to begin a season for a striker. This will certainly boost his confidence for the coming weeks.
Let's remember Salah is a player that for the last 3 years has been one of the best in the world. He has been close to winning the Ballon d'Or but this is still an individual trophy that he hasn't won. In this year and thanks to the pandemic, there won't be a Ballon d'Or but even if there were, the winner will probably be Lewandowski with Salah taking one of the top places but not number 1. He is now 28 years old so he is at his physical and mental prime.
Salah provoked a penalty in the 3-minute mark and scored it. Easy for him. The second Liverpool was also from an important player, the Dutch defender van Dijk who last year finished second in the Ballon d'Or just behind Messi. He scored a goal header from a corner kick but he also made a horrible mistake in Leeds' second goal so his match wasn't all that good in the end. A defensive player with his reputation shouldn't be making those silly mistakes but since this is just the first match of the season I guess it is understandable for players to be a little bit clumsy.
Liverpool started the match in a very energetic way, this is a team that can play extremely fast and has young players that can overwhelm the adversary with their fast pressing strategy. So much so, that in the first 33 minutes they scored 3 goals but in turn, they received 2. Let's not forget this team was able to score 4 goals against Barcelona in 2019 after losing the first match against them for 3-0. This is the type of team that can score a bunch of goals against any rivals, which is similar to current Bayern Munich who is also a team full of players that are both extremely strong and fast.
After that explosive first 30 minutes Liverpool eases off a little bit, I guess this was because they realized that Leeds, despite being a team that just ascended to the first division, is very well capable of making damage to them and this was proved with their 2 goals. The next half hour was more relaxed until something unexpected happened, Leeds scored their 3 goals in the 66-minute mark!
Liverpool players and coach were probably not expecting this little team to score 3 goals against them but they did! This was quite the feat for them and Bielsa, their coach, proves again he has a competitive methodology despite his lack of trophies.
After that initial shock, they managed to react and avoid a catastrophe because let's face it, a tie or even worse, a defeat in the first match of the season against a team that just ascended to the first division would be the worst possible start for Liverpool. In the end, Leeds committed another penalty which Salah scored, resulting in his hat trick, and 4 goals for Liverpool to confirm their victory.
Let's also take into consideration that all the 3 goals from Leeds were from regular plays while 2 of the 4 goals from Liverpool came from penalties. Liverpool's defense didn't have a good match and they need to improve a lot if they want to compete for trophies this season. Salah was good but the defense was horrible.
The other candidates to the Premier League, which are Manchester City and maybe Chelsea thanks all their new signings didn't play today. What this match made clear is that Leeds will be a hard pill to swallow for any team in the league, even to the bigger ones.
It is good to have European football back :]