My personal prediction about the Ballon d'Or and other individual trophies. (ENG + ESP)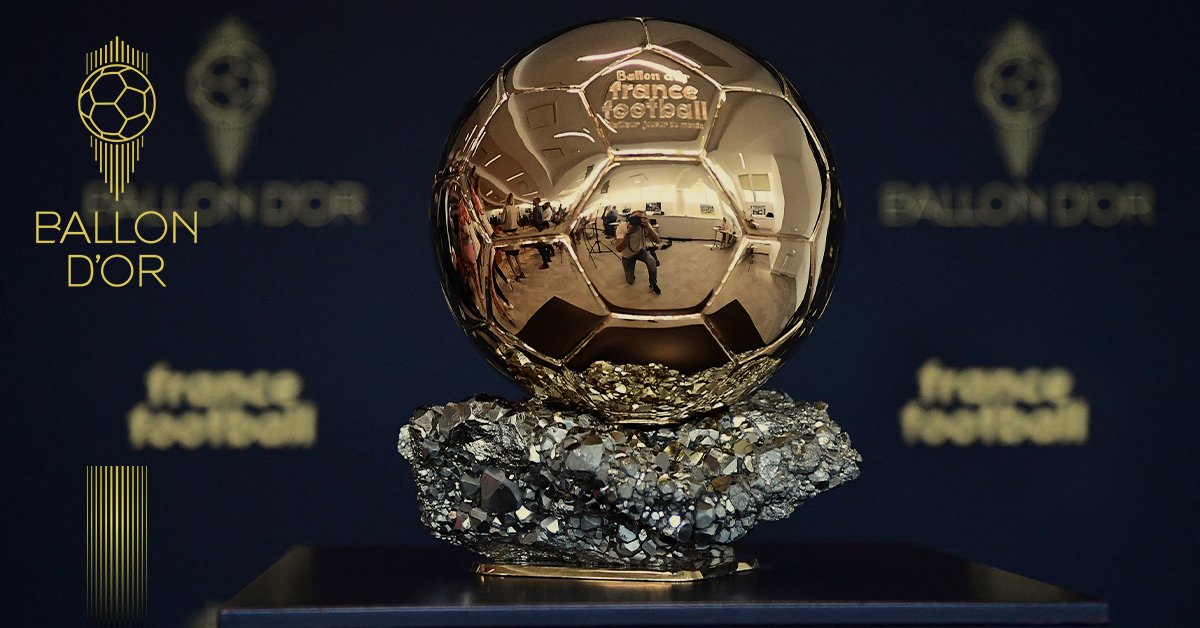 Source
English
Español
---
Before discussing the players, I would like to specify which are the individual trophies I am talking about, and why they always usually have the same winner. The Ballon d'Or is the most popular of course, it was first created in 1956, and to this date is the most iconic and prestigious individual trophy in football. However, there are 2 other trophies that are also very important.
One of them is called FIFA The Best. FIFA has had an individual trophy since 1991 called FIFA World Player of the Year. For a while, they stopped awarding that trophy to join forces with the Ballon d'Or, in what was temporarily known as FIFA Ballon d'Or, which lasted from 2010 until 2015. Since then, FIFA created a new individual trophy, which is the aforementioned FIFA The Best.


The other individual trophy is awarded by UEFA, it is called UEFA Men's Player of the Year Award. Unlike the other 2 trophies which are global, this trophy only takes into account players who play for a European club.


All of these trophies award the best player of the season, but they have different criteria and different ways of choosing the winner. In the case of the UEFA's trophy, the decision is taken by votes from journalists representing each of the countries that belong to UEFA, and the coaches of the teams that participated in UEFA's international club's competitions also participate in the voting.


In FIFA The Best, the votes include captains from each national team, the coaches, a journalist per country, and the fans can also vote using the internet. This is the only trophy that can compete with Ballon d'Or in prestige, and the people who vote are very similar, the only differences would be the journalists, who are obviously different people, and the fans that aren't allowed to vote for the Ballon d'Or. National coaches and captains vote in the 2 trophies.


Despite the differences between the 3 trophies, we usually have the same player winning all of them in the same year. However, I think this year we will have 1 winner for the UEFA Men's Player of the Year Award, and another different winner for the FIFA The Best and Ballon d'Or.


About a month ago, before the beginning of the 2 summer tournaments, the UEFA Euro and the Copa America, I made a post discussing which players had the possibility of becoming the best one in the season and the arguments in favor of each of those players. If you want to check that article, you can do so here.


As you can see in that post, I thought Kante and Mbappe were the players with the highest chances of becoming the best one in the season, mainly because I thought France was going to win the UEFA Euro. When they lost against Switzerland then everything changed because with that surprising defeat it would be almost impossible for any French player to win the Ballon d'Or.


In the end, Italy won the European tournament and Argentina won the South American one. Italy didn't have any candidates for the individual trophy, so their victory doesn't change things. Argentina, on the other hand, did have a candidate, Leo Messi.


In Copa America, Messi was the player with the most goals and assists, he was also the best player in the tournament, and despite not having a great performance in the final match, his team won and he became the first time a Copa America champion.


Between the 2 continental tournaments, I also think Messi had the best individual performance of all players. This makes him the great winner of the summer, and in my opinion, allows him to be the favorite to win both the Ballon d'Or and the FIFA The Best trophy.


During the club season, Messi didn't achieve anything too important. He didn't win LaLiga nor the Champions League. He only won the national cup and he also was the top scorer in LaLiga. That wasn't enough to be the best in the season, but the summer tournaments changed everything.


I believe that after his victory in Copa America, Messi is the player with the most arguments in his favor to be considered as the best player of the season. This year it wasn't an easy choice, usually, the best one is the star of the team that wins the Champions League, but Chelsea doesn't really have a main star. Kante could be considered their best player despite being a defensive midfielder, but in the UEFA Euro his performance was very disappointing.


Lewandowski only won the Bungesliga, and Neymar lost the Copa America final against Messi. All of the other candidates don't have enough arguments to compete with Messi, and the winner should be very clear in my opinion.


Therefore, it is my personal prediction that Messi will win once again, the Ballon d'Or and the FIFA The Best but not the UEFA Men's Player of the Year Award. The reason for that is because the key victory for Messi was the Copa America, that tournament isn't taken into account for the UEFA's trophy.


This leaves Kante as the player with the highest chances of winning that individual trophy. Kante was the best player in the Champions League semifinals and in the final, he won that tournament, and then in the UEFA Euro, he didn't have a good performance. Lewandowski's performance in the UEFA Euro was even worse, and his club performance was only good in the national league. Mbappe isn't a candidate since he didn't win important collective trophies, the same could be said about CR7.


The Italian team deservedly won the UEFA Euro, but none of their players was a candidate in the first place since their club performance during the season wasn't really good enough. England's players are the same, Kane wasn't a candidate, and Sterling at least won the Premier League but his individual performance during the season wasn't good enough. This lack of good performance during the club season from the players playing in the UEFA Euro final, leaves Kante in a very good position to be considered as the best one.


Therefore, to finish my prediction from before, Kante will win the UEFA Men's Player of the Year Award and Messi will win FIFA The Best, as well as the Ballon d'Or.


Let me know what you think about this prediction, and if you agree or disagree with it.


Thanks for reading!
Antes de hablar de los jugadores, me gustaría especificar cuáles son los trofeos individuales de los que estoy hablando y por qué siempre suelen tener el mismo ganador. El Balón de Oro es el más popular, por supuesto, se creó por primera vez en 1956 y, hasta la fecha, es el trofeo individual más emblemático y prestigioso del fútbol. Sin embargo, hay otros 2 trofeos que también son muy importantes.
Uno de ellos se llama FIFA The Best. La FIFA ha tenido un trofeo individual desde 1991 llamado FIFA World Player of the Year. Durante un tiempo dejaron de entregar ese trofeo para unir fuerzas con el Balón de Oro, en lo que se conoció temporalmente como FIFA Ballon d'Or, que duró desde 2010 hasta 2015. Desde entonces, la FIFA creó un nuevo trofeo individual, que es el antes mencionado FIFA The Best.


El otro trofeo individual es otorgado por la UEFA, se llama Premio UEFA al Mejor Jugador en Europa. A diferencia de los otros 2 trofeos que son globales, este trofeo solo tiene en cuenta a los jugadores que juegan para un club europeo.


Todos estos trofeos premian al mejor jugador de la temporada, pero tienen diferentes criterios y diferentes formas de elegir al ganador. En el caso del trofeo de la UEFA, la decisión se toma por votos de los periodistas que representan a cada uno de los países que pertenecen a la UEFA, y en la votación también participan los entrenadores de los equipos que participaron en las competiciones internacionales de clubes de la UEFA.


En FIFA The Best, los votos incluyen a los capitanes de cada equipo nacional, los entrenadores, un periodista por país y los aficionados también pueden votar a través de Internet. Este es el único trofeo que puede competir con el Balón de Oro en prestigio, y las personas que votan son muy similares, las únicas diferencias serían los periodistas, que obviamente son personas diferentes, y los fanáticos a los que no se les permite votar en el Balón de Oro. Los entrenadores y capitanes nacionales votan en los 2 trofeos.


A pesar de las diferencias entre los 3 trofeos, solemos tener al mismo jugador ganándolos todos en el mismo año. Sin embargo, creo que este año tendremos un ganador para el Premio UEFA al Mejor Jugador en Europa y otro ganador diferente para el FIFA The Best y el Balón de Oro.


Hace aproximadamente un mes, antes del inicio de los 2 torneos de verano, la UEFA Euro y la Copa América, hice un post discutiendo qué jugadores tenían la posibilidad de convertirse en el mejor de la temporada y los argumentos a favor de cada uno de esos jugadores. Si desea consultar ese artículo, puede hacerlo aquí.


Como puedes ver en ese post, pensé que Kante y Mbappé eran los jugadores con más posibilidades de convertirse en el mejor de la temporada, principalmente porque pensé que Francia iba a ganar la Eurocopa. Cuando perdió contra Suiza todo cambió porque con esa sorprendente derrota sería casi imposible que cualquier jugador francés ganara el Balón de Oro.


Al final, Italia ganó el torneo europeo y Argentina ganó el sudamericano. Italia no tenía candidatos al trofeo individual, por lo que su victoria no cambia las cosas. Argentina, en cambio, sí tenía un candidato, Leo Messi.


En Copa América, Messi fue el jugador con más goles y asistencias, también fue el mejor jugador del torneo, y a pesar de no tener una gran actuación en el partido final, su equipo ganó y se convirtió por primera vez en campeón de la Copa América.


Entre los 2 torneos continentales, también creo que Messi tuvo el mejor desempeño individual de todos los jugadores. Esto lo convierte en el gran ganador del verano y, en mi opinión, le permite ser el favorito para ganar tanto el Balón de Oro como el trofeo FIFA The Best.


Durante la temporada de clubes, Messi no logró nada demasiado importante. No ganó LaLiga ni la Champions. Solo ganó la copa nacional y también fue el máximo goleador de LaLiga. Eso no era suficiente para ser el mejor de la temporada, pero los torneos de verano lo cambiaron todo.


Creo que tras su victoria en la Copa América, Messi es el jugador con más argumentos a su favor para ser considerado el mejor jugador de la temporada. Este año no ha sido una elección fácil, por lo general, el mejor es la estrella del equipo que gana la Champions League, pero el Chelsea realmente no tiene una estrella principal. Kante podría ser considerado su mejor jugador a pesar de ser un centrocampista defensivo, pero en la Eurocopa su actuación fue muy decepcionante.


Lewandowski solo ganó la Bungesliga y Neymar perdió la final de la Copa América ante Messi. Todos los demás candidatos no tienen suficientes argumentos para competir con Messi, y el ganador debería ser muy obvio en mi opinión.


Por tanto, mi predicción personal es que Messi volverá a ganar el Balón de Oro y el FIFA The Best, pero no el Premio UEFA al Mejor Jugador en Europa. El motivo es que la victoria clave de Messi fue la Copa América, ese torneo no se tiene en cuenta para el trofeo de la UEFA.


Esto deja a Kante como el jugador con mayores posibilidades de ganar ese trofeo individual. Kante fue el mejor jugador en las semifinales de la Champions League y en la final ganó ese torneo, y luego en la Eurocopa no tuvo una buena actuación. La actuación de Lewandowski en la Eurocopa fue incluso peor, y su actuación en club solo fue buena en la liga nacional. Mbappé no es candidato ya que no ganó trofeos colectivos importantes, lo mismo podría decirse de CR7.


El equipo italiano ganó merecidamente la Eurocopa, pero ninguno de sus jugadores fue candidato en primer lugar, ya que sus desempeños en clubes durante la temporada no fue lo suficientemente bueno. Lo mismo sucede con los jugadores de Inglaterra, Kane no era candidato y Sterling al menos ganó la Premier League, pero su desempeño individual durante la temporada no fue lo suficientemente bueno. Esta falta de buen desempeño durante la temporada de clubes de los jugadores que juegan en la final de la Eurocopa, deja a Kante en una muy buena posición para ser considerado el mejor.


Por lo tanto, para terminar mi predicción de antes, Kante ganará el Premio UEFA al Mejor Jugador en Europa y Messi ganará el FIFA The Best, así como el Balón de Oro.


Déjeme saber lo que piensas sobre esta predicción y si estás de acuerdo o en desacuerdo con ella.


¡Gracias por leer!
---
---