Paqueta scores again, Brazil dominates the match, and we have the first finalist! (ENG + ESP)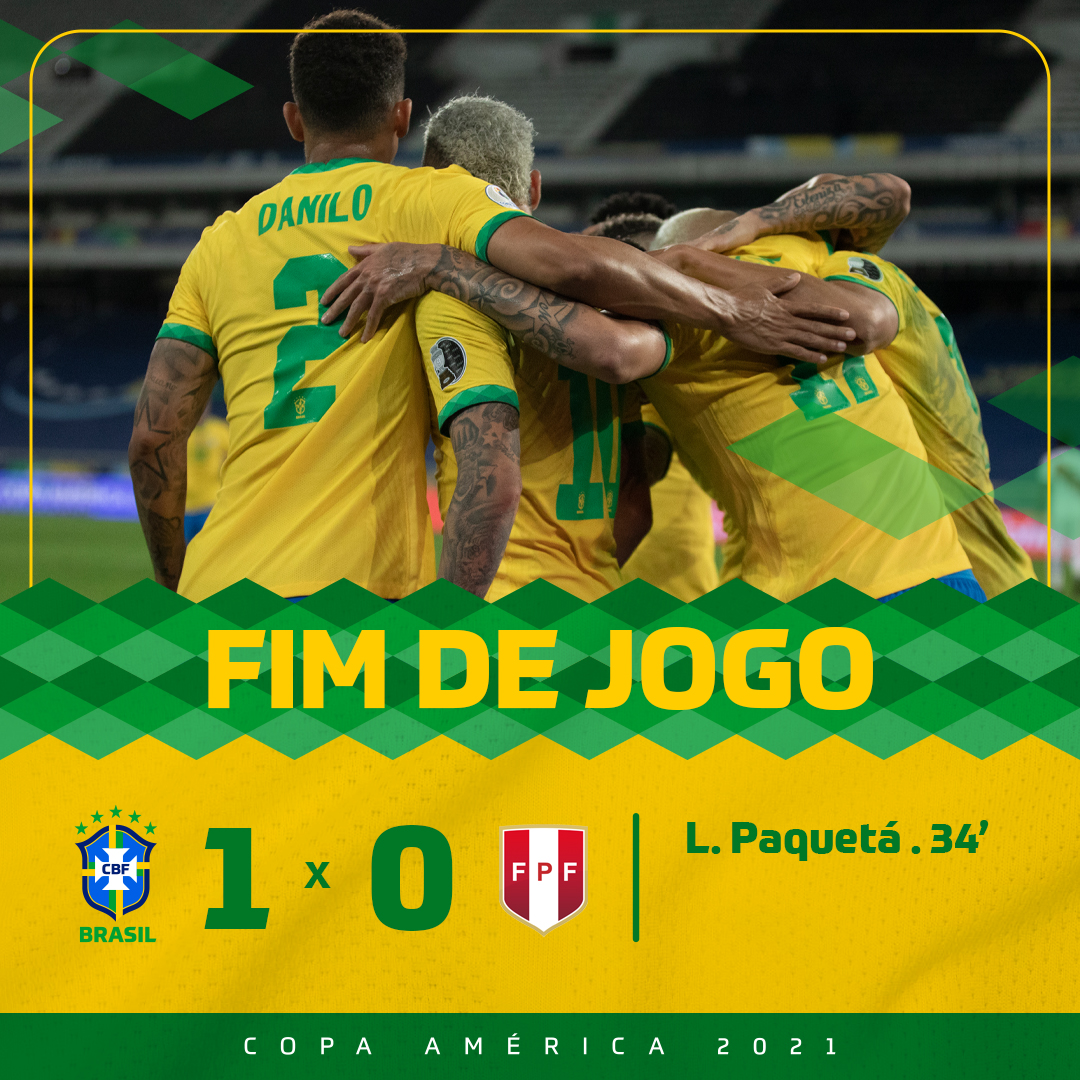 ---
Source
English
Español
---
Last night I was able to watch the first semifinal of the Copa America between Brazil and Peru. These 2 teams were the same that played in the final of the previous Copa America in 2019. This tournament is usually played every 4 years, but after the 2019 version, they decided to make the tournament in the same year as the UEFA Euro. It was meant to be played last year, but just like the Euro, it was delayed to this year due to the pandemic.
Brazil has been the best South American team for quite a while, I would say that from 2018 they became the best, in the first half of the previous decade the best ones were Argentina and Chile. They are currently enjoying what could be described as a golden generation. They have excellent players in all parts of the pitch and are clear candidates to win the next World Cup, as well as this Copa America of course.


Peru is never the main candidate to reach a final but they usually manage to have a competitive team, and it is not a surprise to see them participating in World Cups as well as having a good performance in the Copa America. Everyone knows that Brazil is the favorite for this match, but I still decided to watch it because in football there can always be surprises and this match could be more even than previously expected.
How was the match?
Brazil began the match controlling everything as expected. They controlled the ball completely, and pretty much all the attacking plays were from them. Neymar was having all sorts of fun doing more dribbling than usual, and it felt like it was just a matter of time before Brazil scored its first goal.


All Peru did was defend their penalty box with everything they got, and wait for the best. They hardly tried any attacking play and I thought they were like a sitting duck waiting to be shot. It truly felt like Brazil could have easily scored at least 2 or 3 goals, the problem was they keep missing their chances.


The best chances for Brazil in the first 15 minutes were a couple of long shots by Casemiro, including a free-kick from him as well. All those shots were stopped by the Peruvian goalkeeper time and time again.


Brazil approached the Peruvian penalty box several times, and there was one goal attempt around the 19-minute mark that left Neymar in a very good position to score but his shot went straight to where the goalkeeper was standing. In the first 30 minutes of the match, the Peruvian goalkeeper was the best player on the pitch, even better than Neymar.


Brazil was great at approaching the Peruvian penalty box, and also great at creating good goal attempts, but they were awful when it was time to finish the play and score the goal. They were playing without a natural central striker so this might have had something to do with this.


The first goal happened around the 34-minute mark and was caused by an error in the Peruvian defense. Neymar started to run and dribble everyone from the left side of the pitch. Peru had their defensive line in front of their penalty box and there was also a lot of open space which allowed Neymar to arrive inside the penalty box, and then he began his dribbling moves from there. He passes the ball to the center of the penalty box, and Paqueta, the same player who scored in last match, scored easily from the penalty dot. The key part of this play was Neymar dribbles and pass, he completely outclassed the Peruvian defense at that moment.


Before that goal, I was suspecting this match could potentially become uncomfortable for Brazil if they didn't score in the first half but luckily for them, they did score, and from there, things got much easier.


This goal confirmed Brazil's complete control and allowed them to play without any pressure or anxiety. Even after the goal, Peru was incapable of creating any attacking play during the remaining minutes of the first half. Brazil's control of the match should have allowed them to score the second goal in the first half, but this team is having a hard time scoring during the previous 2 matches. In the group stage they scored a lot of goals, they even had a match against Peru in the group stage and they scored 4 goals against them, but now it seems more difficult for them. The first half ended with a totally neutralized Peru, and a very comfortable Brazil.


The second half started and Peru began with a different attitude. At the 48 minute mark, they had their first important attack, which began with a long pass towards the left side of Brazil's penalty box, the Peruvian player was able to dribble the Brazilian defender and made a great crossed shot that was stopped by the goalkeeper. The entire play was very good, and it could have been a great goal. In the first 3 minutes of the second half, Peru had already caused more danger than in the entire 45 minutes of the first half.


This proved that Peru was able to tie the match if they were lucky enough. It was unlikely but not impossible and that tie would have made the match much more entertaining. Another dangerous shot by a Peruvian player happened around the 60-minute mark, this time the shot was from the border of the area, and once again the Brazilian goalkeeper stops it. Peru seemed like a completely different team in this second half, they were now finally focusing some of their energy on attacking plays, and not just waiting to stop Brazil's attacks like they did in the first half.


Brazil was still the dominant team but Peru was also having its chances in scoring a goal, and this made the second half more exciting than the first one. Maybe Brazil was getting comfortable with their 1 goal advantage, or maybe they were just a bit tired after attempting many attacking plays since the beginning of the match, but the fact is, Brazil's intensity was reduced and Peru's attacks increase but only during the beginning of the second half. From the 70-minute mark onwards, the match seemed kind of jammed. The players began to do more fouls than usual, Peru was trying to achieve their heroic tie but were having trouble creating any attacking play, and Brazil was also a bit uncomfortable because having just 1 goal advantage is not enough, especially if the rival team is playing intensively. However, not much happened.


Neymar gave some good passes, first to Richarlison and later on to Vinicius but neither of them did useful things with the ball. On Peru's side, they had only 1 good header around the 75-minute mark that could have been a goal but it was missed too.


The final minutes of the match didn't have much to offer. I was hoping to see Vinicius doing another one of his typical electric plays but that didn't happen either. I think he only touched the ball like 2 or 3 times.


Brazil was able to win the match thanks to their good first half when they completely dominated everything. The second half was more even, and if in final Brazil reduces their performance during the second in the same way, I think they are going to have a lot of trouble defeating Argentina.


The match was entertaining, Neymar did a lot of cool dribblings, but I was expecting to see more goals. I hope today's matches can satisfy my current goal thirst.
What's next?
Tomorrow I plan to watch the first Euro final between Spain and Italy, and some hours later, I plan to watch the second Copa America semifinal between Argentina and Colombia. These are all great matches and I hoping they can deliver good football.


Wednesday's match is the second Euro semifinal between England and Denmark. The finals are both this weekend.
Anoche pude ver la primera semifinal de la Copa América entre Brasil y Perú. Estos 2 equipos fueron los mismos que jugaron en la final de la Copa América anterior en 2019. Este torneo se juega generalmente cada 4 años, pero después de la versión 2019, decidieron hacer el torneo en el mismo año que la Eurocopa. Estaba destinado a jugarse el año pasado, pero al igual que la Euro, se retrasó hasta este año debido a la pandemia.
Brasil es el mejor equipo sudamericano desde hace bastante tiempo, yo diría que a partir del 2018 se convirtieron en los mejores, en la primera mitad de la década anterior los mejores fueron Argentina y Chile. Actualmente disfrutan de lo que podría describirse como una generación dorada. Tienen excelentes jugadores en todos los puntos de la cancha y son claros candidatos a ganar el próximo Mundial, además de esta Copa América por supuesto.


Perú nunca es el principal candidato para llegar a una final pero suele lograr tener un equipo competitivo, y no es de extrañar verlos participar en Mundiales además de tener una buena actuación en la Copa América. Todo el mundo sabe que Brasil es el favorito para este partido, pero aun así decidí verlo porque en el fútbol siempre puede haber sorpresas y este partido podría ser más igualado de lo esperado.
¿Cómo estuvo el partido?
Brasil comenzó el partido controlando todo como se esperaba. Controlaban el balón por completo y casi todas las jugadas de ataque eran de ellos. Neymar se estaba divirtiendo mucho haciendo más regate de lo habitual, y parecía que era solo cuestión de tiempo antes de que Brasil anotara su primer gol.


Lo único que hizo Perú fue defender su área de penaltis con todo lo que tenían y esperar lo mejor. Apenas intentaron ninguna jugada de ataque y pensé que eran como una presa fácil esperando a ser cazada. Realmente parecía que Brasil podría haber marcado fácilmente al menos 2 o 3 goles, el problema era que seguían perdiendo sus oportunidades.


Las mejores ocasiones de Brasil en los primeros 15 minutos fueron un par de tiros lejanos de Casemiro, incluido un tiro libre lanzado por él mismo. Todos esos tiros fueron detenidos por el arquero peruano una y otra vez.


Brasil se acercó varias veces al área peruana, y hubo un intento de gol alrededor del minuto 19 que dejó a Neymar en muy buena posición para anotar pero su disparo fue directo a donde estaba parado el arquero. En los primeros 30 minutos de partido, el arquero peruano fue el mejor jugador en el campo, incluso mejor que Neymar.


Brasil fue excelente para acercarse al área peruana, y también excelente para crear buenos intentos de gol, pero fueron pésimos cuando llegaba el momento de terminar la jugada y marcar el gol. Jugaban sin un delantero centro natural, por lo que esto podría haber tenido algo que ver con esto.


El primer gol ocurrió alrededor del minuto 34 y fue causado por un error en la defensa peruana. Neymar empezó a correr y driblear a todo el mundo desde el lado izquierdo del campo. Perú tenía su línea defensiva frente a su área y también había mucho espacio abierto que le permitió a Neymar llegar al interior del área , y desde allí comenzó sus movimientos de regate. Pasa el balón al centro del área, y Paqueta, el mismo que marcó en el último partido, anotó con facilidad desde el punto penalti. La parte clave de esta jugada fueron los regateos y el pase de Neymar, superó por completo a la defensa peruana en ese momento.


Antes de ese gol, sospechaba que este partido podría ser potencialmente incómodo para Brasil si no marcaba en la primera parte, pero afortunadamente para ellos sí marcaron y, a partir de ahí, las cosas se pusieron mucho más fáciles.


Este gol confirmó el control total de Brasil y le permitió jugar sin presiones ni ansiedad. Incluso después del gol, Perú fue incapaz de crear ninguna jugada de ataque durante los minutos restantes del primer tiempo. El control del partido de Brasil debería haberle permitido anotar el segundo gol en la primera mitad, pero este equipo está teniendo dificultades para marcar durante los 2 partidos anteriores. En la fase de grupos marcaron muchos goles, incluso tuvieron un partido contra Perú en la fase de grupos y marcaron 4 goles contra ellos, pero ahora se les hace más difícil. La primera parte terminó con un Perú totalmente neutralizado y un Brasil muy cómodo.


Comenzó la segunda mitad y Perú adopto una actitud diferente. En el minuto 48, tuvieron su primer ataque importante, que comenzó con un pase largo hacia el lado izquierdo del área de Brasil, el jugador peruano pudo regatear al defensor brasileño y realizó un gran disparo cruzado que fue detenido por el portero. . Toda la jugada fue muy buena y podría haber sido un gran gol. En los primeros 3 minutos del segundo tiempo, Perú ya había causado más peligro que en los 45 minutos completos del primer tiempo.


Esto demostró que Perú podía empatar el partido si tenían suerte. Era poco probable pero no imposible y ese empate hubiera hecho el partido mucho más entretenido. Otro disparo peligroso de un jugador peruano sucedió alrededor del minuto 60, esta vez el disparo fue desde el borde del área, y una vez más el portero brasileño lo detuvo. Perú parecía un equipo completamente diferente en esta segunda mitad, ahora finalmente estaban concentrando parte de su energía en las jugadas de ataque, y no solo esperando para detener los ataques de Brasil como lo hicieron en la primera mitad.


Brasil seguía siendo el equipo dominante, pero Perú también tenía sus posibilidades de marcar un gol, y esto hizo que la segunda mitad fuera más emocionante que la primera. Tal vez Brasil se estaba sintiendo cómodo con su ventaja de 1 gol, o tal vez simplemente estaban un poco cansados ​​después de intentar muchas jugadas de ataque desde el comienzo del partido, pero el hecho es que la intensidad de Brasil se redujo y los ataques de Perú aumentaron pero solo durante el comienzo de la segunda mitad. Desde los 70 minutos en adelante, el partido parecía un poco atascado. Los jugadores empezaron a cometer más faltas de lo habitual, Perú intentaba lograr su heroica eliminatoria pero tenía problemas para crear alguna jugada de ataque, y Brasil también estaba un poco incómodo porque solo 1 gol de ventaja no es suficiente, sobre todo si el equipo rival está rival jugando intensamente. Sin embargo, no pasó mucho.


Neymar dio buenos pases, primero a Richarlison y luego a Vinicius pero ninguno de los dos hizo cosas útiles con el balón. Por el lado de Perú, solo tuvieron un buen cabezazo alrededor de los 75 minutos que podría haber sido un gol, pero también lo fallaron.


Los minutos finales del partido no tuvieron mucho que ofrecer. Esperaba ver a Vinicius haciendo otra de sus típicas jugadas eléctricas, pero eso tampoco sucedió. Creo que solo tocó el balón como 2 o 3 veces.


Brasil pudo ganar el partido gracias a su buena primera parte cuando lo dominó todo por completo. El segundo tiempo fue más igualado, y si en la final Brasil reduce su rendimiento durante el segundo de la misma forma, creo que va a tener muchos problemas para derrotar a Argentina.


El partido fue entretenido, Neymar hizo muchos regates geniales, pero esperaba ver más goles. Espero que los partidos de mañana puedan satisfacer mi sed de goles actual.
¿Qué sigue?
Mañana tengo previsto ver la primera final de la Eurocopa entre España e Italia, y unas horas más tarde, tengo previsto ver la segunda semifinal de la Copa América entre Argentina y Colombia. Todos estos son partidos geniales y espero que puedan ofrecer un buen fútbol.


El partido pasado mañana es la segunda semifinal de la Eurocopa entre Inglaterra y Dinamarca. Las finales son ambas este fin de semana.
---
---