Sergio Ramos, the best defender of his generation, leaves Real Madrid. (ENG + ESP)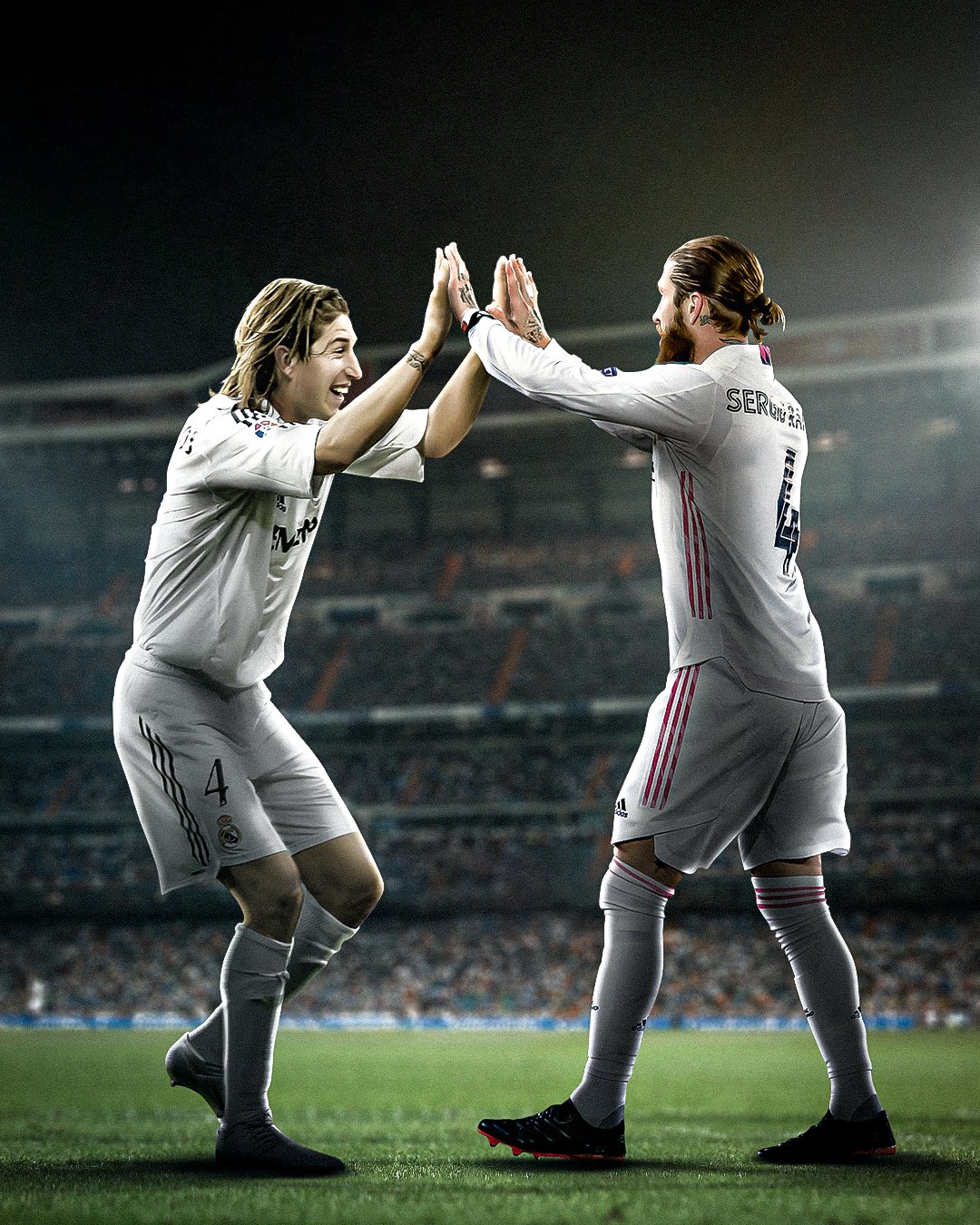 Source
English
Español
---
A couple of days ago, it was officially confirmed that Sergio Ramos will not continue to play for Real Madrid. His contract lasted until the end of the current season, and there won't be a renovation so he is free to look for a new team. Real Madrid offered him a contract at the beginning of this year, Ramos didn't accept the contract because he wanted improved conditions. Time went on, Real Madrid signed Alaba and by the time Ramos decided to accept the new contract the offer was no longer on the table.
There are a few important circumstances that make this decision by Real Madrid understandable. First, this year Ramos hasn't played many matches and he has been injured since January. When he played, he didn't do it in a satisfactory manner and the team usually lost. He is 35 years old, and for a football player this is quite an advanced age, so it is unlikely his recovery from a long injury could happen as fast compared to a young player.


In the important matches of this year, which includes a few Champions League matches, and the Clasico against Barcelona, Real Madrid played with Nacho and Militao as central defenders and they did it wonderfully. Not even Varane was needed to defeat both Barcelona and Liverpool. This proved Real Madrid they didn't depend on Sergio Ramos.


Signing Alaba, who is a great and polyvalent defender, reduces even more the need for Real Madrid to keep Ramos in the team. All of these reasons caused Real Madrid to just end the offer and let Ramos go. If he had accepted the offer when it was first presented, he would still be a Real Madrid player, but he preferred to either force the team into giving him more years in the contract, or maybe he was waiting for a better offer from other teams.


I think both player and club will continue to compete at the maximum level and I am really interested in seeing where will Ramos play now. My guess is he will play for a Premier League club or maybe for PSG.


Having said all of these, I would like now to provide a summary of Ramos' career at Real Madrid, mentioning his best moments and best triumphs. This is a legendary defender, clearly the best one of his generation, and has many historic records that will be almost impossible to beat.
Sergio Ramos's career at Real Madrid
This player began his professional career in a team called Sevilla. He played as a right-back and since he was very young he was considered as one of the best in the world in his position. I remember that before he signed for Real Madrid in 2005 he scored a great freekick against them in a league match. You can watch that goal here:
Hace un par de días se confirmó oficialmente que Sergio Ramos no seguirá jugando en el Real Madrid. Su contrato duró hasta el final de la temporada actual, y no habrá una renovación, por lo que es libre de buscar un nuevo equipo. El Real Madrid le ofreció un contrato a principios de este año, Ramos no aceptó el contrato porque quería mejorar las condiciones. Pasó el tiempo, el Real Madrid fichó a Alaba y cuando Ramos decidió aceptar el nuevo contrato la oferta ya no estaba sobre la mesa.
Hay algunas circunstancias importantes que hacen comprensible esta decisión del Real Madrid. Primero, este año Ramos no ha jugado muchos partidos y está lesionado desde enero. Cuando pudo jugar, no lo hizo de manera satisfactoria y el equipo solía perder. Tiene 35 años, y para un jugador de fútbol esta es una edad bastante avanzada, por lo que es poco probable que su recuperación de una lesión prolongada pueda suceder tan rápido en comparación con un jugador joven.


En los partidos importantes de este año, que incluye algunos partidos de la Liga de Campeones, y el Clásico ante el Barcelona, ​​el Real Madrid jugó con Nacho y Militao como centrales y lo hicieron de maravilla. Ni siquiera se necesitó a Varane para derrotar tanto al Barcelona como al Liverpool. Esto demostró al Real Madrid que no dependía de Sergio Ramos.


El fichaje de Alaba, que es un gran defensa y muy polivalente, reduce aún más la necesidad del Real Madrid de mantener a Ramos en el equipo. Todas estas razones hicieron que el Real Madrid simplemente terminara la oferta y dejara ir a Ramos. Si hubiera aceptado la oferta cuando se presentó por primera vez, seguiría siendo jugador del Real Madrid, pero prefirió obligar al equipo a darle más años de contrato, o tal vez estaba esperando una oferta mejor de otros equipos. .


Creo que tanto jugador como club seguirán compitiendo al máximo nivel y estoy realmente interesado en ver dónde jugará Ramos ahora. Supongo que jugará para un club de la Premier League o quizás para el PSG.


Dicho todo esto, me gustaría ahora hacer un resumen de la carrera de Ramos en el Real Madrid, mencionando sus mejores momentos y sus mejores triunfos. Este es un defensa legendario, claramente el mejor de su generación, y tiene muchos récords históricos que serán casi imposibles de batir.
La carrera de Sergio Ramos en el Real Madrid
Este jugador inició su carrera profesional en un equipo llamado Sevilla. Jugó como lateral derecho y desde muy joven fue considerado como uno de los mejores del mundo en su posición. Recuerdo que antes de fichar por el Real Madrid en 2005 le marcó un gran tiro libre en un partido de Liga. Puedes ver ese gol aquí:
---
---
I don't know if his great performance when playing against Real Madrid while being so young is what convinced the team to sign him, but the next summer he was already a Real Madrid player so maybe this had something to do.
He arrived at Real Madrid and continued to play as a right-back just like he did in Sevilla. He was a permanent member of the lineup since he arrived, and shortly after he became a Real Madrid player they won 2 leagues in a row. With Spain, he won the UEFA Euro 2008, and will then continue to be an important member of the team when they won the World Cup in 2010 and then the UEFA Euro in 2012.


In Real Madrid, things got a little bit tough for a few years when Messi began to dominate the football world starting in 2009. Real Madrid had a very difficult couple of years, but things began to change in the summer of 2010, when Mourinho was signed as the new manager. I believe Mourinho caused important positive changes both for Real Madrid and for Sergio Ramos.


It was Mourinho who change Ramos' position on the pitch, he went from playing as a right-back to now playing as a central defender, and the change not only improved the performance of Sergio Ramos, but I also think it expanded the longevity of his career. Central defenders can remain competitive for many more years than left-backs or right-backs. This change has allowed Sergio Ramos to still be an elite central defender at 35 years old. How many elite left-backs or right-backs of the same age are there? I don't know any to be honest.


With Mourinho, Ramos became one of the best central defenders on the planet, and the team managed to win some important trophies including the "league of the records", which is known by that name because the team achieved 2 records, one regarding the total points obtained, and the other regarding the total goals scored.


However, one of the most important moments in Sergio Ramos' career happened when Ancelotti was Madrid's coach. This happened in 2014, in the Champions League final, the first one of Ramos's career. Real Madrid's last Champions League victory was in 2001, and the team needed to win this trophy again to make its fans very happy. The rival team was Atletico de Madrid, the team that won the Spanish league that year thanks to their great defense.


Due to a horrible mistake from Casillas Atletico was winning, and as expected, scoring a goal against them was super difficult. Real Madrid tried time and time again, and there was no way to score a goal. Their defense and goalkeeper were just too good. This was the case until the 93-minute mark. Real Madrid had another corner kick, and this time, Ramos appeared with a legendary header goal that ties the match. This turned Ramos into a fearsome header, and from that point, Real Madrid's rivals were always afraid of Ramos' skills when doing headers. You can watch that historic goal in the following video:
No sé si su gran actuación cuando jugaba contra el Real Madrid siendo tan joven fue lo que convenció al equipo de ficharlo, pero el verano siguiente ya era jugador del Real Madrid, así que quizás esto tuvo algo que ver.
Llegó al Real Madrid y siguió jugando como lateral derecho como lo hizo en el Sevilla. Fue miembro permanente de la alineación desde que llegó, y poco después de convertirse en jugador del Real Madrid ganó 2 ligas seguidas. Con España, ganó la UEFA Euro 2008 y luego seguiría siendo un miembro importante del equipo cuando ganaron la Copa del Mundo en 2010 y luego la UEFA Euro en 2012.


En el Real Madrid, las cosas se pusieron un poco difíciles durante unos años cuando Messi comenzó a dominar el mundo del fútbol a partir de 2009. El Real Madrid tuvo un par de años muy complicados, pero las cosas empezaron a cambiar en el verano de 2010, cuando Mourinho fue firmado como el nuevo gerente. Creo que Mourinho provocó cambios positivos importantes tanto para el Real Madrid como para Sergio Ramos.


Fue Mourinho quien cambió la posición de Ramos en el campo, pasó de jugar como lateral derecho a jugar ahora como defensa central, y el cambio no solo mejoró la actuación de Sergio Ramos, sino que creo que también amplió la longevidad de su carrera. Los defensores centrales pueden seguir siendo competitivos durante muchos más años que los laterales izquierdos o derechos. Este cambio le ha permitido a Sergio Ramos seguir siendo un central de élite a sus 35 años. ¿Cuántos laterales izquierdos o laterales derechos de élite de la misma edad hay? No conozco a ninguno para ser honesto.


Con Mourinho, Ramos se convirtió en uno de los mejores centrales del planeta, y el equipo logró ganar algunos trofeos importantes entre ellos la "liga de los récords", que se conoce con ese nombre porque el equipo logró 2 récords, uno respecto al total de puntos obtenidos, y el otro respecto al total de goles marcados.


Sin embargo, uno de los momentos más importantes en la carrera de Sergio Ramos ocurrió cuando Ancelotti era entrenador del Madrid. Esto sucedió en 2014, en la final de la Champions League, la primera de la carrera de Ramos. La última victoria del Real Madrid en la Champions League fue en 2001, y el equipo necesitaba volver a ganar este trofeo para alegrar mucho a su afición. El equipo rival fue el Atlético de Madrid, el equipo que ganó la liga española ese año gracias a su gran defensa.


Por un terrible error de Casillas el Atlético iba ganando y, como era de esperar, marcar un gol contra ellos fue superdifícil. El Real Madrid lo intentó una y otra vez, y no hubo forma de marcar un gol. Su defensa y su portero eran demasiado buenos. Este fue el caso hasta el famoso minuto 93. El Real Madrid tuvo otro tiro de esquina, y esta vez apareció Ramos con un legendario gol de cabeza que empata el partido. Esto convirtió a Ramos en un cabeceador temible, y desde ese momento, los rivales del Real Madrid siempre tuvieron miedo de la habilidad de Ramos a la hora de hacer goles de cabeza. Puedes ver ese histórico gol en el siguiente video:
---
---
Before that final, he also scored 2 headers against Bayern Munich in the semifinals, so in total, he scored 3 great header goals in the most important matches of the most important club tournament in 2014.
After Casillas left the team in the summer of 2015, Ramos became the new Real Madrid captain and the first one since the late 50s in lifting the Champions League trophy 3 times in a row. They won this tournament in 2016, 2017, and 2018. If winning 1 Champions League is a dream for most players, imagine winning 4 in 5 years with 3 of those as the captain, that's what Ramos achieved in those years.


After CR7 left the team in 2018, he also became the player in charge of the penalties and some of the free kicks. This allowed him to score more goals than usual, and even though he played as a defender there was one season where he was the second top scorer of the team only behind Benzema. In total, he scored more than 100 goals for Real Madrid.


He is the most successful Real Madrid captain in a long time, and historically, there is only 1 player that won more trophies than him while playing for Real Madrid. Paco Gento won 23 and Ramos won 22.


Sergio Ramos is undoubtedly a historic player in many ways, and I am sure he will continue to provide a great performance in his next team. All the luck to him in his new journey.
Antes de esa final, también marcó 2 goles de cabeza ante el Bayern de Múnich en las semifinales, por lo que en total, marcó 3 grandes goles de cabeza en los partidos más importantes del torneo de clubes más importante de 2014.
Después de que Casillas dejara el equipo en el verano de 2015, Ramos se convirtió en el nuevo capitán del Real Madrid y el primero desde finales de los 50 en levantar el trofeo de la Liga de Campeones 3 veces seguidas. Ganaron este torneo en 2016, 2017 y 2018. Si ganar 1 Champions League es un sueño para la mayoría de los jugadores, imagínense ganar 4 en 5 años con 3 de ellos como capitán, eso es lo que logró Ramos en esos años.


Después de que CR7 dejara el equipo en 2018, también se convirtió en el jugador a cargo de los penaltis y algunos de los tiros libres. Esto le permitió marcar más goles de lo habitual, y aunque jugó como defensa hubo una temporada en la que fue el segundo máximo goleador del equipo solo por detrás de Benzema. En total, marcó más de 100 goles con el Real Madrid.


Es el capitán del Real Madrid más exitoso en mucho tiempo, e históricamente, solo hay un jugador que ganó más trofeos que él mientras jugaba en el Real Madrid. Paco Gento ganó 23 y Ramos ganó 22.


Sergio Ramos es sin duda un jugador histórico en muchos sentidos, y estoy seguro de que seguirá aportando una gran actuación en su próximo equipo. Toda la suerte para él en su nuevo viaje.
---
---
---
---