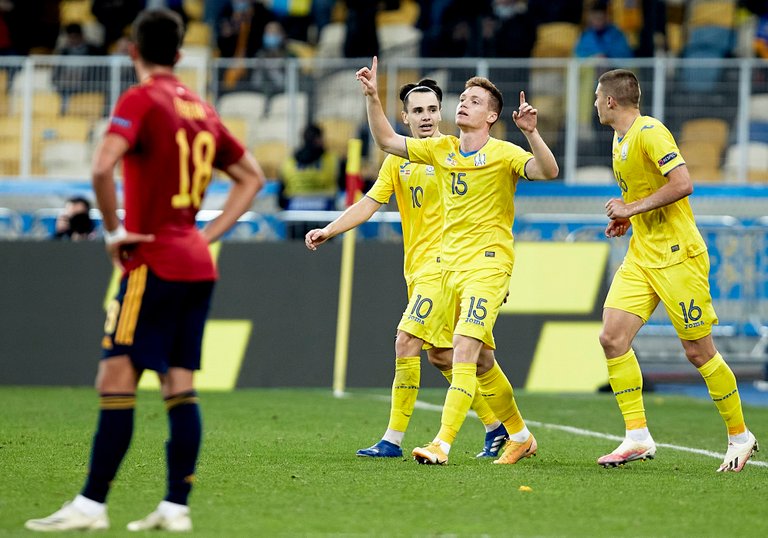 Source
Yesterday I was able to watch the match between these 2 nations and what a surprise it was to see Spain losing against Ukraine despite the fact they dominated the entire match!
Spain's midfielders have been controlling the possession of the ball for more than one decade but for several years this midfield superiority hasn't been enough to win more tournaments. They control the ball but are unable to score a single goal and then when the other team has 1 opportunity, they score.
It must be frustrating for Spanish people suffering this type of undeserved defeat but this is one of the things that's fun about football. You can be better, you can dominate the match but you can also end up losing a match simply for having bad luck!
The reason I saw this match was because I wanted to see Ansu Fati and Adama Traore playing together. Ansu Fati is extremely young, he is just 17 and about to turn 18. His match was crappy, he wasn't able to create a lot of danger and he was pretty much controlled by the rival defense. In Barcelona, he is right now the top scorer of this season with 3 goals but with Spain, it has been much more difficult for him to achieve a similar performance.
Adama Traore, on the other hand, had a very good match. He is 24 years old so his physical strength is absolutely top, he is also very muscular and surprisingly this doesn't prevent him from having explosive speed and skillful movements. He creates attacking plays over and over again but his team was unable to score a goal. I think that Spain is in urgent need of a top-level center striker because otherwise, they will create danger and good attacks but without anyone shooting and scoring they will have trouble obtaining victories.
A bad thing for Spain is that all of its center strikers are medium level, there is no elite striker right now for the country. Maybe Morata could be a good choice but he wasn't even included by the coach and he can be very clumsy. Rodrigo isn't good enough and this has been proved time and time again, today was another example of this.
I don't see Spain competing at the same level as France. Surprises can always happen in football though, but my bet is that it will take Spain several years to find a properly competitive team to win more national tournaments. Right now, the new generation of French players are extremely talented and they seem to get better as years go by.