I am officially in the straggler phase of FPL where my player assets are barely putting up any numbers, injuries have hit the squad hard and others are catching the Corona basically ruling them out for two weeks and some change.
However, I learnt my lesson last season.
Never make changes until the final hour of the FPL gameweek.
That is the basic rule in FPL and this season it matters even more due to players being left out due to Covid and also the higher chance of players getting injured due to a congested season.
My Current Team
---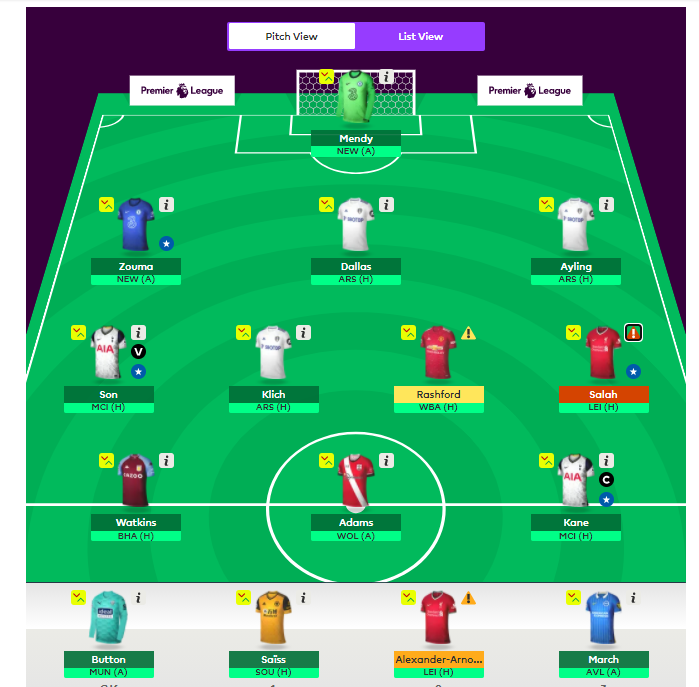 Source: Fantasy Premier League
My team is looking a shambles at the moment coming into a difficult run of games for my Captain, Kane and Vice-Captain, Son.
I also have three players who are likely to miss game week 9: Rashford(Shoulder), Salah(Covid) and Alexander-Arnold(Calf).
Rashford is the only player who is likely to play because his injury was not that severe. Two weeks would definitely be enough to recover in time for a relatively easy fixture against West Brom.
Salah unfortunately caught the virus over the international break. Incidentally, this has opened up an opportunity for me to bring in Bruno Fernandes who I was struggling to bring in.
I had thought about taking out Son but I needed an extra 1 Million to make it happen. The other way I could have done it is by selling both Kane and Son to generate some money but I would have lost 4 points.
Transfers In
---
I currently only have 1 free transfer available and I cannot afford to lose points.
I am betting than only Salah and Alexander-Arnold will miss out in my game week 9.
City's defense has been terrible so I am hoping Kane and Son will have some joy against them. However, I will not be making any of them Captain.
The only transfer I will be making is bringing in Bruno Fernandes for Salah who will definitely be out recovering from Covid.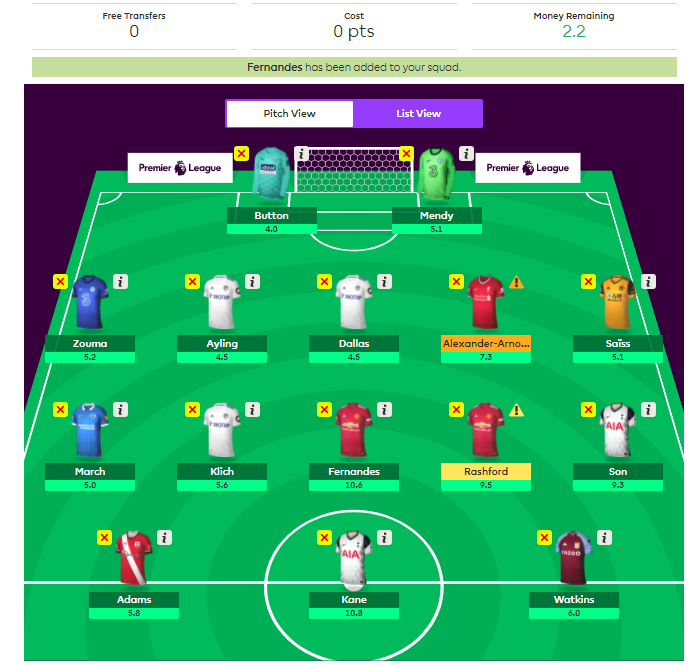 Source: Fantasy Premier League
However, just like I mentioned earlier, making changes too early is a recipe for disaster. For example, Ben Chilwell came off injured against Belgium. He is a player I was considering to bring on for Alexander-Arnold before news of Salah's health reached my ears.
With 5 days and 10 hours left to go, it is all about keeping an ear to the ground in case other players get ruled out off game week 9.
But you never know. It very possible to have another Jamie Vardy moment. What a disaster that was for FPL managers world wide.