It has now been six days since Pogba's agent, Mino Riola, came out with the worst kept secret that Pogba wanted to leave the club.
The problem was not that he wanted to leave but the timing of that release, just before our biggest Champions League game, spoke volumes of malice and sabotage.
I will not get too much into the details since I covered that in a previous post, but today this topic has cropped up because Pogba is in the starting 11 for another very important game.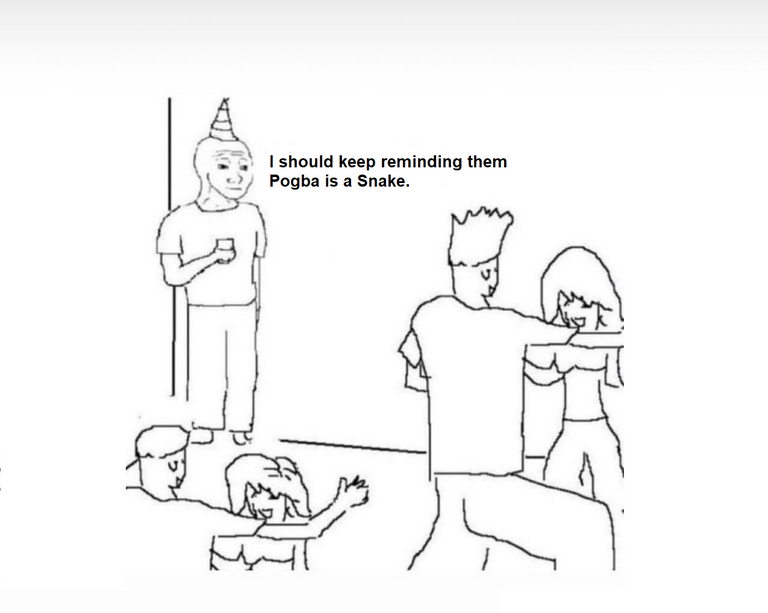 Derbies are different from most games. Players who know the value of getting one over your neighbors tend to bring out that extra 10%. They know just how much it means to the fans of the club.
Pogba was in fact the catalyst of a comeback against Pep's Manchester City some seasons back. United were down 2-0 at half time, but in the second half a Pogba header from a Sanchez cross, a Pogba scooped ball past Edison's shoulder from a Herrera chest down, and a Smalling volley helped United win the game 3-2.
Would I trust this Pogba to fight that hard for a win after his agent's recent antics?
No!
Ole has limited choices
---
It is almost a guarantee that Pogba is gone in January if a bid comes in.
The challenge, however, is making sure that United can extract as much value as they can. Whether we like it or not, Mino Riola's statement revealing Pogba's intentions basically devalues the player in the market.
Any club that comes in for him already know that the player wants out. They already know that the player does not want to sign a new deal. Clubs will try to low-ball Man United and the more time passes, the more the club will have to sell or else risk losing the player on a free.
Solskjaer is now forced to either continue having the player in the team or drop him from the team completely.
Both choices are a poisoned chalice.
You drop the player and it only confirms the club wants him out as well which will have the effect of lowering his transfer value even further.
You then play Pogba and the manager looks weak. The club looks like a punching bag and loses respect. You also don't know what you will get from the player. You cannot trust him especially in such a big game.
However, Solskjaer is the manager and should be allowed to make these big decisions. We have already seen what freezing out Ozil from the Arsenal team has done to their performances.
Conclusion
---
There are no right and wrong answers for the Pogba situation.
As a fan, I would have revoked his Man United training ground pass. He wouldn't feature anywhere in the squad until his sale.
That is why I am a fan. My emotions would overwhelm my logical thinking.
Ole on the other hand has to be the exact opposite. He has to think about the stability of the club and the harmony of the squad. Like it or not, Pogba is a popular figure in the team and treating him like trash would kill morale.
Like I said, it is a dicey situation. There are no right or wrong answers. It doesn't mean I have to like it though!