Over the weekend Manchester United played Tottenham away from home in what felt like a revenge mission for United players for the 6 - 1 scoreline earlier in the season.
From a personal point of view, I was buzzing for this game. Over the course of the season, the team has developed a certain maturity in how they approach and manage games. Man United have gone from adapting to the big teams to imposing their own football in those games.
The team went from playing a back three with wingbacks to compensate for a weak defence to a back four with more attackers on the pitch imposing our football on the opposition.
Despite the obviously shocking decision by the referee to chalk off our first goal, the team were able to come out for the second half with a renewed mission to win the game. That now makes it 28 points won from a losing position.
What was mad about that game was just how fresh the Man United players looked. It was mad because they had an entire week of rest and preparation for the game, while Manchester United had just arrived from Spain on Friday morning. The preparation had to be done online but somehow the team looked sure of themselves and more physically fit.
This brings me to the first horsemen:
1: Player fitness
---
One of the first things to go from a Mourinho team is their fitness.
Why?
Jose Mourinho's teams are hardly dynamic. The manager prioritizes defensive solidity over offensive capabilities, which takes away from the athleticism of players.
This can be easily visualized using the distance covered statistics. Unfortunately, that data is not publicly available and has to be purchased from Opta.
However, you can easily go back to the distance covered stats for Manchester United under Mourinho, which you can find with a simple google search.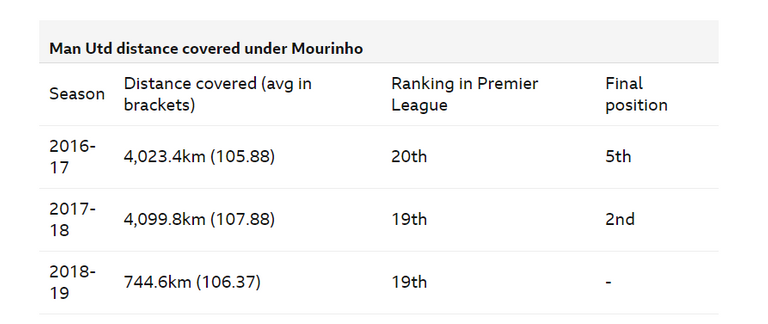 Source: BBC
Each season under Jose Man United they were consistently at the bottom of the table for running which affects fitness.
That was the first thing Ole identified once he arrived. United would have to be the fittest team in the league if we had to compete for the Premier League trophy.
"I HAVE GOT SOME TARGETS, I WANT A MANCHESTER UNITED TEAM THAT IS ONE OF THE HARDEST WORKING TEAMS IN THE LEAGUE, ONE OF THE FITTEST TEAMS IN THE LEAGUE AND THAT THEN WILL BRING RESULTS. I THINK THE PLAYERS KNOW MY EXPECTATIONS ON THE FUTURE." ~ Ole Gunnar Solksjaer
2: Players being thrown under the bus
---
If there is anything that marks the troughs of a Jose Mourinho management reign, it has to be the sacrificial lambs that get thrown under the bus as soon as things start going wrong.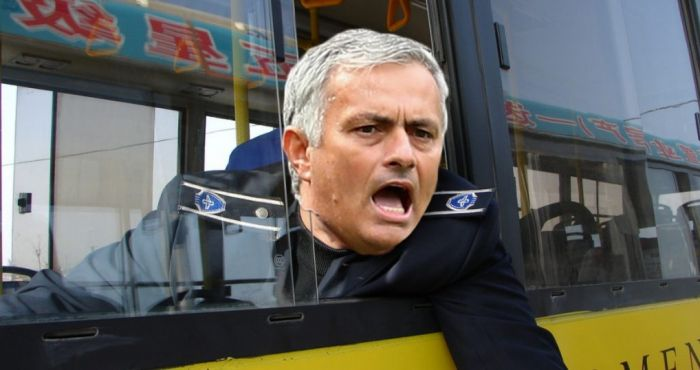 Source
Dele Ali, Bale and Tanguay Ndombele have all been rolled over with the latter somehow managing to extricate himself from the undercarriage.
Pogba recently came out with a scathing damnation of Jose's man management but it comes as no surprise to anybody. He just said exactly what we all knew.
"What I have now with Ole is different, he wouldn't go against the players. Maybe Ole wouldn't pick them, but it's not like he puts them on the side like they don't exist anymore. That's the difference between Mourinho and Ole."
Mourinho struggles to adapt to the modern footballer. Social media has exposed players to massive criticism on a daily basis. There are no 'safe spaces' anymore for them where they can enjoy some form of isolation and get relief. The club should provide that but Jose makes it incredibly toxic.
That brings me to my next point.
3: Losing the dressing room
---
Coming off Pogba's comments, it's clear that when Mourinho doesn't fancy you, he casts you to the side and doesn't acknowledge your existence.
He'll probably do it to provide a challenge to the player.
"Prove your worth to me."
Unfortunately, not all players have the capacity to survive tough love. Some need an arm around the shoulder and remind them how good they are. Luke Shaw is a perfect example.
Mourinho was able to get away with that type of management when they were flying high and winning but when the wheels eventually fell off, players could no longer stomach it.
All that has snowballed into the current catastrophe with Tottenham. Dele Ali is performing questionable Instagram livestreams, mole hunts in the dressing room and rumours of training ground fights.
It is all falling apart. The manager has managed to create factions in the dressing room, some who support him, some against him, but in the modern game that will never work. Managers don't have time to build teams in their image. Instant success is everything.
4: Losing the fans
---
The final horseman, the final nail in the coffin, is when the fans take off their rose tinted glasses and finally accept the reality.
Manchester United fans as well as Chelsea fans were quick to warn Spurs fans on what to expect from Jose Mourinho. Understandably, they did not listen because they have not tasted success in a very long time.
Even in the doldrums of Mourinho's reign at United we somehow managed to pick up two trophies and a Community Shield.
Spurs fans expected something similar and they still could. They are still in the final of the Carabao Cup against City but it looks like they will be without their talismanic striker Harry Kane.
If they end up losing that final, I can already see 70% of fans give up on Jose Mourinho. Getting top 4 will be difficult and that will put an end to an already depressing season for Spurs fans.
The next two weeks will be very important for Jose Mourinho as he attempts to salvage the season.
Can they financially afford to sack Mourinho at the end of the season if he fails? Will Harry Kane leave the club? Will Son stay?
Only time will tell.