Just when my day was going a little bit slow, the legendary Fabrizio Romano drops this much expected bombshell - Manchester United are in 'advanced talks' with Dortmund for Sancho.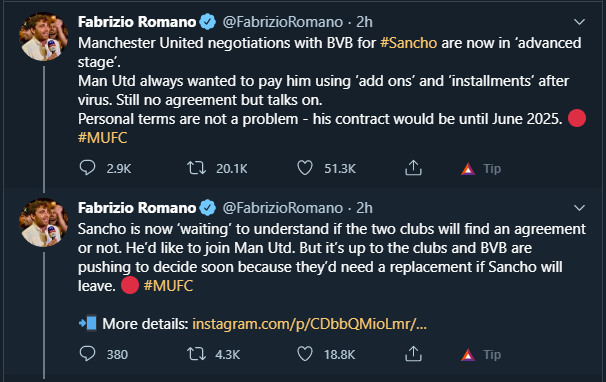 When Fabrizio tweets it, it is practically gospel.
All that is missing now is the famous, 'Here we go' which is as good enough as a signing holding up a shirt for the official announcement. Signed, sealed, and delivered.
Who is Jadon Sancho?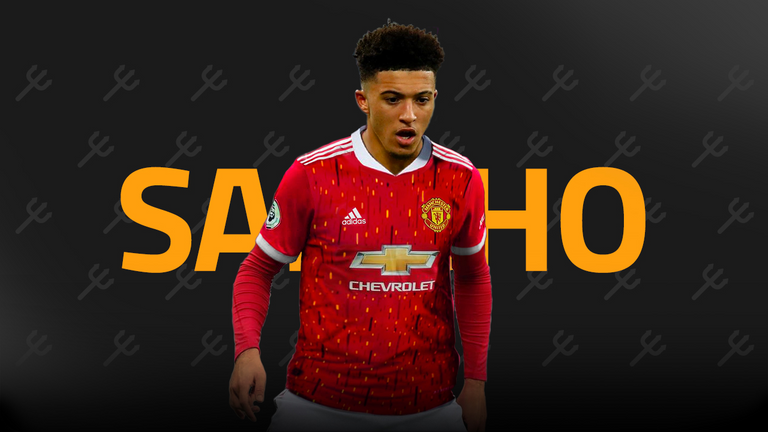 Image
Nationality: British
Born: 25 March 2000 (age 20 years)
Played for: Watford and Manchester City academies. Spent two season at Borussia Dortmund in the first team.
Position Played: Left Wing and Right Wing.
2019/2020 Stats: (Apps - 44), (Goals - 20), (Assists - 20).
The obvious glaring stats are the goals and assists. 40 goal involvements is no mean feat, even in German top-flight football.
He is also coming in to fill that gaping void on the Right Wing of the United attack that has remained empty since Cristiano Ronaldo left.
He is perfect addition to a forward line consisting of Rashford, Martial, and Mason Greenwood.
Fans of the club can only salivate at the prospect of having all four on the pitch at the same time in a 4-2-4 all-out attack formation.
Manchester United have also lacked heavily in creativity which was solved with the arrival of Fernandes and Pogba coming back from injury. However, those assist stats from Right Wing create additional threat from another part of the pitch.
More importantly, Wan-Bissaka will no longer feel the need to provide an attacking threat and he can concentrate on what he does best, defend!
Solskjaer is building an incredible team and I cannot wait to see who else is coming in to give us the depth we need.
I would love another Center Back, a Defensive Mid-fielder and another Left Back who can actually cross. Luke Shaw has been good but he is limited.
If we are to become a force in football again, we need to be ruthless in our pursuit of success especially when it comes to players in the starting 11 who are not good enough.
We are almost there.