A WEEKEND OF THE MIGHTY FALLING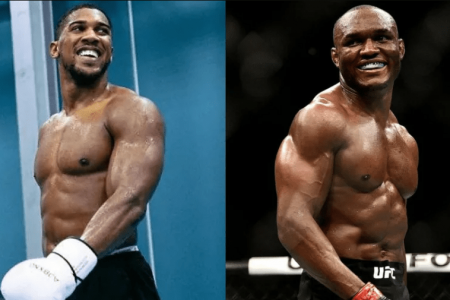 Source
Over the weekend we witnessed some of the most unprecedented outcomes in the sporting world. The athletes who had been massively dominant and influential overtime and had even attained the status of being almost unbeatable were dragged back to planet earth. Starting from the UFC to Boxing and to some extent football.
Amongst all these, two events stood out the most in both the UFC and Boxing arenas as the unprecedented happened in one night (depending on your timezone). Over in Salt Lake City in the United States in UFC 278, Kamaru Usman was the overriding favorite to come out unscathed against the much underrated Leon Edwards.
Few moments before the match, the overly confident Nigerian fighter tweeted that he was about to beat someone's child again. A subtle reference to the fight with Edwards who wasn't expected to pose an existential threat. Kamaru had beaten the Briton in their first fight in 2015 to win his welterweight championship.
https://twitter.com/USMAN84kg/status/1560682741867286528?t=SJ8PlezIwIi5XXoiVRKjcQ&s=19
Originally posted on Twitter by @USMAN84kg
Ever since then, the champion has been dorminant destroying everything on his path to defend his title in an unbeaten run that spanned 7 years and 13 fights. Leon on his own part had also been on a 10 fight lossless streak since losing to the Nigerian nightmare. Both were on a streak with a lot of momentum, but still, Usman was the favourite.
The fight started in a promising fashion for the challenger who succeeded in taking down the champion (something no other fighter has been able to do). But Edwards couldn't build on that, and allowed the champ to recover.
The subsequent rounds passed in similar fashion with the champion dominating the Briton. It looked like history was about to repeat itself as Usman started strolling through the match knowing that he was in the lead.
That was until the last minute of the 5th round when Leon feigned a right hand punch forcing Usman to duck to the right where he met the challengers shin and boom! Usman was out cold and Edwards has defied the odds.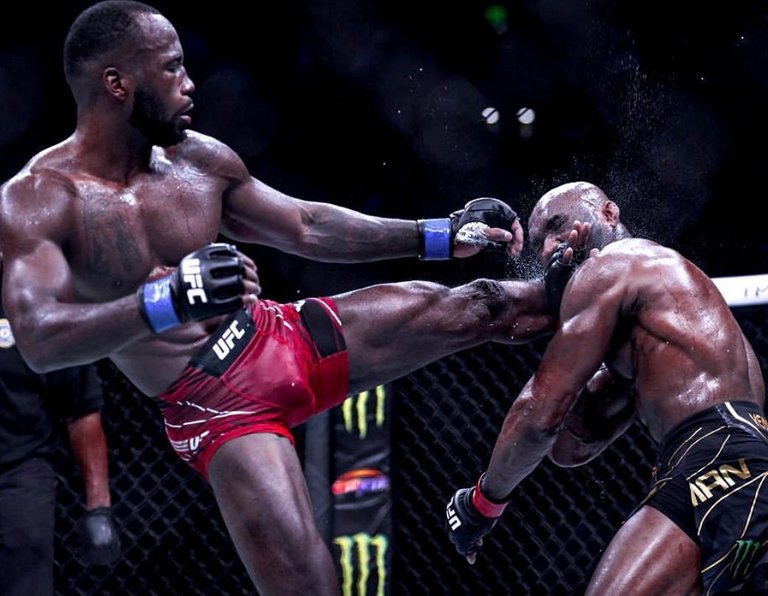 Source
Having suffered a decision loss to Kamaru in 2015, Leon had gone one better and KOed the unanimous king of the welterweight division.
In Jeddah Anthony Joshua was hoping for redemption after he was dethroned at his backyard last year against Ukrainian heavyweight Oleksandr Usyk. Having sacked his trainer after he was comprehensively beaten in London in the first match, Joshua and his supporters must have hoped for a much better performance.
And a better performance they got from the former WBA, WBO and IBF champion who came out looking more hungry and determined from the beginning. Having served in the Ukrainian army about six months ago in a bid to defend his country against the ongoing invasion, the champion wasn't going to back down easily.
The Briton was courageous and full of heart, matching the Ukrainian pound-for-pound from the beginning of the fight. It was a great improvement from the first fight. It climaxed in a jubilant 9th round where he hit the champion with hooks to the head, body, groin and shoulder, pushing him back. One would have expected him to build on that and see out the remainder of the fight.
But the Ukrainian champion had other plans of his own and came back to win the last 3 rounds, without giving Joshua much of a breathing space. Usyk eventually won the fight through a split decision of 115-113, 116-112, and 113-115 making sure he retained his titles. Immediately after the fight, Joshua helped Usyk hold up the Ukrainian flag but then stormed out of the ring appearing to throw out two belts on his way out.
He later returned to deliver a somewhat bizarre speech that ranged from his talents, quality and history, to the legends and what he termed 'civil war' in Ukraine, in a night where his emotions seemed to get the better of him.
https://twitter.com/SkySportsBoxing/status/1561661563043516416?t=tT5Y7DpKq7rlOdelkKl7nA&s=19
Originally posted on Twitter by @SkySportsBoxing
So just in one weekend, Kamaru Usman got dethroned, Anthony Joshua got dugged into a deeper sinkhole which will require more character to emerge from, Chelsea got whipped, and Liverpool finally lost a league match to a Manchester United team who has been whipping boys for the yoyo teams.
It was a weekend to savour for some and one of misery for others depending on which divide you belong to. Kamaru Usman has promised to return much better from his little setback, while AJ seems broken. I hope they can both return to their previous highs and grow stronger from this setback.
But as for Chelsea and Liverpool, long may it continue!
Welcome to my blog, you can relax and be rest assured of quality content on diverse topics. You're free to air your views and opinions in the comments section, and It'll be my pleasure to learn and engage

---
---